---

EMAIL INTERVIEW – Frederick Morency and Ken Sinclair
Frederick Morency – President Viconics, SCL Elements, VP Small Building Systems

Graduated from Laval University in Quebec City with a degree in Electrical Engineering and specialized in Electromechanical and Power distribution. In 1997 he began his career with Schneider Electric in the Field Services organization based in Montreal. In 2001 he moved to Grenoble, France where he joined the Power Monitoring and Control organization as the Business Development Manager for the Asia Pacific. In 2005 as part of the acquisition of Power Measurement (Victoria, Canada) he was responsible to transfer Power Measurement commercial distribution channel to Schneider Electric's front offices around the world. In 2006, he took the European Business Development Manager role for the Power Monitoring and Control until June 2009. In mid 2009, Frederick became the Program Manager for the EcoStruxure corporate program with-in Strategy and Innovation division. In 2012, he joined the Building Business organization as the Director of Offer Marketing for the Room controller and Web BMS solution based in Montreal, Canada. Recently, He took over the leadership of the combined entity as President of Viconics and SCL Elements and became VP Small Building Systems with-in Schneider-Electric Building division.

---

Schneider Electric Acquires SCL Elements

Schneider Electric has combined SCL Elements and Viconics under a single entity, "Small Building Systems," which is part of the Buildings Division.


Editor's Note: CAN2GOŽ is a brand of SCL Elements Inc. and advertises under this name and has written articles as CAN2GO for our web site. SCL Elements Inc. provides CAN2GO building automation solutions for comfort and energy efficiency in commercial buildings. CAN2GO offers integrated wired and wireless solutions for HVAC, lighting & metering applications. Their controllers, gateways and web based building management system (BEMS) allow facility managers, contractors and OEM manufacturers to deploy building automation systems (BAS) combining wired (BACnet, Modbus, CANbus), wireless (EnOcean, ZigBee) and web (IP/Ethernet) technologies – providing maximum interoperability and control for more energy savings.
Sinclair: What are the highlights of this announcement?
Morency: Schneider Electric has acquired SCL Elements, a startup based in Montreal. SCL Elements brings an innovative building management system to complement Schneider Electric's building solutions portfolio. This acquisition follows the acquisition of Viconics in 2011 and affirms Schneider Electric's willingness to establish in Montreal a center of excellence for building solutions and wireless technology. Schneider Electric has combined SCL Elements and Viconics under a single entity, "Small Building Systems," which is part of the Buildings Division.
Our 2013 objectives are to grow our partner bases and to leverage Schneider Electric's presence in North America and around the world. This is a very exciting challenge for this young organization that now employs more than 100. My role will be to maintain this startup culture within an organization that employs more than 130,000.

Sinclair: How does the acquisition fit into the overall strategy of Schneider Electric?
Morency: SCL Elements brings an innovative building management solution that gives Schneider Electric the opportunity to address the small-and medium-sized building market. We are targeting retail stores, schools and small commercial buildings that represent the vast majority (98 percent) of today's buildings. Most controls in these buildings are manual or open loop, which causes a very inefficient setup, not only in terms of energy, but also comfort. For small buildings, HVAC and lighting systems represent about 60 percent of the energy consumed. The only way to save energy in that situation is to link the energy demand to the real site occupancy. This can be done through building schedules and presence detection.

The Viconics room controller and SCL Elements web building management system bring a very flexible solution using wireless technology, creating the best solution for a retrofit application. By combining this system with existing Schneider Electric offers, our objective is to bring an integrated solution that links temperature control, lighting management and energy management into a simplified control system that will help our small-building customers save between 20 and 30 percent on their energy costs.

Sinclair: What new opportunities will this acquisition offer Schneider Electric customers?
Morency: The majority of existing buildings containing 100,000 square feet or less do not have HVAC and lighting control systems in place. We are beginning to see energy efficiency regulation and utility incentive programs targeting commercial buildings, but in that market space, there is a limited CAPEX capacity.

In addition, the building owner or tenant of such buildings cannot afford extensive interruption of operations for installation of a complex and more costly traditional building automation system. Schneider Electric can now bring a flexible and more accessible building automation system, which can be implemented with minimum impact on building operations. The proven efficiency of building automation functions is now available to a wider market.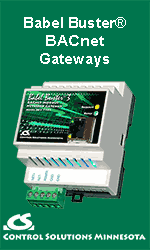 Sinclair: What is the current state of the building automation industry as a whole?

Morency: In mature economies, the building automation industry is limited by the marginal growth of new construction. In these markets, the traditional automation systems have limited space to grow, and they cannot serve the small-building market due to cost.

In the new economies, we see a limited use of the building automation system overall, even in large buildings, where individual room control is the extent of the automation in place.

In emerging economies, I would not be surprised to see the same phenomenon as has happened with phone service in China, where society jumped straight from traditional land-line technology to adopt the cell phone as the standard.

Sinclair: Where do you think the industry is going, and how does this deal fit in with where the industry is heading?
Morency: Clearly, energy efficiency regulation and incentive programs are impacting a lot of our business, as our customers are now more sensitive to the potential savings that building automation can bring. At the same time the digital revolution underway creates an all new expectation on the customer experience to get meaningful information to make decisions.

The recent acquisitions made by Schneider Electric are definitive steps in facilitating how energy management systems can be more effectively deployed to bring energy savings. The web interface of our system helps to get access to building information from anywhere and remotely enable modification of a building schedule and set points. Our solution also enables our service centers and our partners to monitor their installed base in order to enhance the value of the services they provide to their customers.

---


[Click Banner To Learn More]
[Home Page] [The Automator] [About] [Subscribe ] [Contact Us]