What is it? Is it really important?
Are Manufacturers Cooperating? (Convergence)
Does Interoperability Describe the Perfect Relationship?

Ever wonder what a busy Corporate Vice President and ASHRAE Chairperson does with his spare time? To find out Click Here

David J. Branson, PE, MCP
The author can be contacted by email at: djbranson@csg.net

ASHRAE TC 1.5 (Computer Applications) Chairperson
Consulting Engineer
IT / Building Integration Consultant.
---
What is it? Is it really important?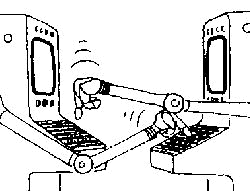 Building control systems, such as HVAC, lighting, electrical power, security access, video surveillance, etc. represent significant investments within building construction & renovation projects across the world. The capabilities of these systems to share resources and communicate information between subsystems have previously been so costly to implement that many owners/operators have found those features to be economically unfeasible. In recent years, efforts to standardize the methods by which systems exchange information and the lowering of costs for hardware and software used to support their operations have yielded renewed interest in the communication between systems. Data is now more accessible to building resource managers, allowing them to restructure how the resources are made available to tenants and how to account for the associated costs.
Are Manufacturers Cooperating? (Convergence)
A large and ever-increasing number of system manufacturers and integrators have been involved in the long and costly development process of standardizing how they share information with other systems. These developments are yielding interoperability between manufacturers' platforms, such that end-users can benefit from market competition. That competition has further promoted enhancement of product features, ease of use and cost efficiencies. Thousands of manufacturers now cooperate in offering the industry "features-at-your-fingertips."
Does Interoperability Describe the Perfect Relationship?
Just as people around the globe don't all speak the same language, but have developed means by which to communicate information across language boundaries, so the building automation and information technologies industries are developing methods by which cross-platform communication can occur. While not all of the "words" used by a system are being literally spoken, translated and understood by all other systems that "hear" the message, vocabulary is growing daily. Industry need for particular communication features drives the development of those capabilities.
Numerous influences contribute to the manner in which building automation systems interoperate. A good example of one of those influences can be found in the area of fire alarm systems. National Fire Protection Association (NFPA) National Fire Codes stipulate how outside systems can interact with fire alarm control panels. Several fire alarm system manufacturers interpret those codes conservatively to mandate that other systems cannot reside on the same communications bus as the fire alarm system unless those systems enhance the features of the fire alarm system. On that basis, they only offer one-way communication from the fire alarm panel to a connected network as a "reporting" feature. I believe this will change within the next few years, to allow remote troubleshooting of addressable fire alarm devices, etc.
An example of building systems sharing some level of interoperation can be found in a high-rise building "top-down" renovation project designed by CSG and scheduled for initial phase completion this month: The Omni Office Centre. This facility represents the integration of several major components within building systems and Information Technologies (IT) services to achieve a significant level of interoperation.
An abbreviated topological diagram shows some of the typical building devices supported by the systems at the Omni. Communication between components is only required for certain of the devices on the bus, and only that level of provision is accommodated.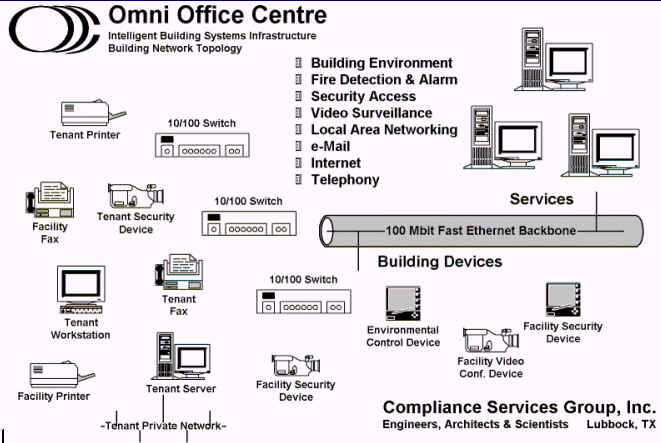 The Role of Protocols
The opening and standardization of control, monitoring and reporting protocols have been and continue to be the heart of interoperability in this industry. Protocols such as BACnet and LONtalk allow for communication between systems and subsystems in building of all sizes and complexities.
TCP/IP is a protocol that came from the IT industry. It was developed so that computers could communicate over internetworks, and is used by numerous building subsystems to talk with other subsystems.
BACnet supports the LONtalk protocol and is capable of operation over TCP/IP.
Industry Trends & Market Responses
In response to feature-rich offerings currently available, building owners/operators and tenants are insisting that greater control of their spaces and other resources be made available to them.
Commonality in Smart Buildings and Information Technologies
Many building automation systems are based on technologies found in today's Information Technologies marketplace. Some of the components that share these same origins are found at the network level, i.e., interface cards that support Ethernet, Arcnet, Token Ring or similar communication protocols. These devices allow various portions of the systems to use common network busses for communication. A significant number of today's systems use PCs and Windows-type operating systems to run the Building Automation System (BAS) management applications. This commonality between IT and BAS is propagating further integration of software from both sides of the house. Database applications can grab data made available by building automation systems and manipulate that data to allow for innovative accounting procedures, such as itemization of resource usage for security, billing, preventative maintenance, and trending, to mention a few.
Use of Data (Now that I can grab data, what do I do with it?)
It is easy at times to become mesmerized by the technologies available in today's market, and forget the primary focus of what is to be gained by their use. Advanced planning to achieve a clear understanding of which systems need to talk to each other and to what extent those dialogs needs to take place will pay dividends after the construction is over and everyone else is living with designers' decisions.
Choosing a Platform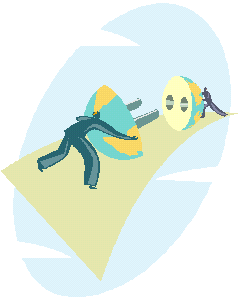 The cost of building automation has not disappeared as feature enhancement has increased. Hardware and software offerings that span multiple systems, however, are affecting the industry to bring down some of the initial costs and increase overall return on investment.
Affordability & Reliability vs. The Bleeding Edge
Often it is a costly proposition to fit round pegs into square holes. An important reminder that should be constantly revisited during the systems integration process is the "KISS" principle – Keep It Simple! Some questions that should be addressed are:
Just how much (computing) horsepower do I really need?

Do these subsystems really need to talk to each other, or can they simply share the same roadway (LAN)?
Integration of Legacy and Current Technologies
To buy or to write … that is the question
Determine which subsystems require high levels of integration (i.e., HVAC control of subsystems by different manufacturers), which ones require only limited amounts of integration (i.e., fire alarm panel – outbound reporting only), which ones can simply share the same communications bus (i.e., LAN, Internet, HVAC control), and which subsystems require some level of segregation (i.e., fire alarm system - control bus). If a subsystem can accept commands and accomplish reporting using ASCII or a similar "text-based" format, it can probably be interfaced – the problem then becomes one of cost. In many applications, it is still more cost-effective to replace or live without than to "write."
Forward Planning
One of the greater challenges for contractors and end users in today's building automation industry is planning for growth. Some helps toward making sound decisions concerning selection of systems in this constantly-changing industry are:
Assess the base requirements of the building for the foreseeable future;

Become familiar with subsystems that appear to perform the functions needed;

Select hardware and software that offer compatibility between various portions of the building system that warrant dependency;

Stay on the path of open protocols as much as is practicable;

Avoid getting caught up in the "bleeding-edge technologies" rat-race, while not overlooking "big benefit" opportunities.
Make certain that the client is aware of each step in the integration process - the client must be familiar enough with the systems to gain the confidence necessary to rely on them during operations.
The building owner/operator and each member of the integration team should have a clear picture of the goals being attempted by the purchase and installation of the BAS. Frustration brought on by a lack of understanding of desired objectives can sour an otherwise successful project.
Patience is a virtue … but so is preparedness (good planning covers a multitude of sins). Demand manufacturer cooperation toward integration. Remember that the design professional must create a team from a bunch of loners (educate the potential installers on the integration process before they commit to the project). As with the IT industry, manufacturer and installer cooperation is paramount to a successful project. Some of these components are relatively new to the industry, and have not been previously interfaced with every other component that comprises the specific "hybrid" system.
In Conclusion…
Integration of building systems and IT services is now becoming feasible to implement from a cost-benefit standpoint. Standardization of methods by which systems exchange information and the decrease in costs for hardware and software used to support these types of operations have fostered interest in the communication between systems within facilities. The availability of these technologies is beginning to have dramatic impacts on the relationships between building owners/operators and users. Those relationships, in turn, are consequently affecting the roles played and products delivered by design professionals and system integrators.
The author can be contacted by email at: djbranson@csg.net
So what does a busy corporate vice president, ASHRAE Chairperson, and family man, do in his spare time? He is on the road playing Cowboy & Western Swing music with Blue Prairie. Check 'em out at www.blueprairie.com.
And you thought you had a busy life!
---


[Click Banner To Learn More]
[Home Page] [The Automator] [About] [Subscribe ] [Contact Us]