Advanced Buildings
Technologies and Practices web site
Ken Sinclair, Editor

A building professional's guide to more than 60 environmentally-appropriate technologies

I was pleased to assist with the Building Automation System section of this extremely useful web site.
http://www.advancedbuildings.org
---
Architects, engineers and buildings managers can improve the energy and resource efficiency of commercial, industrial and multi-unit residential buildings through the use of the technologies and practices described in this web site.
This non commercial site is a great resource of information for the industry that builds buildings. It contains over 60 technologies that can greatly improve building energy performance and lower the total environmental impact of buildings. As well as being an automation consultant for over 25 years I also provided energy conservation consulting primarily for large existing buildings. The cost to retrofit to many of these technologies once the building is built is prohibitive, but the cost to included these concepts in the original design provides a good payback when true life cycle costing is done.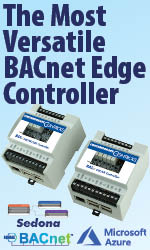 I am pleased that Building Automation Systems have matured enough to be considered an Advanced Building Technology.
http://www.advancedbuildings.org/_frames/fr_t_load_build_automation_sys.htm
I know there are those in our industry who think we are the Advanced Building Technology but we often only achieve what has been achieved in the past with conventional control. We must try harder to better interface with these new building technologies.
The building automation industry must become the glue that binds these concepts and must not design in isolation to these significant changes in building design.
Our March article out of Denmark on an Austrian project "intelligent" sun protection system in LONWORKS ®Technology* shows how we can do a better job interfacing with the total building touch and feel.
We are now engineering the automation systems that will provide the next major advance in buildings. These systems will allow remote head office interfacing by occupants, reducing commuting time and increasing productivity, while giving back personal time. The main office will take on a hotelling function to host meetings and workshops and interactive automation will be a key part of this function.
I hope that the near future will allow us to assemble enough success stories for integrated Internet/Intranet automation services to become an Advanced Buildings Technology.
Tell your building designers about this valuable site.
http://www.advancedbuildings.org
---


[Click Banner To Learn More]
[Home Page] [The Automator] [About] [Subscribe ] [Contact Us]