Melinda Bartee
Alerton Technologies, Inc

The campus being retrofitted is located in the Texas Hill Country and belongs to the Schlumberger Oilfield Services division.
---
Alerton Technologies, Inc. and its local dealer YPS, Inc. were selected to retrofit Schlumberger's entire campus with its BACnet compliant energy management system, BACtalk. Schlumberger is a global technology services company with offices all over the world and more than 80,000 employees. Both companies were chosen due to their commitment to providing superior customer service and support along with the latest building automation technology.










The campus being retrofitted is located in the Texas Hill Country and belongs to the Schlumberger Oilfield Services division. It is made up of six buildings totaling over 350,000 square feet. Five of the buildings have already been retrofitted with Alerton controls and the sixth will be completed in early 2002.
Schulumberger's facilities manager, Dave Cherry, said that "In today's trying times its hard to find a Partnership Through Values. I see this in Alerton and YPS which have provided me with the most advanced EMS Technology and customer support."
The Schlumberger facility has undergone a complete mechanical retrofit from rooftop package units to chilled and hot water rooftop VAV air handlers. The 211 VAV's have been converted from electric to hot water reheat coils and retrofitted with Alerton's BACnet compliant controllers.
The Alerton BACtalk network consists of a Fiber Optic backbone with multiple 10baseT to fiber network hubs. It connects the six buildings to the BACtalk system. There is one global controller located in each of the six buildings mounted in custom built ventilated cabinets with the multi-mode hubs. The BACtalk system will include about 270 multiple point programmable controllers upon completion. The BACtalk system includes around 2600 physical points of control.
Alerton's easy to use, 3-D graphics make it easy for Mr. Cherry and his people to navigate their way through the system. Scheduling, alarming, paging, trend logging and remote monitoring of system operation as well as many other features complete the system. Current additions include the BACnet integration with the networked Notifier Fire Alarm panels using a Network Bridge provided by Sierra Monitor.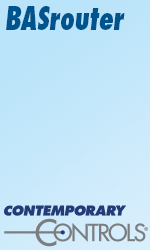 Points of control and monitoring include: ·
6 Flowtronic Chillers and Pumps (66 points)

6 Boilers and Pumps (42 points)

42 Air Handling Units with heating and cooling (672 points)

13 Variable Frequency Drives

211 VAV units (1688 points)

3 Fire Alarm Systems (65 points) BACnet interface to Notifier panel with a Sierra Monitor Bridge

9 Makeup Air and Exhaust Fans (18 points)

Facility Outdoor Lighting control. Monitoring light levels in foot candles (2 points)

Walk In and Freezer Temps (2 points)

2 Lift Station Pumps (10 points)

5 Sump Pumps ( 10 points)

6 Battery Room Hydrogen Detectors (6 points)

6 KW, KWH, Phase Loss Monitoring (18 points)
Technology and service were critical in helping Schlumberger meet its goals of providing the highest levels possible in building performance. That's why Alerton and YPS were perfect for the project and met Schlumberger's specification.
Alerton Technologies, Inc. is a pioneer and industry leader in providing building management solutions for HVAC equipment for all types and sizes of buildings. Alerton has distribution and thousands of installations all over the world. Their experience includes high-rise office buildings, government facilities, university campuses, airports, hotels, school districts, hospitals and more. Alerton is committed to providing the best service and support, product reliability and value to make your buildings work.
For product availability, ordering and technical information or visit Alerton on the web at www.alerton.com
---


[Click Banner To Learn More]
[Home Page] [The Automator] [About] [Subscribe ] [Contact Us]