Article as published by

December 2000,
in their monthly column
Building Automation.

Ken Sinclair
AutomatedBuildings.com
---
"State-of-the-Art Capabilities in Building Automation"
I am extremely pleased to be part of the above scene setting session at the AHR Expo in Atlanta January 29-31, 2001 at the Georgia World Congress Center.
The new educational sessions are designed to deliver objective content that informs and educates AHR Expo attendees. International Exposition hosted its first ever session of this type at last year's AHR Expo in Dallas, Texas and I had the opportunity to be part of this groundbreaking session. There I met my speaking partner David J. Branson for the first time. We had assembled our presentation over the internet, but had never met. David J. Branson is the Senior Vice President of Compliance Services Group, Inc. Engineers, Architects, & Scientists. Dave brings a refreshing approach to the Building Automation industry with experience from both the BAS industry and IT sector. Our Dallas sessions were well received with over 400 attending.
Many of the concepts I presented at that session were summarized in my August column "The Net Effect". Dave focused on "Interoperability" What is it? Is it really important? Are Manufacturers Cooperating? (Convergence) Does Interoperability Describe the Perfect Relationship? A brief article on his talk is hosted on our web site and can be viewed at http://www.automatedbuildings.com/news/may00/articles/daveb/dave.htm
The format this year in Atlanta is similar to Dallas with five FREE 1/2-hour presentations. In Dallas we ran the same session 5 times. In Atlanta we will open with the same overview on Monday and Tuesday and provide different content in each afternoon session, then close Wednesday morning with An Open Forum. Following is a quick overview with additional insight on the intended content. Your input to Dave or myself prior to show time will influence our proposed content.
Monday, January 29th 9:15am and Tuesday, January 30th 9:15am (A repeat session)
A Guide to the Building Automation Industry at AHR Expo 2001
A quick overview of this year's industry trends and what new developments you will find at the show.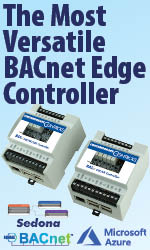 This session is intended to set the scene for the attendees of the show and provide insight into the rapid evolution that has been occurring in the industry in the area of communication standardization and web browser interface. Dave will sight examples of actual projects that implement interoperability with client interface integration. I will expound on internet/intranet evolution and the use of industry web sites in deploying information. We will provide a basic introduction of evolving standards including BACnet (Ethernet and RS485) the BACnet Manufacturers Association (BMA) plus Lon and the LonMark® Interoperability Association and others. We will request AHR Expo Building Automation Exhibitors provide us with their show focus plus what is hot and what is not, and evolving trends in the industry as they see them. We will attempt to summarize concepts and feedback to session attendees.
Monday, January 29th 1pm
Automation Industry Update for Integration, Protocols, and the Web Evolution
State of the industry, Protocol acceptance and convergence and the Evolving integration effort. This afternoon session will expand on the morning introduction with the input of several industry players we will attempt to get feedback on who is doing what in protocol acceptance and actual usage and discuss emerging trends
Tuesday, January 30th 1pm
Integration Design/Contracting, The Net Effect, and Componentization of our Industry
Dave will expand on good Integration Design/Contracting issues. I will discuss the effect of the open protocols and internet/intranet extensions plus the Componentization of the Building Automation Industry. We will discuss how these concepts are causing changes in the industry and creating great opportunities as we converge on browser based presentation and control.
Wednesday, January 31st 9:15am
An Open Forum for Automation and the Future
All exhibitors and automation stakeholders are invited to provide input for 2002 and beyond.
We are looking forward to this session as being a tool to go ahead and enhance future sessions. Please participate and share your ideas. Dave and I will moderate this session listening, rather than speaking. It is a great opportunity for our stakeholder readers who will be attending the show to have interactive input with feedback. If you are unable to attend the show please feel free to email me your input and comments. We will try to reflect them in our future presentations.
Our January Building Automation column will provide greater detail about the substance of our talk and will be part of Engineered Systems on site Show magazine.
It is a difficult task to portray a vibrant industry like ours and your input is necessary to allow us to provide an accurate reflection.
---

[Click Banner To Learn More]
[Home Page] [The Automator] [About] [Subscribe ] [Contact Us]