---
The integration of low cost sensors into our Building Automation Industry over the last few years has helped propel a rapid industry growth. Extremely accurate, low cost solid-state sensors have allowed us to penetrate into many new markets.










The AHR EXPO 2001 in Atlanta for example, hosted over 200 exhibitors showing IAQ products. These new IAQ sensors control the amount of fresh air introduced by a ventilation plant and thus reduce energy consumption. This is achieved by measuring the level of contaminant gases found in the controlled space and providing a signal to the ventilating plant to control the damper positions, thereby saving on the energy consumed by heating or cooling fresh air during periods of little or no occupancy.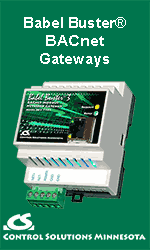 When IAQ sensors are coupled with temperature, pressure, humidity and airflow sensors they provide a level of functionality, accuracy and reliability never before dreamed possible. The accuracy level of these new low cost sensors is equal to or surpasses expensive industrial sensors of only a few years ago. These sensors, coupled with powerful web based DDC control, provide valuable feedback to our clients about their Indoor Air Quality.
I have no reason to doubt that new low cost sensors of the future will continue to provide new spins on our industry and evolve into further opportunities. It will be interesting to see this year's presentations at the 2002 AHR Expo in Atlantic City.
In addition to the new generation of new purpose sensors, sensors in general are evolving to host protocols such as BACnet, Lon, TCP/IP. In the application of these communication protocols the lines between sensors and controllers are blurring.
Last year in Atlanta at the AHR Expo Delta Controls http://www.deltacontrols.com/ previewed their new BACstat. Their ad read, "Our thermostat speaks BACnet. The BACstat inputs and outputs are integral parts of the sensor. The BACstat is a wall-mount Native BACnet Application Controller that communicates on an RS-485 LAN as a Master device using the BACnet protocol. It is equipped with an integral LCD/keypad user interface and an sub-LAN port to support future LinkNet I/O devices. The controller is designed for a wide range of applications with small local I/O requirements using strategies that are programmed in Delta's powerful GCL programming language. Both firmware and controller databases are loadable over the network."
Products like these show acceptance of communication standards, integration of new low cost sensors and the ability of custom programming to provide our clients with the ultimate custom comfort appliance.
This not an isolated case` LonMark® Interoperability Association http://www.lonmark.org/ on July 5, 2001 Celebrated 300 Certified Products. These products include tight integration with low cost sensors.
A new product called the WallBotz is represented by ControlShop, http://www.controlshop.com/. The WallBotz is a web-accessed, environment-monitoring appliance in a book-sized package. Completely self-contained, the unit continually checks the room environment, including temperature, humidity, smoke, and airflow. Alarms are sent via email and pager when a connected device's environment condition is out of range. A built-in camera records individuals accessing the server room and allows both the customer and technician to easily view the condition of equipment via an internally generated web page. The WallBotz is also SNMP compliant, appearing as an object within your existing network management system. User-defined alarms are sent via pager and email notification to designated personnel. This tight integration with web base presentation in a low cost product is another example of where sensor integration is leading us. The wireless camp is starting to assemble similar integration products.
In all the automation camps the sensor manufacturers are forming relationships with control manufacturers to build high functionality into low cost web enable controllers. These building blocks of fully integrated web appliances are becoming the control systems of the future.
Great on line resources
Attention to details is critical with sensors for if the sensor is installed in the wrong location or is the wrong type of sensor all is lost. The following two great online resources can help you solve some of the pitfalls. The Building Control Group of the UK http://www.esta.org.uk/bcg/index.htm has a great resource online in their Control Sensor Installation Pocket Book. Download this pdf and check it out. 'Sensor Installation' is written primarily for engineers and installers on site, but is also a powerful tool for design and project engineers to foster energy management and operating economy by 'getting it right' from the outset. Building Automation Products, Inc. (BAPI) http://www.bapihvac.com/ has a new Sensor Handbook with CD-ROM. This full-colour, illustrated handbook details product information and sensor Do's/Don'ts. The CD contains sample specifications and complete product catalogue.
---


[Click Banner To Learn More]
[Home Page] [The Automator] [About] [Subscribe ] [Contact Us]