---

EMAIL INTERVIEW – Steven Guzelimian and Ken Sinclair
Steven Guzelimian, President, Optergy

https://www.linkedin.com/in/steven-guzelimian-4553315/
Smart Outcomes for AHRExpo 2019
Come to check out our live demonstrations and see how Optergy workflow works; you can even connect your own laptop if you like.
---
Sinclair: In your interactions with Building Automation Integrators, what do you think are the major challenges and customer demands that exist in the field you serve specific to the Building Management domain? How does Optergy address those challenges?

Guzelimian: Contractors who deploy building automation are squeezed from all sides; they operate in an industry that often comes with very low margins just to win the work. Delivering a job that meets the specifications, contractor price needs, and the end user outcomes are often a difficult challenge to achieve. As a manufacturer, we are sympathetic to the contractor needs that is, reduced effort to deploy, economical, and offer lots of opportunity for after-sales service. For our end users and consultants, we strive to offer them many opportunities to improve building performance, energy efficiency, ease of operation & maintenance.

Optergy has designed an economical system that can meet the needs of the end-users, that is to provide a complete automation system that people will love. Gone are the proprietary tools, annoying annual license fees, and costly specialized training. Optergy has built a platform based on industry standards BACnet & Modbus, but enhance it with 50+ applications to improve usability. Optergy is backed by domain experts in contracting, energy conservation, operations, and manufacturing, so we have people who know how buildings work and build the tools for different user roles.

Sinclair: Last year at AHR EXPO 2018 and throughout the year Optergy focused on the advantages of a combined Building Management System with Energy Management as shown in this article, what is the Optergy theme for 2019?

Guzelimian: This year our focus is on Smart Buildings, and more specifically Smart Outcomes both for the Contractor and the End User. All too often as a technology company, we convince ourselves that our products are the answer to all challenges. We sometimes forget about the people that design, engineer, deploy, commission and operate them after we have sold our goods.

For the Contractor, Optergy technology and applications can benefit them by:

Standardization or the ability to quickly replicate content within the system makes the speed of engineering & delivery less time consuming and costly in terms of labor. Remember for a contractor, nearly 2/3 of every project is Labor.
Reduced Inventory, means having the right products on hand and not sitting as dead money on the shelf. This means turning over inventory is a necessity. Many contractors work with product lines that have a plethora of models with variant configuration, each with its own installation and wiring characteristics, they may have to license that is added to the hardware. These can leave designers with too many choices and lead to quality errors both in design and in deployment due to changes in field wiring.
Reduced Technical Complexity,

managing multiple product brands may

require higher levels of skill or specialized training for technicians. This training often involves cost due to travel expenses and lost productivity due to employee absence. With variant controller configuration, it may be difficult to replicate and leverage previous work to use in new projects.
Timely Free Updates, are needed to manage features, problems, and security. Some manufacturers require maintenance agreements or recurring fees to support their manufactured product continuously (during the warranty period or after). The products themselves often require the connection of specially licensed software, requiring a technician to go to the site and service the software on premise. From a contractor's perspective, losing a laptop or turning in a leased machine means reinstalling special software getting a license transferred (all non value activities for them).

For the End User, Optergy's software and more than 50 built-in applications, End users have tools to:
Smart Controls (Less effort and easier day to day operation)
Smart Metering (Energy Waste Insight)
Automated Reporting (Real Time information for easier decision making)
Live Dashboards and Foyer Displays (Passive and Active cost avoidance)
Tenant Utilities & Afterhours Billing (Cost recovery)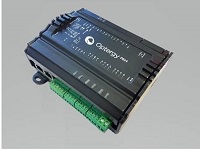 Sinclair: What products are you featuring at AHR EXPO 2019 this year?

Guzelimian: This year, we are launching the Optergy P864, a Smart Edge controller that operates building equipment autonomously and expands up to 8 IO modules total (144 hardware points). Connectivity is made easy via BACnet IP (PoE), MS/TP, and MS/TP routing. The P864 is truly versatile, and can also be managed by 3rd party software using its built-in REST API for an open and secure Internet of Things device.
Applications include HVAC, central plant, lighting, hydraulic systems control, energy monitoring and more.

Contractors will love:
The P864 IO mix fits many applications (8 universal inputs, 6 binary outputs, 4 analog outputs)
Can transform from a unitary controller to a plant controller adding 864e Expansion IO as needed
Easier to standardize product mix for inventory, estimating, and deployment as there are only 3 parts to stock:
P864 web-based programmable controller with BACnet (IP & MSTP), PoE, and REST API
P864-MSTP web-based programmable controller with BACnet (MSTP), Airflow Sensor
864e expansion IO module that increases the IO count up to 144 hardware points and acts as a single controller
No recurring license fees or maintenance agreements, free updates
Local Web Page configuration, No special licensed tools to engineer (use any browser)
High accuracy inputs for special applications (24 bit)
Plug in factory calibrated airflow sensor

Multiple power and communication options
Sinclair: What else will we see at your booth C5225 in Atlanta?

Guzelimian: https://ahr19.mapyourshow.com/7_0/floorplan/?hallID=C&selectedBooth=booth~C5225



Come to check out our live demonstrations and see how Optergy workflow works; you can even connect your own laptop if you like. We will be demonstrating how easy it is to transform a controller with applications to deliver great outcomes, fast and with reduced effort. Last year we showed you how we could deploy an Energy Management system in under an hour, this year we will present a contractor friendly Building Automation system with unitary and plant controllers.

Optergy has put much of its development effort into Applications, our combined strategy of meeting the contractor needs, as well as the end-user, will enable people to have and operate a smarter building. We invite you to check out our Application Datasheets and come to see our award-winning products along with our domain experts who can help add the Smart into your building.


---

[Click Banner To Learn More]
[Home Page] [The Automator] [About] [Subscribe ] [Contact Us]