---
| | |
| --- | --- |
| FIATECH Capital Projects Technology Roadmap | Ken Sinclair |
Have you seen the FIATECH Capital Projects Technology Roadmap? This roadmap shows how the construction process will be integrated with IT/IP tools. It is important that we as an industry understand how and where we fit into this roadmap.
If you want to learn more about this get involved with FIATECH as a member you can attend their next meeting

I have included the Conference Chair comments below to allow you to quickly gain insight into FIATECH mission.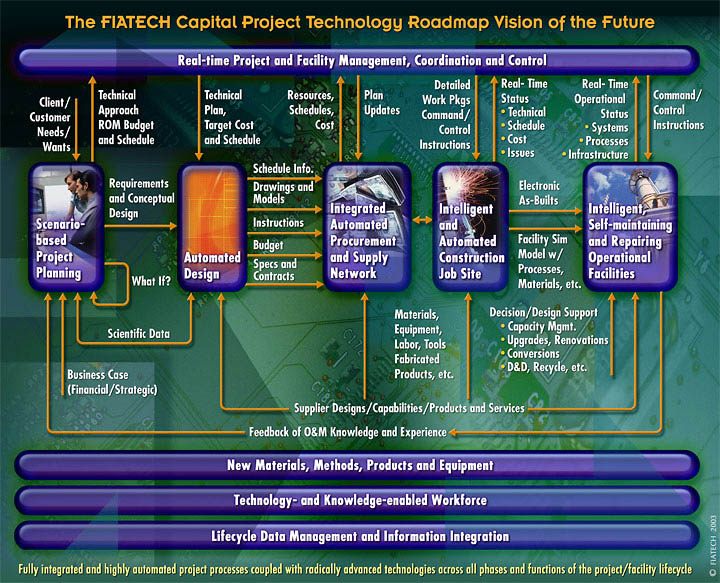 As Conference Chair, I am pleased to invite all FIATECH members to attend the 2006 FIATECH Annual Member's Meeting. I hope that this meeting will be not only informative and enjoyable for all who attend, but also exciting, challenging, inspiring, and re-energizing.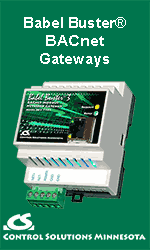 It has been almost five years since a pioneering group of experts from the capital projects industry met in San Antonio, Texas, to begin the development of a comprehensive technology research and development (R&D) agenda for the industry. We are all aware of, and familiar with, the results of this effort, the FIATECH Capital Projects Technology Roadmap; and as we saw last May at the 2006 FIATECH Technology Conference and Showcase, much progress has been made in some of the elements in the roadmap, and we are starting to see that its influence is increasingly transcending the FIATECH membership, and has started to affect the industry in positive ways. The Roadmap initiative has been indeed a successful endeavor, and we should take the time to be proud of what we have done to date, and to acknowledge what it has taken us to get to where we are today. However, as the author Bob Buford states in his book "Halftime," we need to move from the "… quest for success, to a journey of significance…" Don't forget to change the page title (Page Properties) and the Date at the top.
Consequently, as we celebrate this five-year milestone, and as the developers and custodians of the Roadmap, and the primary stakeholders in ensuring that the right technologies are developed in the order that delivers the highest business value across all phases and processes of the capital project life cycle, as our mission states, I have two specific invitations to all members of FIATECH. First, I invite you to take the time before the conference: (1) to assess where we are in this journey to significance today, with respect to our mission and our vision (i.e., the "Compass Check"); and (2) to evaluate how were are doing to date, in terms of our effectiveness and efficiency to accomplish our mission, and achieve our vision (i.e., the "Dashboard Check"). Second, I invite you to come prepared to the conference to engage, with other like-minded industry leaders and visionaries, in a candid dialogue, in a free exchange of ideas, and in an open sharing of lessons learned and experiences, on the results of these two checks.
My personal goal for this year's conference is to excite, challenge, inspire, and re-energize all of our FIATECH members, in plotting together the course we want to follow in the next stage of our journey to significance, as we get closer and closer to the vision of a future state where capital projects are executed in a highly automated and seamlessly integrated environment across all phases and processes of the capital project life cycle, and within which all information is available to who needs it, when it is needed, and where it is needed at an affordable price.
I hope to see you all in the Mile High City, Denver, CO, this November.
Jorge A. Vanegas, Ph.D.
Director Center for Housing and Urban Development
Member of the FIATECH Board of Directors
---

[Click Banner To Learn More]
[Home Page] [The Automator] [About] [Subscribe ] [Contact Us]