---
Protect Your Office Buildings, Schools
and Manufacturing Facilities


Paul McCabe, President/CEO The McCabe Group





technology from MachineSense (

www.machinesense.com

)
With the emergence and growing continuation of the pandemic virus, Companies are looking for viable answers to help mitigate the immersion of remote working structures by providing real solutions that will allow Companies to get their workforce, manufacturing and educational environments back to some sense of normal.
One such Company, MachineSense, has responded to this challenge with an innovative first line of defense at the first place peope use when entering a building. This product is FeverWarn and it truly is a game changer to help get businesses back into the office, manufacturing back to doing what they do best, and schools getting closer to opening with confidence.
FeverWarn is a thermal temperature scanner that is accurate, quick, and non-invasive. It requires no additional personal that hand held scanner methods require. Simply stated, FeverWarn is the most advanced, non-invasive, socially-distanced, FDA compliant temperature scanning device out there right now.
"This Internet of Things* (IoT) platform, combined with the engineering and scientific staff at MachineSense, has brought a whole new approach to solving a myriad of issues facing manufacturing, office building automation, security, IT and now safety, Bessemer said.  
FACT: The Centers for Disease Control and Prevention (CDC) has recommended that businesses, manufacturing, and schools not only protect their students/employees but also monitor employee health regularly. Legal experts assert that entities that fail to maintain minimum standards, including health monitoring and temperature screening, could later be subject to liability or workman's compensation issues if employees, teachers, students, and visitors contract the virus.
How It Works:
Advanced infrared temperature monitoring system offers much more than temperature scanning. FeverWarn's reporting software is your future expert witness, providing compliance reports to help you avoid liability issues. The system also easily integrates with auxiliary devices such as automatic doors, gates, and employee attendance systems.
Since this pandemic started, there have been a flood of thermal scanners entering the market, each touting the ability to accurately measure body temperature. FeverWarn is unique in several ways. First, it scans visitors' fists instead of their forehead, avoiding the close contact and unreliability that often comes with forehead scanning (hats, hair bangs, make-up, sweating can produce an inaccurate reading). Second, if someone shows an elevated temperature, this product has the capability to integrate a serial relay controller that can be input via any on-premise device, such as door locks to prevent a person with an elevated reading from gaining entry. And third, unlike expensive walk-through scanning devices, FeverWarn is extremely cost-effective with equal if not more accurate temperature reading capabilities.
Additionally,even after the pandemic subsidesFeverWarn will still be extremely relevant to combat other infections, such as the seasonal flu
Added Unique Benefits
Unlike hand-held scanners that also require a person to operate the scanner, FeverWarn can be easily integrated with building security doors and other entrances so that a green light signal can trigger door unlock while a red light signal will maintain a locked position. If the door is not always in the locked position (i.e. schools), if a red light signal is presented the door will automatically lock to prevent that person from entering. FeverWarn also has the capability to integrate with scancard systems for employee id as well.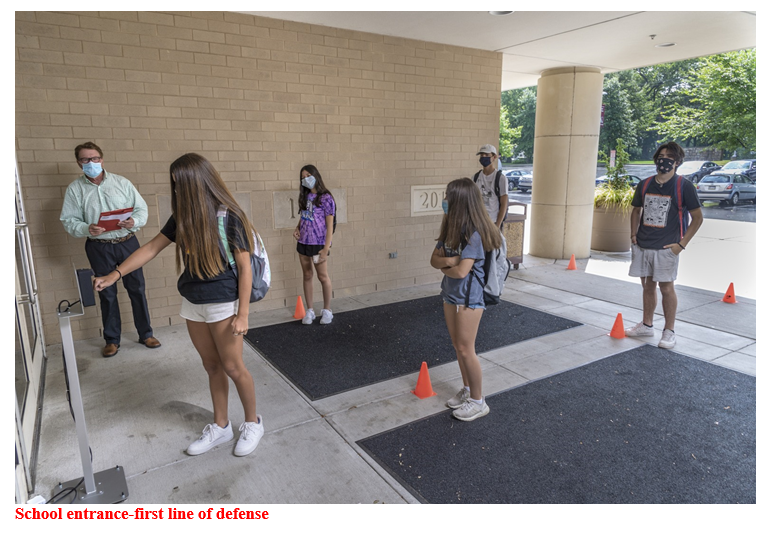 Background
MachineSense may not be brand new (it was founded in 2014), but its entrance into the security and building automation industry with a new and innovative technology is. The underlying  platform is derived from IoT technology, combining sensor technology with algorithms to accurately and quickly measure various metrics, such as body temperature. With the emergence of COVID-19, the company has expanded its IoT focus to create FeverWarn.
Founder, President and COO Biplap Pal, and Executive Chairman Conrad Bessemer, founded MachineSense with the desire to thoroughly master and execute IoT technology across multiple industries and applications. Having successfully achieved that goal in the plastics industry by creating sensors and algorithms around predictive and prescriptive maintenance on machines that process plastic pellets, they have reacted to the immediate need for some type of first line defense against this current pandemic. 
This major technology push to integrate cloud services, edge computer services and more cloud-based information diagnostics had, in 2018, earned MachineSense the highly coveted recognition by Microsoft as one of Microsoft's top technology startups. 
"We already had the base technology, so we built a thermal sensor system within two months, launched it in May, and the scanner started selling like hot cakes," said Biplap Pal. "We are on track to ship out thousands [in September] — there's a huge demand, and it's growing exponentially." 
FeverWarn isn't the first new product MachineSense has created based on the challenges of its customers. Two years ago, the company reacted to a series of bridge collapses in Kolkata, India, and developed proprietary sensors and analytics to be placed on bridges to predict bridge cracks, thus helping to avoid future bridge failures.  
In response to the current pandemic, the company is continuing to develop advanced screening products for high temperature detection. "One new product in BETA testing will detect respiratory issues as well as other signs of illness as new data points are developed," Bessemer said. "In addition, the company is developing solution-based products for the pandemic that are focused on improving air quality and alerting users to an atmosphere that may provide for viral spread through aerosols." 
The company employs approximately 200 people in the U.S. and India, with offices in Baltimore, Md. and Kolkata, India. Along with its parent company Novatec, MachineSense has grown more than 300 percent in the past decade.  
To find out more information on how the product is being used in schools, hospitals, and the security-related industries go to www.feverwarn.com 
________________________________________________________________
* MachineSense IoT platform is a versatile software that can integrate with any third party security or access control system seamlessly. It can also integrate with HR/Employee record keeping software
---


[Click Banner To Learn More]
[Home Page] [The Automator] [About] [Subscribe ] [Contact Us]