BACnet Manufacturers Association Holds Second Interoperability Workshop









BOSTON - The BACnet Manufacturers Association (BMA) and the BACnet Testing Laboratories (BTL) recently held the second BMA-sponsored BACnet Interoperability Workshop which was hosted by Teletrol Systems Inc. in Manchester, N.H. Twelve BMA corporate members, including Alerton Technologies Inc., Automated Logic Corp., Cimetrics, Delta Controls, Johnson Controls Inc., Lithonia Lighting, McQuay International, Reliable Controls, Siemens Building Technologies, Teletrol Systems Inc., The Trane Company, and The Watt Stopper, participated in the interoperability testing. The participants tested the BACnet interoperability of their building automation hardware and software products in five functional areas: data sharing, alarming, scheduling, trending, and device management. A wide-range of products were present, ranging from full-featured operator workstations to unitary controllers and networked I/O. Representatives from Cornell University and the National Institute of Standards and Technology (N.I.S.T.) also attended, adding their BACnet expertise to the event. "We're excited by the growing interest in our Interoperability Workshop. This interest really shows that our members want to deploy fully interoperable and scalable building automation systems in the field today," said Jim Lee, president, BMA. "The BTL also collected valuable data on interoperability issues which will be used to improve product testing procedures and to provide implementation guidelines to product design engineers."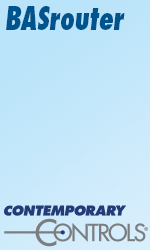 About BACnet
BACnet (Building Automation Control network) is an ASHRAE and ANSI standard protocol for achieving interoperability in building systems. Non-proprietary interoperability provides flexibility for the design and configuration of systems, and promotes competitive bidding. BACnet is ideal for use with medium to large-sized systems, in multi-building sites, to implement integration with central plant equipment, and for integration between different building systems. BACnet was developed by ASHRAE with the cooperation of nearly every major manufacturer of building automation and controls. For more information about BMA membership, E-mail info@bacnetassociation.org.
About BMA
The BACnet Manufacturers Association (BMA) is an organization that encourages the successful use of BACnet in building automation and control systems through interoperability testing, educational programs and promotional activities. BMA membership is open and includes companies involved in the design, manufacturing, installation, commissioning and maintenance of control equipment that uses BACnet for communication. For more information and questions about membership, visit www.bacnetassociation.org.
---


[Click Banner To Learn More]
[Stay Informed - Subscribe to our Update Mailing List]
[Home Page] [Contact Us] [The Automator - Current Issue]
[News] [Resources] [Products] [eDucate] [About]

Visit Home Toys to Learn about Home Automation
Web Design by Enviromation