---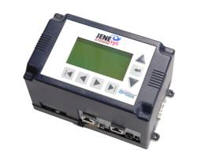 Lynxspring Launches JENE-PCLCD for Niagara Platforms
Leawood, KS November 28, 2007. Lynxspring, Inc. announced today the availability of JENE-PCLCD, JENEsys™ PC Series LCD Operator's Panel, which is designed to be used together with the JENEsys™ PC1000/6000 or Tridium's JACE 2/6. The operator panel gives users access to parameters without communicating directly to the BAS system. Additionally, it is used to monitor status, adjust set points, view and acknowledge alarms, set schedules and perform other functions as required by the user. All values are displayed with explanatory text in the alphanumeric display window. The JENE-PCLCD provides complete control of equipment without using a PC and the terminology can be defined by the developer.
For further information visit www.lynxspring.com
---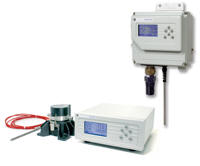 GE Announces OptiSonde™ Chilled Mirror Hygrometer
Billerica, Mass. – November 27, 2007. — GE Sensing & Inspection Technologies announces the OptiSonde™ humidity indicator, transmitter and data logger. The OptiSonde is the first chilled mirror hygrometer to offer the precision and repeatability previously found only in laboratory standards, to a compact and economical instrument suitable for industrial applications. The OptiSonde may be used to calibrate and verify a wide variety of humidity sensors and instruments. It is ideally suited for documenting the environmental conditions of process and storage areas. The OptiSonde utilizes technology of choice for monitoring humidity and temperature in pharmaceutical process, environmental test chambers, automotive and aerospace engine emissions and testing, heat exchanger and air conditioning performance testing applications.
For more information visit http://www.gesensing.com
---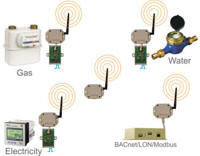 Spinware - Wireless Pulse Counter for Remote Metering Applications
Spinwave Systems provides cost effective retrofit solutions to make wireless metering of electric, gas and water utilities affordable.
Spinwave's wireless pulse counter is an attractive metering solution for building owners, energy managers and facilities personnel. It provides a cost-effective way in which to transmit pulse counter data over large areas without the expense of running wire or laying cables.
For more information visit www.spinwavesystems.com
---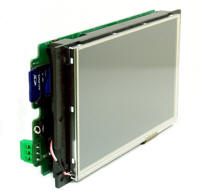 Saelig Company Inc - iTL710 IntelliLCD Quick-Start LCD Interface - working buttons in 5 minutes!
Pittsford, NY: iTL710 IntelliLCD Intelligent Display Engine is a serial-controlled display which makes adding a full color touch interface to any project easy! Sending simple serial commands from a controller or PC allows you to quickly create full-color interface screens with buttons, menus, sliders, custom line graphics, etc. iTL710 IntelliLCD also supports TrueType fonts and bitmap files and is also capable of touchpad input. There's even an SD card slot for storing memory-intensive detailed images needed for your projects.
For more information visit http://www.saelig.com/pr/itl710.htm
---
---


[Click Banner To Learn More]
[Home Page] [The Automator] [About] [Subscribe ] [Contact Us]