---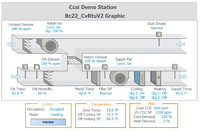 Contemporary Controls - Pre-Built Constant Volume RTU Applications Now Available
Pre-Built applications make it easy to utilize a Contemporary Controls' BASC22 BACnet/IP Sedona Unitary controller in constant volume air-handling (AHU) or constant volume rooftop unit (RTU) applications. Although the BASC22 is a 22-point freely-programmable controller using Sedona as the control language, it can be made into a configurable controller by installing one of five versions (CvRTUv1-CvRTUv5) of constant volume AHU/RTU applications into the controller from the CvRTU Application Series.
Not all AHU or RTU applications are the same so several application versions exist based upon a modular design where only those sub-systems necessary for specific applications are used. Intended for constant volume (Cv) supply fan applications, the series supports one or two-stages of direct expansion (DX) cooling; one or two-stages of gas or electric heating; analog heating or cooling. Optional provisions include powered exhaust (PE) with or without variable speed fan motor; air-filter status; local occupancy switch/sensor; fixed or CO2 demand control ventilation (DCV); dry-bulb or enthalpy control of economizer.
For more information visit http://www.ccontrols.com
---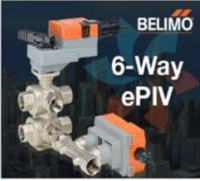 Belimo Releases the new 6-way Electronic Pressure Independent Valve (ePIV) with Near Field Communication (NFC)
Belimo's non-spring return 6-way electronic pressure independent valve (ePIV) assemblies with Near Field Communication (NFC) and an ultrasonic flow meter. The ½" offers flow setting to 5.5 GPM and the ¾" with flow setting to 10.3 GPM ideal for ideal for chilled beams and radiant ceilings. The compact valve has the functionality of four 2-way control valves saving space, material and installation time. The valve reacts to any change in pressure; the actuator logic with True Flow feedback modulates the valve to maintain the heating and cooling flow setpnfc.pngoint for sequence 1 and 2. Flow setpoint is with BACnet or Modbus communication, or with a single analog 2-10 VDC control signal. Flow setting for sequence 1 and 2 is adjustable with NFC. NFC allows for fast programming, commissioning and troubleshooting; even when the actuator is without power, it can be programmed. Simply download and instal the Belimo Assistant app to your smartphone from the Apple Store (Belimo gateway part# ZIP-BT-NFC is required) or on Google Play. Align the smartphone over the actuator to access data and write new program values to the actuator.
For more information visit http://www.belimo.us

---

Schneider Electric Introduces New CO2 Sensor for Intelligent Room Controllers

The sensor detects CO2 levels in environments such as hotels, schools, office buildings, restaurants and more to help facility managers make changes to air quality to improve occupant comfort and create opportunities for energy savings. The risks associated with high CO2 levels within building environments are significant. From an occupant standpoint, high instances of CO2 can induce lethargy, decrease productivity and in some instances lead to medical conditions such as fainting. For facilities managers, the sensor identifies opportunities to reduce air changes and adjust lighting and temperature settings when rooms are not occupied, which leads to significant energy savings. Additionally, the CO2 sensors can help building owners achieve LEED, BREEAM and Green Star certifications that promote their dedication to sustainability and attract and maintain tenants.
For more information visit http://www.schneider-electric.us
---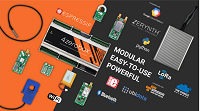 TOI 4ZeroBox: The Industrial Toolkit for IoT Solution Providers
4zerobox is an easy to configure and easy to program modular hardware electronic unit: it is perfectly suited for data acquisition and processing from existing systems and is fully compatible with hundreds of standard sensors. You can digitalize existing industrial assets without installing a PLC! It allows: IoT enabling an existing machine to have a distributed sensors network into the plant operations and acquire valuable information, thus bypassing an obsolete PLC; Seamless Integration with enterprise software infrastructures further extending the value of a ready to deploy toolkit.
4zerobox is ideal for applications in Manufacturing, Smart Retail, Logistics, Home Automation, Smart Cities and all market sectors where IoT is a core capability.
For more information visit https://www.kickstarter.com/projects/1322607643/4zerobox-the-industrial-toolkit-for-iot-solution-p
---
---


[Click Banner To Learn More]
[Home Page] [The Automator] [About] [Subscribe ] [Contact Us]