November 4, 1999
For Immediate Release: Invensys Building Systems Announces the Acquisition of TeCom
Rockford, Illinois -- Invensys Building Systems, formerly Siebe Environmental Controls, has today announced the completion of an agreement to purchase the assets of TeCom Inc.
TeCom of Tampa Florida was founded in 1995, following three years of market analysis and product development, to deal with changing needs of the utility customer. By delivering products and services for customer driven energy efficiency and control, TeCom helps the customer better understand and manage the purchase (supply) and consumption (demand) of energy. From basic data acquisition and analysis to intelligent, automatic monitoring and alarming, TeCom provides the tools needed to manage energy consumption effectively.
Invensys Building Systems offers a wide variety of effective solutions to manage and control building mechanical systems, energy usage, and operating efficiencies through a world wide network of field offices. As one of the world's largest manufacturers of interoperable building control products, Invensys Building Systems provides comprehensive programs and easy-to-use systems to optimize commercial building operation. Invensys IBS's extensive line of valves, actuators, and sensors complete the building automation systems, offering a single source…One Face, One Place SM, for all building control needs.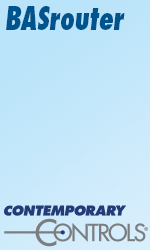 Together, Invensys Building Systems and TeCom offer a unique synergy for their customers, providing information to manage buildings systems intelligently. Both companies agree that the transaction is in the best interest of their customers, clients and employees.
Invensys Intelligent Building Systems is a member of the Invensys Controls Division. The parent, Invensys plc, is a global electronics and engineering company created by the merger of BTR plc and Siebe plc on 4th February 1999. With its head office in London, England it operates in all regions of the world through four focused divisions - Intelligent Automation, Industrial Drive Systems, Power Systems and Controls. The Invensys vision is to be the global leader in the automation and controls industry. With over 100,000 employees, the company's products range from advanced control systems for automating industrial plants and controlling the environments of buildings, to electronic devices and controls found in residential buildings and light commercial applications.
---


[Click Banner To Learn More]
[Stay Informed - Subscribe to our Update Mailing List]
[Home Page] [Contact Us] [The Automator - Current Issue]
[News] [Systems] [Products] [Resources] [About]

Visit Home Toys to Learn about Home Automation
Web Design by HomeToys
©Enviromation 1999