PC Soft Extends LonWorks Technology to the Web
Innovative tools reduce development time and costs of Web-based HMI applications.
Mansfield, MA, November 15, 1999 -- PC Soft International unveils today its innovative Web-enabled HMI product Unity InterActive™ with full support for Echelon Corporation (NASDAQ: ELON)'s LonWorks® network. This innovative solution consists of an embedded Windows CE or NT kernel and real-time web server that communicate with LonWorks networks through OPC, and a web-enabled HMI software that enables users to access LonWorks applications using any standard Java-enabled browser.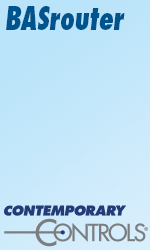 According to PC Soft president and CEO Dale Calder, "Combining these leading technologies provides an ideal solution for building automation applications. Maintenance personnel will now be able to monitor and control their buildings from anywhere using a web browser. This will dramatically reduce the costs and time required for traveling, upgrading hardware and software, and developing and maintaining the applications."
"Internet connectivity is a major aspect of everything Echelon is doing today", continues Henk Walraven, marketing director of Echelon Europe. "PC Soft's web-enabled Unity product builds on the proven LonWorks distributed system architecture to provide full functionality of HMI applications through a web browser."
Web Technology Built In
Through Unity's embedded web technology, live displays of graphics, trends and alarms developed with Unity can be instantly saved as Java applets and published to the web. Local and remote users can access both real-time and historical information from their familiar operating system and a browser. This enables remote users to both acknowledge and handle alarms the moment they occur, as well as trace events and find the cause for the problem. Also, since Unity's web technology is event-driven, only updated data is transferred from the server to the browser, allowing for fast updates even on dial-up connections.
About Echelon Corporation
Echelon Corporation is a worldwide leader in control networks used by over 4,000 companies with millions of devices installed worldwide that deliver efficiency, safety, and productivity to building, industrial, transportation, home and other environments. The company's family of over 80 products and services are based on the LonWorks platform for control networking and are at the forefront of the trend away from closed, centralized control systems.
PC Soft International - Technology and Market Leadership
PC Soft International is the world leader in combining SCADA, Control, and Web technology for industrial automation. For more than ten years we have provided highly innovative PC-based software solutions that maximize productivity and minimize installation and maintenance costs. Over 30,000 professionals around the globe use PC Soft's products for monitoring and controlling their plant equipment and processes. PC Soft International distributes its products worldwide through dedicated distributors with the resources and experience to provide extensive sales and technical support services.
For additional information on any of PC Soft products and services, please visit our web site at www.pcsoftintl.com.
---


[Click Banner To Learn More]
[Stay Informed - Subscribe to our Update Mailing List]
[Home Page] [Contact Us] [The Automator - Current Issue]
[News] [Systems] [Products] [Resources] [About]

Visit Home Toys to Learn about Home Automation
Web Design by HomeToys
©Enviromation 1999