Raytheon Control-By-Light to Provide Distributed Fiber Optic Networking Products to Electronic Systems USA, Inc
SUDBURY, Mass., - Raytheon Control-By-LightTM, a part of the Commercial Electronics Division of Raytheon Company, announced today that it has entered into an agreement with Electronic Systems USA, Inc (ESUSA), the nation's leading supplier of multi-vendor products and services in the building automation industry, to distribute fiber optic products aimed specifically at the commercial building market.
The partnership between Raytheon and ESUSA will promote the sales of Raytheon's complete family of fiber optic technology solutions in combination with ESUSA's Lon-based NexSysR product line. NexSys is the first complete LonWorksR-based building automation systems solution for integrating multi-vendor systems.
"ESUSA is a recognized leader in multi-vendor automation services, and is helping to bring facilities into the 21st century by integrating the latest technology with existing systems," said Brian Morrison, director of Raytheon Control-By-Light. "We believe that fiber optics represents the next generation of automation solutions."
Raytheon developed the industry's first fiber optic products based on Echelon LonWorks interoperable standards and has patented technology that lets a single bi-direction fiber optic cable communicate in two directions. Previously, commercially available fiber optic cable transmitted messages only one way at a time.
The benefits of Raytheon's patented bi-directional, distributed sensing technology is a more cost effective networking solution that uses fewer cables and connections, cutting the cost of a fiber-based LonWorks building automation network in half. In addition, Raytheon's fiber optic systems are both tamper proof and immune to electrical interference, high voltages, crosstalk and lightning.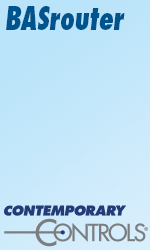 Electronic Systems USA, Inc., an employee owned company headquartered in Louisville, KY, USA, serves a global market through branch offices in the U.S. as well as an international organization of VARs. ESUSA manufactures and distributes direct digital control products for the global market. In addition, the company maintains and upgrades HVAC, fire/life safety, security, and third party energy management systems.
Raytheon Control By-Light fiber optic solutions are used in a wide range of applications to create highly intelligent, efficiently-operated buildings that rely on integrated, automated control of functions, including lighting, heating, information management, communication, access control and security.
Raytheon Company, based in Lexington, Mass., is a global technology leader that provides products and services in the areas of commercial and defense electronics, engineering and construction, and business and special mission aircraft. Raytheon has operations throughout the United States and serves customers in more than 80 countries around the world.
RELEASE CONTACTS:
Elizabeth Reed 978-440-1040
Lisa Stearns 781-878-8882
---


[Click Banner To Learn More]
[Stay Informed - Subscribe to our Update Mailing List]
[Home Page] [Contact Us] [The Automator - Current Issue]
[News] [Systems] [Products] [Resources] [About]

Visit Home Toys to Learn about Home Automation
Web Design by HomeToys
©Enviromation 1999