---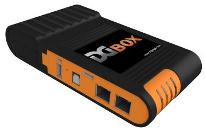 DGLogix - DGBox The Appliance Platform

DGBox is a cost effective solution that enables creation and utilization of appliance applications consisting of Data Acquisition, Data Storage and Visualization. Utilizing DGBox, customers are able to take advantage of data point and visualization templates specific to the devices being monitored and/or controlled. The Appliance Platform drives repeatability and enables plug and play deployments for reduced engineering time and enhanced cost savings.
For more information visit http://www.dglogik.com/dgbox
---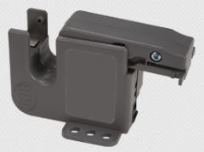 Sontay - PM-CSA03 – 240Vac Adjustable Setpoint 0.75 to 150A Split Core Current Switch

New for 2014 is this addition to our current switch range. Allow for easy detection of broken drive belts, drive belt slip or pump coupling shear. A typical HVAC motor that loses its load has a reduction in current draw of up to 50%

Features:
Adjustable set-point; More reliable and cost-effective than differential pressure switches; 100% solid-state output, no moving parts to fail; Output status LEDs for fast setup; Self-powered
For more information visit http://www.sontay.com/products/metering/energy-analysers
---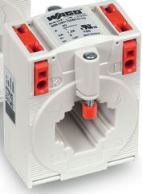 Current Transformers are WAGOs New Addition to Power Measurement Family
WAGO Corporation introduces the newest addition to the power measurement product line - 855 Series Current Measurement products. Unlike traditional current transformers, the 855 Series offers CAGE CLAMP® connection technology and quick mount kits for the primary conductor or bus bar. Available from 50 to 1,000 amps with 1 or 5 amp secondary currents, WAGO's new current transformers feature continuous overload of 120 percent of primary current. A unique wire tie accessory for securing the wire enables quick and easy installation. Flexible mounting options, including DIN-rail or panel mounting, are an added benefit of the 855 Series.
For more information visit http://www.wago.us
---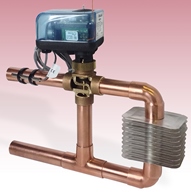 Spartan Peripheral Devices - ME8335, ME8395 & ME8385 Autochangeover Wireless Actuator

The ME83x5 series of actuators are summer/winter, cooling/heating, automatic changeover wireless control valve actuators used for two pipe fan coil units. Based on the new Dolphin module from EnOcean they are designed for two way communication with devices based on the EnOcean protocol. The actuator is based on a proven mechanical gearbox, designed for more than 500,000 cycles. Utilizing a brushless synchronous AC motor with constant torque and speed, it allows precise positioning over the full span of the valve travel with its own internal P+I control loop. The positioning is paired with an
electro-optical rotation counter allowing for absolute positioning without drifting.

For more information visit http://www.spartan-pd.com

---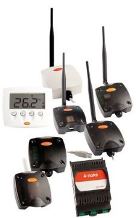 ZB-Connection - Wireless Energy Management Sensors

A huge number of buildings, especially small buildings will have absolutely no form of control or monitoring, mostly discouraged by prohibitive costs in installing traditional hard-wired solutions. The answer to this dilemma is a non-intrusive Wireless Solution: ZB-Connection. All building owners & operators are demanding better control and more information from their buildings. This is where ZigBee Mesh devices combined with BMS Systems/Data logger and reporting/analysis applications addresses this problem and "plugs the gap" by allowing for extremely versatile wireless nodes to be incorporated into an existing building to enable enhanced control as well as remote monitoring at all levels

For more information visit http://www.zb-connection.co.uk/wireless-energy-management
---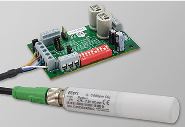 Modular CO2 transmitter for demanding OEM applications - E+E Elektronik

The modular CO2 transmitter EE870 from E+E Elektronik is designed for maintenance-free use in demanding OEM applications. It offers various analogue outputs, Modbus interface, and a wide range of AC and DC supply voltage ranges. The compact, interchangeable probe measures CO2 concentrations up to 10,000 ppm and can be replaced within seconds without the need of calibration or adjustment. The user can change the measuring range of EE870 by simply plugging in another probe. The probe is based on infrared technology (NDIR) and uses a dual wavelength auto-calibration procedure. Thus, it is completely maintenance free and highly resistant to environmental influences. Thanks to the factory multipoint CO2 and temperature adjustment, temperature compensation ensures excellent measurement accuracy over the entire operating range of -40... 60°C.

For more information visit http://www.epluse.com

---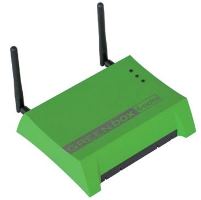 ZB-Connection - GreenBox Data Logger/Gateway - ZC-GB-EM
The GreenBox is ideal for small, medium and large buildings or processes that require discreet energy management platform in a building that can serve the data to any dashboard/reporting tool or a BMS/PLC/SCADA. GreenBox co-ordinates, manages and monitors the ZB-Connection Network. The web-based user friendly interface allows for simple setup and configuration of the wireless sensors. This means solutions can be rapidly installed, without major disruption to the site of its occupants. GreenBox provides complete data access via Ethernet or Cellular Communications. Key features include configuration and set-up of ZB-Connection sensors, elevation of data points, calculations, historical trending, sensor diagnostics, and export data via external webservice calls, FTP, CSV and Modbus RTU RS485 & TCP/IP. GreenBox can also integrate wired ModBus slave devices allowing you to create solutions that meet the clients requirements cost effectively.
For more information visit http://www.zb-connection.co.uk/greenbox

---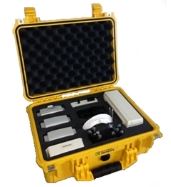 Adaptive Wireless Solutions - Environmental Monitoring Kit
The SensiNet evaluation kit provides all the components needed to deploy a fully functional wireless environmental monitoring system. Any computer with a standard browser can access the user interface providing all data logging, trending and visualization functions and requires no additional software. The kit comes packaged in a rugged case to ease transportation and shipping. The system can be up and running in minutes and provides the sensors required to measure, for example, temperature, humidity & power consumption in: • Data centres • Offices • Schools • Warehouses Sensors can be relocated in real time for preliminary surveys and needs assessment or left in situ for trend analysis. The wireless gateway can store enough data for more than 2 weeks of monitoring at 1 minute intervals. On board functions include graphing, data export and multi-page user-defined floorplan layouts with overlaid real-time temperatures humidity, power use .
For more information visit http://www.adaptive-wireless.co.uk


---
BACnet® /IP client for Android, allows to discover and access devices on BACnet® networks.

Product Features
• Access BACnet devices on the local network (Wi-Fi) or Register as a Foreign Device to a remote network through the cellular network or Wi-Fi.
• Devices and their associates objects are automatically discovered on the network.
• Create list of objects. List allows to group objects and save them for later reading /writing access. Import / export lists.
• Allows to perform read and write operations on the property Present_Value for objects of the following type: Binary Input, Binary Output, Binary Value, Analog Input, Analog Output, Analog Value, Multi-state Input, Multi-state Output and Multi-state Value.
• Dynamic user interface with multi-pane on devices with large screen / tablets.
For more information visit http://www.amazon.com/gp/product/B00DP8Q1A2
---
---


[Click Banner To Learn More]
[Home Page] [The Automator] [About] [Subscribe ] [Contact Us]