---

MatrikonOPC SNMP Agent for OPC
The MatrikonOPC SNMP Agent for OPC provides Simple Network Management Protocol (SNMP) enabled applications with seamless access to real-time data. This product links all available data from devices and applications that have OPC connectivity. Using the MatrikonOPC SNMP Agent for OPC simplifies integrating diverse, non-SNMP enabled, data sources - such as process control systems or building automation systems - into Network Management Systems (NMS) like IBM Tivoli , Solarwinds, Castlerock, HP OpenView, Aprisma Spectrum, and Micromuse Netcool.
Learn more about the MatrikonOPC SNMP Agent for OPC at http://www.matrikonopc.com/opc-drivers/311/base-driver-details.aspx
---

Softbitonline GPRS/GSM enabled Wireless SCADA system for industrial automation applications.

Multiple Applications:
1. Remote Data Acquisition – Real Time Online,
2. Remote Monitoring & Control,
3. Remote Condition Monitoring,
4. Remote Energy Auditing/Management
5. Remote Industrial Automation Applications
6. Remote Security Monitoring & Control

This ready to use device can be used with any electrical machine such as electric motors, HT/LT transformers, Man-less Substations, DG sets, Furnaces, Boilers, Cooling Towers, Conveyors, Production Lines, Cold storages, AC Plants, Lifts/Elevators, UPS, Power Plants, Refrigerated Vans, Water Pumping Systems, Survey Labs, Technical Institution Labs or any electrical machine/system for real time online remote monitoring & control. For more information visit our website at http://www.softbitonline.com.
---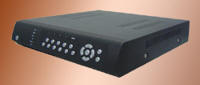 SecuMaster Technology Co., Ltd New DVR
The new M4-04 LOW COST H.264 MPEG 4 DVR supports 4 channel playback simultaneously, remote function vis IE browser and search files by time point and calendar. The actual DVR size is only 25x26x5 cm which is suitable for small business or home use.
Visit web site http://www.secumaster.com.tw/m4-04-A.htm to check detailed information and download user's manual for reference.
---
BACnet-N2 Router Interoperability and Field Testing

The S4 Open: BACnet-N2 Router is being field tested at a TAC Andover Controls site, a Teletrol site, and at an Alerton site. As interoperability testing in our test lab completes for each BACnet IP client environment, we are interested in setting up early adopter / field test sites where the customer, their support contractor or BAS dealer, the BACnet client manufacturer, and The S4 Group can work cooperatively to ensure a successful product introduction. We have test environments set up in our lab, or cooperative test arrangements for the following environments.
| | | |
| --- | --- | --- |
| Alerton Envision | Automated Logic WebCTRL | Honeywell EBI |
| Reliable Controls RC Studio | SCADA Engine BACnet OWS | TAC Andover Cyberstation |
| Teletrol | Trend Controls 963 | Tridium |
In addition, we have several integration partners who will be testing KMC TotalControl and Delta OrcaView at their own locations or at customer sites. The S4 Group wishes to thank our integration partners; our customers, who have volunteered to act as field test sites; and the BAS manufacturers, who have patiently worked with us throughout the development process and our field testing of the S4 Open: BACnet-N2 Router. We have learned a lot of valuable information and received very important input during this process. You will see most of their suggestions and comments incorporated into the final released product. The Gateway, June 1009 -The S4 Group, Inc. Newsletter.
---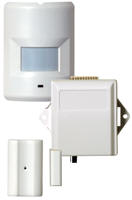 Honeywell's Wireless Occupancy Solution

Solution lets hotel guests control in-room comfort, uses superior sensing technology to save energy while they are away

Honeywell (NYSE: HON) introduced a wireless occupancy solution that helps hotel owners solve the age-old conflict between the desire for guest comfort and satisfaction versus the desire for energy savings. The solution gives existing hotels a quick, low-cost way to save energy. The wireless sensors cut installation time and reduce wire pulls. Pre-configured wireless sensors eliminate the need for configuration. Universal compatibility allows the Wireless Occupancy Solution to work with any thermostat that has remote setback terminals. Wireless sensors, a small receiver and everything else needed for installation is included in an easy-to-order kit. Additionally, the optional door sensor can help save even more energy by turning off the heating-and-cooling equipment when a patio door or window is opened.
For more information visit visit http://beyondinnovation.honeywell.com

---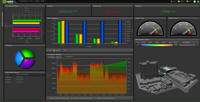 Prophet Energy Dashboard
Prophet Energy is designed to primarily be used to analyze historical and real-time energy consumption data for commercial buildings. The solution targets two user personas: Dashboard Builder and Dashboard Viewer. The Dashboard Builder user navigates a hierarchical energy structure of their facility and is able to perform intelligent analysis and assemble a variety of types of charts with this data. The Dashboard Viewer user is able to view and navigate these pre-assembled dashboards and reports through a similar logical hierarchy.
For more information on the Prophet product line, please visit www.prophetsuite.com.
---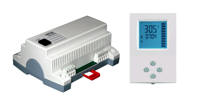 New Intelligent Package Unit Controller Saves Energy, Reduces Installation and Maintenance Costs
This new intelligent controller/thermostat offers sophisticated control options, application flexibility, and simple configuration in a compact, easy-to-use package. Suitable for commercial, light industrial, and residential applications, the TLR-D5P from Vector Controls is a stand-alone controller, combination base unit and terminal, with one control loop for temperature control in two- and four-pipe HVAC package units. TLR-D5P supports up to three fan speeds, two stages of heating or cooling, fan-only operation, and reversing valves. It includes one internal temperature sensor, one open contact or external temperature sensor input, and five binary outputs. A wide temperature range (-40°F to 158°F) covers diverse applications. Adjustable start and stop delays protect compressors and switching elements. TLR-D5P, with switching power up to 10(6) Amp, has been specifically developed to switch larger fans.
For more information visit www.vectorcontrols.com
---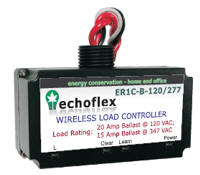 Wireless Lighting Fixture Controller
Echoflex's Lighting Fixture Controller provides wireless relay control over a lighting load or fixture without requiring a switch leg circuit. With an embedded EnOcean radio receiver, the ER1C listens to wall switches enabled with EnOcean
transmitters and activates the light. Lighting Zones with a single switch are easy to establish or have multiple switches, up to 30 per controller if needed! Echoflex's ER1C controller provides the control needed without the disruption, expense and burden of centralized control and decreases the return on investment period.
For more information visit www.echoflexsolutions.com

---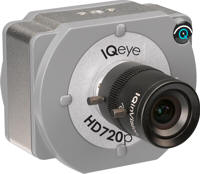 IQinVision Expands IQeye BASIC LINE with IQeye 5 Series

New models include AC/DC power input and analog video out features

IQinVision (http://www.iqeye.com), market leader in high-performance megapixel network cameras, smart IP cameras, and network video recording systems, announced the release of the IQeye 5 Series camera to complement the already-successful IQeye BASIC LINE of HD and megapixel cameras. The IQeye 5 Series also has an analog out that can be used for focusing the camera—making installation simpler and more cost-effective. IQinVision is now taking orders for the IQeye 5 Series cameras, with volume shipments expected in mid-August.
For more information visit www.iqeye.com
---
---

[Click Banner To Learn More]
[Home Page] [The Automator] [About] [Subscribe ] [Contact Us]