---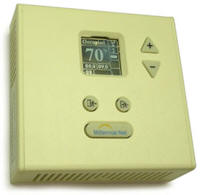 Millennial Net's MeshScape® 6424 Wi-Stat IIIp - the world's first wireless pneumatic DDC thermostat
Wi-Stat IIIp innovative design replaces conventional bi-metal mechanical parts with advanced Piezo valve technology. It operates on totally different principals that enable unmatched reliability, longevity and flexibility, reducing the cost and frequency of unit replacement. Routine maintenance and recalibration is eliminated. Time and cost of installation is reduced as there are no wires, no adjustments screws or need for calibration. The wireless network forms itself and data communications enable remote monitoring and trending to ensure long term performance. Devices are accessible bi-directionally via the internet within minutes. This wireless pneumatic thermostat shares all the intelligent features of its fully electric thermostat peers in the Wi-Stat product family. Combined with other wireless Millennial Net devices, it provides an integral and low cost effective solution to the dramatically improve energy conservation for pneumatic HVAC systems.
For more information visit http://www.millennialnet.com/psi
---

Greystone Energy Systems, Inc., **NEW** CO2 Detector w/ BACnet® Communciation
Environmental, industrial and commercial indoor Carbon Dioxide (CO2) gas detector. This BTL Approved product comes standard in an attractive wall enclosure with optional add-on outputs for Temperature and/or Relative Humidity sensing all from one enclosure. Optional features also available are LCD, setpoint adjustment, momentary override, and alarm relay outputs.
For more information visit http://www.greystoneenergy.com/English/products/airandgas/list_airandgas.html
---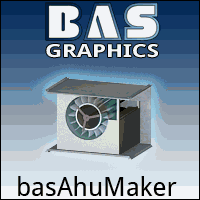 basMaker makes Tridium graphics a snap!

basMaker is a product that make your Tridium projects more profitable by reducing engineering time and at the same time enhancing the aesthetics of your customers experience. This new product release is a package offering of our popular Maker Modules that includes graphics for AHU, RTU, Unitary (VAV and Reheat), Heat Pump, and Central Plant graphics. For one low price you can have all of the graphics you need for most building applications.
At BAS Services & Graphics, we have been developing Tridium Graphics over 8 years and we have extensive knowledge of the Tridium product. We are pleased to announce the launch of a graphic products that will significantly reduce the amount of engineering time you and your engineers spend on a Tridium project. This library of AHU components can be snapped together to create professional 3D graphics within minutes, and they are completely pre-animated. The library includes many different sections of ductwork, fans, dampers, temperature and pressure sensors, heating and cooling coils, valves, pipe work, plus much more. If you require any new symbols/images we will develop them and add them to the library free of charge.
For more information visit http://www.bassg.com
---

Spartan Peripheral Devices Introduces a New Modulating Dual Output LCD Electronic Room Thermostat AND a New Thermostat Guard

Dual output modulating proportional plus integral (P+I) 0/2-10 Vdc electronic room thermostat with digital display and set point adjustment. It is suitable for controlling one heating and one cooling, two heating, or two cooling modulating valves to accurately maintain the room temperature with its P+I control loop. Loaded with features that are simply selectable with internal DIP Switches.
For more information visit http://www.spartan-pd.com/index.php?page=shop.product_details&flypage=flypage-ask.tpl&product_id=44&category_id=3&option=com_virtuemart&Itemid=28〈=en
---

The Themostat Guard prevents tampering, physical damage and unauthorized adjustment of any Spartan thermostat. The attractive, low-profile design is available in two sizes to fit most thermostats and is made of thick, durable polycarbonate. It features exceptional airflow, key lock protection, horizontal or vertical mounting and easy installation with hardware included.

For more information visit http://www.spartan-pd.com/index.php?page=shop.product_details&flypage=flypage-ask.tpl&product_id=92&category_id=3&option=com_virtuemart&Itemid=28〈=en
---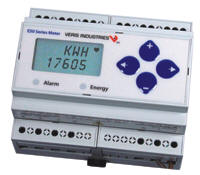 Veris Industries Announces New High performance power and energy monitor with Data logging

Veris Industries, a leader in innovative power monitoring solutions, announces the release of the E50C3 Power & Energy Meter. This meter is part of the recently announced E50 family, and has been designed to meet the needs of government and military energy management projects. In addition to the standard rich feature set of the E50 Series, the E50C3 includes logging capabilities at 15 minute intervals for up to 60 days. In addition to KW/KWH, up to 8 additional parameters can be stored. With ANSI 12.20 accuracy, logging and a wide range of parameter outputs, The E50C3 is an ideal meter for energy management applications.
Ease of installation is addressed by the inclusion of on-board diagnostics to speed setup and commissioning. In addition, product versatility is enhanced by the ability to be installed either directly on a DIN rail or surface mount as well as an optional NEMA4 enclosure. The E50C3 includes pulse out & alarm capabilities in addition to modbus output.
For more information visit www.veris.com
---
Belimo Announces - Now Available Damper Actuators in SelectPro!
Belimo is proud to announce the new download version of SelectPro, which now offers the complete range of damper actuator selection. Users will now be able to size not only valves but also damper actuators for their projects.
Download the software now and try it for yourself! Tell us what you think.

Belimo continues to look at ways to improve and update our software to make selection process easy and help you succeed in the HVAC marketplace.
---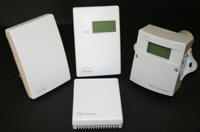 GS-CO2 - New low maintenance sensor from Sontay
Leading UK controls peripheral manufacturer launches low maintenance, BSF compliant CO2 monitor for schools and commercial buildings. Enabling teaching staff to easily monitor and maintain ventilation levels and indoor air quality, Sontay has launched the GS-CO2 product range of carbon dioxide, temperature and humidity and monitoring devices. Offering full Building Schools for the Future (BSF), Building Bulleting 1 (BB1) compliance, the GS-CO2 sensor series combines ease of operation with real-time monitoring and the ability to swiftly adjust ppm CO2 levels. Featuring an easy to read, three-colour LCD CO2 concentration indicator and alarm, alongside Sontay's unique ABC continuous calibration algorithm that adjusts the NDIR infrared sensor to accommodate for drift prevalent in other sensor types, the GS-CO2 range delivers instant and accurate control over air quality in the classroom or commercial building through a simple control interface.
For more information visit www.sontay.com
---

Saelig's Economical Ethernet Extender Sends 10/100 Ethernet Up To 300 meters
Pittsford, NY, USA: Saelig Company, Inc. has introduced the iCON-32300 range of Industrial Ethernet Extenders. A typical UTP cable cannot transmit over 100 meters length per segment. iCON-32300 industrial Ethernet extenders can extend Ethernet connectivity in existing facilities over existing copper telephone wire or coaxial cable without needing to install extra cable. These reliable and rugged devices offer a wide operating temperature range and long MTBF and are ideal for building automation, security surveillance, digital signage, factory automation, and ITS (Intelligent Transportation Systems).
For additional information visit www.saelig.com
---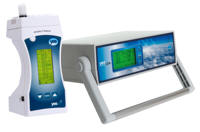 CETCI Simultaneously Identifies the Air You're Breathing with YESAIR & YES Plus LGA
Both IAQ instruments are portable, multi-channel monitors featuring thirty different internal plug and play sensors to select from and a remote particulate sensor that simultaneously monitors within a single, easy to carry instrument. CETCI's plug & play sensor options are the widest selection on the market and include electrochemical (carbon monoxide, nitrogen dioxide, nitric oxide, ammonia, chlorine dioxide, formaldehyde, arsine, fluorine, hydrazine, phosphine, silane, and many more), catalytic (combustible gases), infrared (CO2 or combustible gases), and PID (TVOC). Users can set one alarm level for each gas to activate the internal audible alarm. Both instruments have a built-in SD flash card for data logging and an internal sample pump for "active sampling". The LCD display, on both, indicates each sensor type installed, measured values for each gas, battery status, and more.
For more information visit www.critical-environment.com
---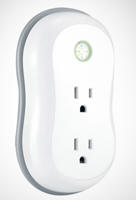 ThinkEco Introduces - The Modlet uses Zigbee wireless technology for scheduling
ThinkEco had on display at this year's CES show a sample of its Modlet, a plug-in adapter that monitors and controls the energy use of any appliance or device that is plugged into it by cutting power according to a manually or preset schedule. Standby power draw -- "vampire power" -- is significantly reduced. Through wireless Zigbee browser-based technology, a user can schedule when the Modlet (a riff on "modern electric outlet") cuts power cold to each device from a PC through a simple slider interface.

For more information visit http://www.thinkecoinc.com/
---
---


[Click Banner To Learn More]
[Home Page] [The Automator] [About] [Subscribe ] [Contact Us]