---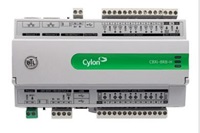 Cylon Controls Announces the Release of New BACnet® IP-Based Building Controllers and Mobile Applications for HVAC Energy Management
The CBXi Series will be part of the CB Line of BACnet® field controllers introduced by Cylon last year and features the CBXi-8R8 and CBXi-8R8-H main plant controllers that communicate on a BACnet® IP Local Area Network. The powerful new controllers are fully programmable using Cylon's programming software CXproHD, and scalable from 16 points to 96 points using Cylon's Field Level eXpansion (FLX) modules. Cylon's CB Line of field controllers and expansion modules feature its patented UniPut™ technology that allows System Integrators to program UniPut™ points to take on the personality profile of any point type, creating flexibility and cost efficiency in the deployment of energy management systems. The CBXi Series also support routing for BACnet® MS/TP and localized integration support for both Modbus® TCP and Modbus® RTU without the use of additional hardware or gateways.
For more information visit https://www.cylon-automatrix.com/

---
Global Bacnet Building Management System Market, CAGR Status, Market Growth, Trends, Analysis and Forecast (2019 – 2024) | 360 Market Updates
360 MARKET UPDATES Report provides a 360-degree overview of the global Bacnet Building Management System market with special emphasis on all aspects including drivers, restraints, and opportunities, market and regional segmentation.
"Global and Chinese BACnet Building Management System Industry, 2018 Market Research Report" (2019 – 2024) – Market Size, Share, Price, Trend and Forecast is a professional and in-depth study on the current state of the global Bacnet Building Management System industry.

Get Sample PDF Copy of Report – https://www.360marketupdates.com/enquiry/request-sample/13508521
---
LOYTEC Input Devices achieve DALI-2 certification

LOYTEC electronics is proud to announce that its LDALI-BM2 Pushbutton Couplers and its LDALI-MS2 Multi-Sensors successfully passed the DALI-2 certification process. LOYTEC is one of the first companies in the world and the first supplier in Europe to successfully implement the recently available DALI-2 certification for DALI2 input devices. The DALI-2 certification is run by the Digital Illumination Interface Alliance (DiiA), an open consortium of lighting companies that promotes the global adoption of digital lighting-control systems using DALI technology. Only certified products can carry the DALI-2 logo. The DALI-2 certification brings the promise of significantly improved interoperability as well as additional functionality compared with current DALI (version 1) systems in the market.
For more information visit For more information, see http://www.digitalilluminationinterface.org or http://www.loytec.com/
---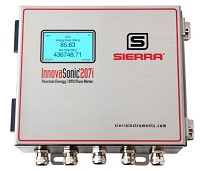 InnovaSonic 207i Ultrasonic Flow Meter with BACnet
BACnet Digital Communications and Thermal Energy BTU for Easy Integration with Building Energy Dashboards
Sierra is pleased to announce that its InnovaSonic® 207i Liquid Ultrasonic Flow Meter now supports BACnet digital communication protocol for easy building automation and control. With BACnet, Modbus RTU and Thermal Energy BTU capability, the 207i offers facilities managers the complete water flow energy management solution. Designed, built and calibrated for non-intrusive liquid flow metering, the 207i transit-time ultrasonic flow meter is an ideal solution for thermal energy/BTU metering. The 207i calculates thermal energy / BTU by determining the amount of heat transferred between the cold and hot flow legs of a heating or cooling process. This provides end users with the high quality flow energy data required to manage energy costs. InnovaSonic 207i is ideal for common applications like thermal energy/ BTU measurement, cooling and heating fluid measurement, water & wastewater, leak detection in piping systems, monitoring & controlling of HVAC systems, and more. For more information visit https://www.sierrainstruments.com/products/207iProd.html

---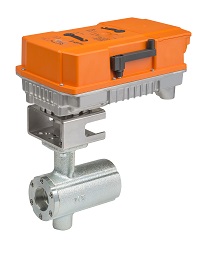 Belimo Americas New Ball Valve Assemblies Offering Advanced Technology
Belimo Americas released new ball valve assemblies with fail-safe and non-fail-safe actuators (PKR and PR series). These technologically advanced assemblies offer energy efficiency, easy installation, application flexibility, longevity, and reliability for aggressive applications. The modulating, Multi-Function Technology (MFT) actuator models can be field customized to match the needs of the application. When the application requires a particular control, feedback signal, or running time (30-120 sec), MFT is the answer.
• Near Field Communication (NFC) for fast programming, commissioning, and troubleshooting
• BACnet communication provides useful data for advanced BMS control sequences
• Saves energy with less power consumption than currently available solutions
• Zero leakage rating improves system performance with self-adjusting end stop design
• Application flexibility with universal power supply input from 24 to 240 VAC
For more information visit http://www.belimo.us
---
Signify's LiFi system promises up to 150 Mbps internet via LED lights

This week, Signify, formerly Philips Lighting, launched one of the first commercial LiFi, or Light Fidelity, systems. LiFi transmits broadband internet through lights, using LEDs to move data and bypass radio signals. We've seen some experimental applications of the tech, but this is the most realistic deployment yet. Signify's LiFi system, called Trulifi, uses optical wireless transceiver technology built into Philips lights. Users will need a USB-access key, plugged into a laptop, to receive the LiFi signal. Once connected, Trulifi can provide wireless connectivity at up to 150 Mbps. According to the company, that's fast enough to stream 30 1080p HDTV movies at once. Trulifi is intended for professional markets, like hospitals and factories.

For more information visit http://www.engadget.com/2019/06/20/signify-trulifi-lifi-light-fidelity-internet/
---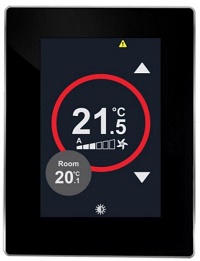 EIO-55 Product Manual
BACnet or Modbus Touchscreen Thermostat
EIO-55-MOD
EIO-55-BAC
EIO-55-MOD-HUM
EIO-55-BAC-HUM

The EIO-55 series smart thermostats offer a modern flush mounted slim design look for heating or cooling control. The thermostats
can be used for various zones. All EIO-55 series thermostats have 3.5" backlit color touchscreen. The MOD models have built-in Modbus RTU communications and the BAC models provide BACnet MSTP communications. The thermostats can also be configured to be used as a lighting and/or air conditioning interface.
For more information visit https://www.easyio.pro/uploads/1/2/0/7/120715930/eio_55_user_guide_v2.pdf
---
Mango Automation 3.6 Updates

Mango 3.6 includes powerful new features to enhance productivity, security, and performance.

Highlights:

New Data Source & Data Point management with bulk editing
New Event Detector & Event Handler management
New Event Handlers for Reports & Slack
New BACnet Device Browser and Point Manager
New Modbus Read & Write Tools
Security improvements
Many new Admin tools now available entirely in the new UI
BACnet Local Devices
System Settings
MangoES Configuration
SQL Console
New UI visualization components and improvements to the Dashboard Designer
For more information visit https://help.infiniteautomation.com/blog

---
---


[Click Banner To Learn More]
[Home Page] [The Automator] [About] [Subscribe ] [Contact Us]