---
New online best practice guide provides tips and tools for specifying office lighting controls
SANTA CLARA, CA May 2007 – Watt Stopper/Legrand introduces the new "Best Practice Guide to Office Buildings 2007" e-Book. This comprehensive publication helps specifiers and building managers determine the optimal lighting control solutions for spaces within office buildings, that balance the needs to save energy, comply with building codes and provide occupant satisfaction. Created for lighting control design professionals, the guide offers application-specific design, specification and installation guidance including tips that help streamline the design process and ensure that products will perform as expected. The easy-to-use e-Book format allows the reader to browse electronically or download the publication for reference at any time. It features convenient links to relevant data including solution-specific product information such as cut sheets, specifications and installation instructions as well as downloadable CAD drawings. For more information visit www.wattstopper.com/products/solutions/BestPracticeGuideMainPage.html
---
ZigBee motes boast open hardware, software

A university spin-off company in Spain is readying an inexpensive ZigBee-based "mote" sensor built entirely with open-source hardware and software. Libelium's 120-Euro SquidBee will ship this summer, optionally with a Debian-based WiFi access point that can bridge Zigbee and WiFi mesh networks. Mote networks are designed to run from battery power for several months or even years. They typically use ultra-low-power wireless protocols such as Zigbee or 802.15.4 (WPAN). Potential mote applications include farm soil moisture monitoring, motion detecting perimeter security networks, and other distributed sensing applications. According to spokesperson David Gascon, Libelium developed SquidBee in hopes of providing a common platform for universities and research centers developing sensor networks. The design is said to be the first ZigBee-based mote with an entirely open hardware and software design, as well as the first to feature integration with an open source WiFi access point. For more information visit www.libelium.com
---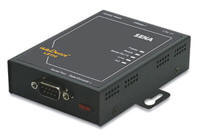 SENA Technologies Cost-effective Serial Device Server for Device Networking
The LS110 is a cost-effective single-port device server that connects RS-232 serial devices such as printers, scales, medical equipment, manufacturing machinery, barcode readers, card readers, point-of-sale equipment, and other data acquisition devices to 10Base-T Ethernet network. The unit supports advanced features such as telnet COM port control protocol support (RFC2217 compliant), and Built-in surge protection. On the serial side, the LS110 features a nine-pin male DB-9 connector, 7.5V~15V DC power input, and supports data transfer speeds up to 115Kbit/s. Built-in surge protection is added on serial port to safeguard the device from electrical interference, surges or spikes that could interrupt the system operation. In TCP mode, the LS110 supports telnet COM port control option (RFC 2217 compliant) that is used to access serial devices over the network. This option enable user applications to set the parameters of remote serial ports (baud rate, flow control, etc.), detect line signal changes, as well as receive and transmit data. The LS110 is shipped with a licensed version copy of COM Port Redirection Software, Serial/IP for free of charge. This software allows you to use the existing application programs based on serial communication. For more information visit www.sena.com
---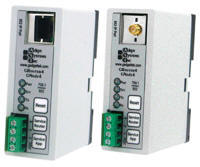 Adept Systems News - GRouter4: Best New Infrastructure Product finalist!
Builconn Americas has announced that Adept's GRouter4 is a finalist in the Best New Infrastructure Product division of the prestigious Buildy Awards! This award honors a manufacturer whose new infrastructure product or service overcame a significant challenge, enhanced, or simplified the integration process. The industry gives well-deserved recognition to the GRouter4 for its features and capabilities.
New GRouter4 firmware updates - Update your firmware with a single click. Check the downloads page on our site for more.
For more information visit www.adeptsystemsinc.com

---
PROFIBUS: A Pocket Guide
PROFIBUS: A Pocket Guide by Ron Mitchell is a simple and convenient reference to enable engineers and technicians to quickly retrieve the essentials for successful understanding and deployment of PROFIBUS. Also useful for engineering management seeking a summary understanding of Profibus. Illustrative figures and technical tips are provided for quick reference. Please go to the ISA website for more details, pricing, and to order online at www.isa.org/profibuspocket View other ISA books at www.isa.org/books.
---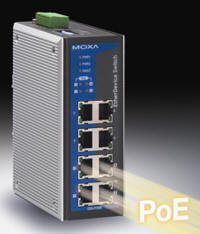 Moxa's PoE Unmanaged Switch Promises Simplicity and Mobility for Network Connection
Taipei, Taiwan, May 29, 2007—With regards to the increased demand for PoE technology in industrial applications, MOXA provides a complete end-to-end solution for any IEEE802.3af PoE compliant unit and Ethernet-enabled device. The EDS-P308 is an 8-port smart Ethernet switch that features PoE on port 1 to 4, and supplies up to 15.4 watts of power per port. By combining the network signal and device power in a single, twisted pair, Ethernet cable connection, EDS-P308 provides economical deployment, increases mobility and simplifies wiring for network connection. Two additional products will also be released. The SPL-24 is an IEEE802.3af-compliant PoE splitter that distributes power to non-PoE devices, and the DR-75/120-48 is a 48 VDC power supply. The EDS-P308 and SPL-24 simplify wiring in the field, and provide more versatile environment for installing devices. PoE technology lets you eliminate the need for power outlets when deploying Ethernet-enabled devices. The release of Moxa's PoE switch promises to flexibly extend an Ethernet network. Detailed information about EDS-P308 is available on Moxa's website at http://www.moxa.com/product/EDS-P308.htm
---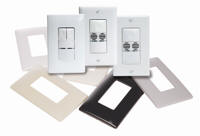 New multi-technology wall switch sensors pack advanced features and energy savings into a slim, low-profile design
SANTA CLARA, CA May 2007 – Watt Stopper/Legrand introduces a new family of wall switch occupancy sensors appropriate for more applications than ever before. Multiple detection technologies allow specifiers to easily tailor switch selection to ensure optimal performance in each location. The sensors are an economical wall switch replacement and can even be used in some difficult-to-sense spaces that are ideally suited to ceiling sensors, but, because of inaccessibility, cannot be fitted with those devices. The sensor family includes an unprecedented variety of features and options as well as a stylish new product design with a consistent look and feel across the line. Every sensor is packaged in an attractive, ultra-slim decorator style device, available in five colors. To complete the updated aesthetics, the low profile sensor lenses match the color of each switch, a design nuance unique to Watt Stopper/Legrand. For more information visit www.wattstopper.com
---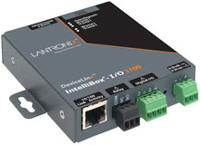 Fully Automate Your Remote Equipment with Real-time Event Management and Reporting
IntelliBox®-I/O 2100 is a breakthrough in truly automated control of remote equipment. Powered by Lantronix EventTrak™ technology, this highly-advanced, programmable device server connects your equipment to an IP network and monitors it to watch for events at specified intervals. When an event occurs, IntelliBox automatically sends pre-determined, user-defined command(s) to the equipment causing it to take appropriate and/or corrective actions – without any user intervention. IntelliBox can send email notification that the event was detected and handled accordingly. IntelliBox is ideal for alarms, fluid pumps, motor drives, lights, fans, phone systems, access/control/alarm panels, HVAC equipment, PLC's, projectors, security cameras, proximity readers, card readers, etc. For more information visit www.lantronix.com
---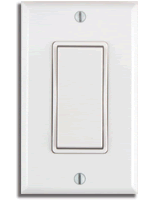 LC&D Wireless Switch
The LC&D Wireless Switch can be stuck or screw-mounted onto any flat surface, providing instant control of any of LC&D's lighting control systems. Since it is wireless, the amount of expensive high voltage wiring needed is reduced. Every transmitter is manufactured with a unique 32-bit address allowing more than 4 billion modules to be installed in close proximity without interference. The Wireless Receiver sits on the GR 2400 bus and is mounted within a reasonable distance from the transmitting Wireless Switches. The Wireless Switch is fully digital, maintenance free and does not require batteries.
For more information visit www.lightingcontrols.com
---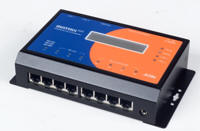 Artila's New Matrix-520 Industrial Grade Box Computer
TAIPEI, Taiwan -- 01 May 2007 -- Artila Electronics Co., Ltd., an emerging force in the industrial PC solutions field, announced their new ARM9-based, Linux-ready, industrial box computer -- the Matrix-520. Its fanless ARM9 RISC CPU and strong metal case design make the Matrix-520 ideal for industrial applications that require a powerful and reliable front-end controller. The Matrix-520, powered by a 180MHz ATMEL ARM9 RISC CPU, comes with onboard 32MB SDRAM and a 16MB Flash memory. In addition, the Matrix-520 integrates two 10/100 Mbps Ethernet, eight high speed serial ports, two USB hosts, one audio output port, and 21 programmable digital I/Os into a compact 160x104x38.5mm metal box. The 144x32 dot matrix LCD module provides an 18x2 English text display for human and machine interface, while a DIN RAIL mounting kit simplifies either wall or DIN Rail mounting of the Matrix-520. For more information visit www.artila.com
---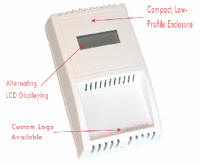 Greystone CO2/RH/ Humidity & Temperature Transmitter
The CO2/RH/T transmitter incorporates three sensors in one attractive wall mount enclosure for the most efficient environmental monitoring and control system. It uses Infrared Technology to monitor CO2 levels within a range of 0-2000ppm, a field-proven RH sensor to monitor relative humidity over 0-100%RH and a curve-matched thermistor to measure temperature over common field-selectable ranges. All three measurements are continuously available on separate outputs as linear 4-20mA signals. Options include an LCD for configuration and local indication as well as RS-485 network communications featuring ModBus. Operating parameters are programmed using a keypad for specific applications. For more information visit www.greystoneenergy.com
---
---

[Click Banner To Learn More]
[Home Page] [The Automator] [About] [Subscribe ] [Contact Us]