NEW PRODUCTS
---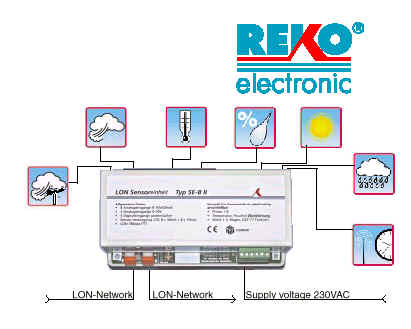 LON Sensorunit - Type SE-B II
Technical data:
Power Supply:
Supply voltage: 230VAC/50Hz
Power consumption: 7VA
Bus Interface:
Transceiver FTT-10A
Inputs:
Analog 8 x 0-10V/0-20mA
Analog 3 x 0-10V
Digital 5 x
The trend in building automation is increasingly towards distributed information and control networks. We take this development into account by using the LONWORKS ® -technology for your sun protection control. The SE-BII allows the connections of conventional meteorological sensors. It provides sensor data in the form of network variables on the LON-network. Sensors for temperature, relative humidity, luminance, wind speed, wind direction and rain can be connected. In addition it is possible to connect a DCF77 radio clock receiver in order to realize a real-time clock. The SE-BII calculates the position of the sun independence of the time and its geographic position. The application can be loaded via the LON-network.
Available Sensors: Up to 8 photo sensors ( for 8 directions or facades ); Precipitation; Temperature; Relative humidity; Wind direction (Up to 3 wind sensors); DCF77 radio clock receiver.
For more information contact Marketing Sauer, Petra petra.sauer@reko-electronic.de
Web site www.reko-electronic.de
---
Multi-function intrusion detectors reduce installation costs!
STOCKHOLM. - February 22, 2000 -CeTeLaB's range of multi-function intrusion detectors, especially the PentaSensÔ line, built to the LONMARK® interoperability guidelines, allow the system integrator to build-in now their clients future security needs and at the same time reduce the overall cost of the LONWORKS network. PentaSens is a dual technology security detector utilizing a highly advanced Ultrasonic "Distance of Motion" system for early detection of physical movement coupled with a high security Infrared system based on patented "Mirror technology" designed to verify the presence of a human target. What makes PentaSens even more attractive is the on-board inputs for externally mounted temperature, lux & water leakage sensors including door/window magnetic contacts which help towards reducing the overall installation costs by an estimated $150 to $250 USD per room.
PentaSens supports the following LONMARK® objects:
Occupancy Sensor #1060
Temperature Sensor #1040

Light Sensor #1010
"Distance of Motion" Verification
Presence detection

Precision Mirror optics
Intrusion detection

Room information


TL-BOX:
Temperature & Lux sensor




WD-2800:
water leakage detector


This technique uses Ultrasonic technology to measure the distance traveled by the target which results in a detector with sharp characteristics and excellent rejection of traditional false alarm sources.

Based on a patented "Gliding Focus Curtain" design which allows true range control to be obtained, together with under crawl capability. The Autofocus capability of the curtains addresses the issue of "Hot Spots" in the coverage of the PIR which can degrade the false alarm rejection performance of detectors using conventional "BEAM OPTICS".

PentaSens:

More information can be found at http://www.cetelab.se.
PentaSens is a trademark of CeTeLaB. Echelon, the Echelon logo, LONMARK, and LONWORKS are registered trademarks and LonWorld99 is a trademark of Echelon Corporation registered in the United States and other countries.
---
EIRIS™, ELPAS Infra-Red Identification and Search Systems, is a market technology leading solution. EIRIS™ provides cost-effective wireless facility systems for the comfort, life safety, security, energy efficiency and operation of corporate and healthcare environments. EIRIS™ solutions, developed for commercial markets, are based on patent pending Infra-red (IR) and Radio Frequency (RF) technology that originally evolved in the Israel Defense Forces.
EIRIS™ systems adapt to company and individual needs by making use of IR transmitted identification and location data. Personnel, visitors, patients and facility assets are assigned individual badges or tags that transmit coded IR signals. These signals are received and processed through ceiling mounted networked readers (RDRs), located throughout the premises, and then sent over the network to the EIRIS™ server.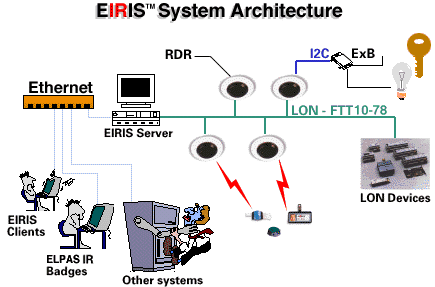 ---
Onset Computer Corporation Announces Affordable Temperature Loggers Accept J, K or T Thermocouples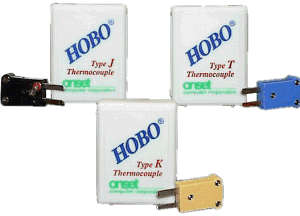 The HOBO® Thermocouple Family of data loggers measure temperature with three industry-standard thermocouples, and sell for less than $100. Any Type J, K or T thermocouple probes with standard subminiature connectors can be plugged directly into the loggers. Each logger includes cold-junction compensation, and two measurement ranges for optimal resolution and accuracy. Internal batteries eliminate the need for external power. Over 32,000 time-stamped readings can be stored to the logger's nonvolatile memory which preserves the data even if the battery needs replacing. The data is read out to a PC with BoxCar® or BoxCar® Pro software, and can be graphed, analyzed or exported.
Wide range of applications
There are three models in the HOBO Thermocouple Family to cover a wide range of temperatures and applications. The Type J model works with Type J thermocouples to measure from 0°C to 750°C (32°F to 1382°F). Likewise, the Type K model measures from 0°C to 1250°C (32°F to 2282°F), and the Type T model measures from -200°C to 180°C (-328°F to 356°F). Thermocouple probes are useful for temperature measurements because of their small size, ruggedness, fast response, flexible mounting and low cost. HOBO Thermocouple loggers are suitable for monitoring ovens, kilns, furnaces, molding machines, engines, cooking, cold shipments, and cryogenics.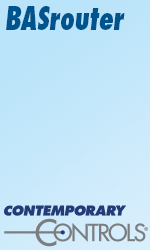 Optional HOBO Shuttle Simplifies Data Retrieval
For convenience, the optional pocket-sized HOBO Shuttle uses a single button to offload and restart HOBO loggers where they are deployed. The reusable HOBO Shuttle is then brought back to a PC where the data is offloaded, analyzed, and stored. Capacity is 468K measurements, which is enough for 13 full HOBO Thermocouple loggers. Other features include a weatherproof case and user-replaceable batteries that last one year.
Additional HOBO Features
The HOBO Thermocouple Family loggers include an internal temperature sensor which can be used to record ambient temperatures. The logger's sampling rate is user-selectable from 1/2 second up to 9 hours. The compact HOBO logger measures just 2.4" x 1.9" x 0.8" (60 x 48 x 19 mm).
The HOBO Thermocouple Family loggers and software will begin shipping in March/April.
Email: sales@onsetcomp.com, Web: www.onsetcomp.com.
---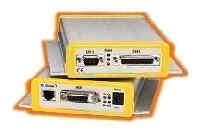 XCI Corporation (XCI) introduced the XC-LAN232 10BaseT TCP/IP Add-On Network Adapter, adding even more flexibility to its powerful HVAC network controller solutions. The XC-LAN232 is the perfect tool for adding Local Area Network support to any 10BaseT network using TCP/IP protocols. With the addition of the module, XCI's stand-alone HVAC control network can be expanded to include virutally any size HVAC network.
The XC-LAN232 is a complete Local Area Network adapter designed to work the XC-SSA2 family of serial communications adapters. The XC-LAN232 includes all of the necessary intelligence to enable Plug-N-Play capability between any 10BaseT LAN and any XCI Thermostat network. The XC-LAN232 allows simple integration with any XCI Network and a personal computer. Two RS-232C, one 10BaseT port and one AUI expansion port is included with the adapter for complete versatility of environments. The unit ships complete with a power supply and a 10BaseT LAN connection cable. Also included is XCI's ComPort redirector software that allows the Com port on the host PC to be automatically redirected to the TCP/IP address selected for the XC-LAN232 adapter. Installation and set-up takes only minutes to complete. With the TCP/IP addressing, any XCI network can now be accessed over the Internet.
XCI currently offers a complete customer solution for HVAC control by providing a variety of communicating thermostats, network adapters, accessory products and software. The products deliver a fresh, new approach to HVAC energy management, allowing customers significant energy savings, point-and-click scheduling, site tampering control, and remote monitoring and update. XCI has several hundred complete systems installed in a wide variety of applications, including multi-family housing, K-12 schools, university campuses, retail stores, churches, office buildings, warehouses, banks, public facilities, telecommunication centers, hotels, residential housing, and retirement communities.
For more information email: info@xcicorp.com, or via the WorldWide Web at http://www.xcicorp.com.
---
---


[Click Banner To Learn More]
[Stay Informed - Subscribe to our Update Mailing List]
[Home Page] [Contact Us] [The Automator - Current Issue]
[News] [Systems] [Products] [Resources] [About]

Visit Home Toys to Learn about Home Automation
Web Design by HomeToys
©Enviromation 1999