---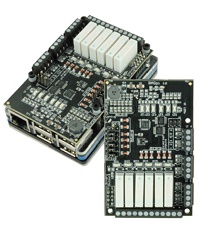 In Control with the Raspberry Pi - Contemporary Controls

Thank you so much for your interest in our new BASpi, which will be available March 1. The BASpi sparked a lot of ideas for how it could be used. We heard several IoT applications, home automation plans and HVAC training ideas. We're looking forward hearing how our BASpi is used.
If you'd like to learn more about the BASpi, you can check out the BASpi product page.

---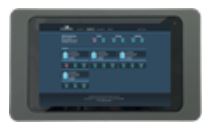 Lynxspring Announces New 7" HD Touchscreen Display for Building Automation and IoT Environments
Lynxspring, Inc. (http://www.lynxspring.com), a premier developer and provider of open, IP-control solutions for building automation, energy management, and edge-to-enterprise integration, today announced the availability of their new Lynxspring TSD 7, a high-definition, 7" touchscreen display for use in a wide range of HVAC, lighting, energy, commissioning, troubleshooting, servicing and IoT user experiences. This adds another dimension to Lynxspring's commitment to providing complete edge-to-enterprise and IoT solutions for building automation, energy management and device-to-enterprise integration.

More information about the Lynxspring TSD 7 Android 7" HD Touchscreen Display is available at http://www.lynxspring.com.

---
SOFTWARE PRODUCTS
All our DINGO hardware comes with installed DINGO software stack. This includes:

Peripheral Manager
BACnet/IoT including Server, Client, APDU-to-APDU Gateway, Virtual Router and Web Services.
APP manager.
Configuration Web Services.
BACnet to Watson IoT Platform gateway
For more information visit http://dingo-iot.io/products/

---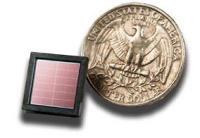 Saelig Introduces Sol Chip Saturn802 Solar Energy Harvester ICs
Saelig Company, Inc. (www.saelig.com) has introduced the patented Sol Chip Saturn802 Energy Harvester IC - a unique photovoltaic (PV) cell which can produce output voltage levels of 0.75V, 1.5V, 2.25V, 3.0V, 4.5V, and 9V, which existing solar cells cannot do. The maximum power which can be obtained in full daylight is around 10mW, or 55uW in office lighting, so the Saturn802 IC is targeted at low-power applications. The size of the die is approximately 1cm by 1cm, and the stable voltage levels are available from separate pins of the device. The IC can be used with or without a back-up battery. Sol Chip's unique technology integrates solar energy conversion principles with very large scale integration (VLSI) techniques to produce a unique ambient light harvesting device that combines photovoltaic layer and microchip circuitry in layers on the same substrate. Although solar cells have been around for a long time, with microchips being the mainstay of electronic devices, no company in the semiconductor industry has successfully integrated solar cells with standard chip manufacturing processes in a cost effective way.

For more information visit http://www.saelig.com
---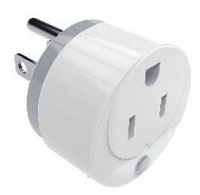 Neo WiFi Power Socket
Latest WiFi power scoket, below is the specifications:
● One key ON/OFF appliances;Remote Control;
Timing ON/OFF;Set delayed tasks
● Rated Voltage: AC 85-230V ±10% ,50/60Hz
● Rated Current: 13A
● Wireless Type: 2.4GHz
● Protocol: IEEE 802.11b/g/n
● Operating Temperature: 0℃~ 40℃ (32°F~104°F)
● Operating Humidity: 20% ~ 85%
● Storage Temperature: 0℃ ~ 60℃ (32°F ~140°F)
● Storage Humidity: 0% ~ 90%
● Material: PC-V0
● Size: EU/65x43x43mm US/43 x 43x 50mm
● Support:Tuya Smart/Amazom alexa/Google Assistant/IFTTT

For more information visit http://szneo.com

---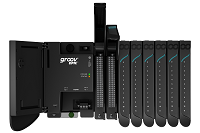 Opto 22 announces world's first Edge Programmable Industrial Controller: groov EPIC

Completely new system brings the future of automation to the present by combining guaranteed-for-life I/O, real-time control, local and remote HMI, and industrial/IT data exchange in a compact, industrial package. Combining reimagined intelligent I/O with an embedded Linux® real-time controller, gateway functions, and an integrated display, groov EPIC offers field-proven industrial hardware design with a modern software ensemble, to produce the results that visionary engineers want today. Connecting legacy systems, controlling processes and automating machines, subscribing to web services and creating mashups, acquiring and publishing data, visualizing that data wherever it is needed, and mobilizing operators—all of these are now within reach. In addition, groov EPIC simplifies commissioning and wiring and helps engineers develop rapidly and deploy quickly.
For more information visit http://www.opto22.com
---
Intesis Software Shows New IntesisBox BACnet IP/MSTP Server to KNX Gateways

Intesis presents its new generation gateway IBOX-BAC-KNX for integrating KNX systems into BACnet Server building management systems (BMS). The gateways have a direct connection to KNX TP from one side, and to BACnet IP and MSTP from the other. All of them are now BTL certified. IBOX-BAC-KNX is available in five versions supporting 100, 250, 600, 1200 and 3000 points, all of them offering bidirectional control and monitoring of the integrated data. New features like BBMD/Foreign Device, Calendars, Schedules, Notification class have been added. These new generation gateways are easily programmed by using our brand-new software IntesisBox MAPS.

For more information visit http://www.intesisbox.com

---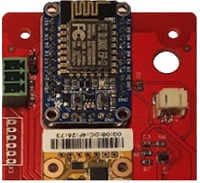 CAS 1-Wire to Modbus RTU, Modbus TCP, IoT Bridge

SKU: CAS 2900-02

Chipkin's 1-Wire to Modbus TCP/RTU and IoT Bridge monitors a series of 1-Wire temperature sensors and makes the data available to Modbus devices, as well as logging long term trending data into the cloud. The CAS-Bridge operates by monitoring the 1-Wire temperature sensors and storing the values in an internal database. Then serving the temperature data as Modbus TCP/RTU values. When a value changes or a timeout occurs, the values are sent to an online dashboard for long term trending and logging. The CAS Bridge can be connected to your network with a ethernet connection or by connecting to a WiFi access point. The gateway requires minimal configuration and can be considered a 'plug and play' component of any network system. It's ready to operate 'out of the box' and can be installed without an engineer's approval.

To find out more, please check out the following link: http://bit.ly/2DSIyu5

---
---


[Click Banner To Learn More]
[Home Page] [The Automator] [About] [Subscribe ] [Contact Us]