---
Updated June 1st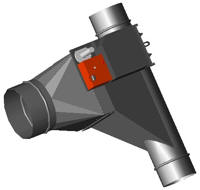 High Efficiency/Low Energy Replacement for Moduline® VAV Boxes Available from HiFlo Technologies (a subsidiary of CW Industries).
The HiFlo VAV is engineered to be a simple, cost-effective direct replacement for existing system powered boxes. No sheet metal retrofit is required! It includes a direct digital VAV controller which can operate independently or as part of a network. Points can be shown as Modbus, web-based, Echelon or OPC. Designed to fit into existing Moduline® air distribution systems. Will complement most existing EMS systems. Required duct pressure decreases from .75 to .2, allowing for tremendous fan power energy reduction, increase in profitability and reduced system balancing costs!
For more information visit www.cwindustries.com
---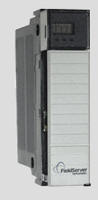 SlotServer – ControlLogix Interface Module FieldServer Technologies connectivity solutions for ControlLogix platform to LonWorks, Building Automation Systems, Fire Alarm Panels and Process Controls.
Rockwell Automation's ControlLogix platform from Allen Bradley is the premier high-speed, high-performance control platform used today in a wide range of applications. FieldServer is the premier gateway of choice in the building automation and process control industries providing the interoperability demanded by today's integrators and operators. The SlotServer from FieldServer Technologies provides the link from the powerful FieldServer family of drivers to the power of Allen Bradley's ControlLogix. SlotServer provides the two-way connectivity needed from ControlLogix platform to over 75 different protocols previously not available via ControlLogix.
For more information visit www.fieldserver.com
---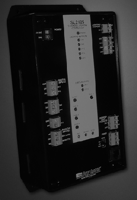 TCS Basys Controls© Five Channel Lighting Control Module Now Available
The SL 2105 – a microprocessor based lighting control module designed to control up to 5 independent lighting channels is now available.
The SL 2105 offers you:
- Stand alone or network operation
- Astronomical clock which automatically turns lights on at sunset, off at sunrise without a photocell
- 5 digital photocell inputs, up to 2 analog light sensor inputs
- Optional energy meter input and built-in load shedding
For more information visit www.tcsbasys.com
---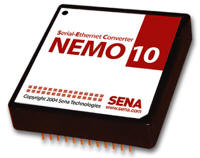 Sena Technologies Nemo10 Embedded Device Server for Device Networking
The Nemo10 is a compact and low-cost embedded device server that is designed for OEM users who are wishing to embed ethernet connectivity directly onto the circuit boards of equipment like security systems, POS, factory machinery, and medical devices. The Nemo10 has a standard pin space with a dual-in-line, 24-pin design for onboard installation that lets you shorten the layout time and get your product to market in no time. Serial interfacing is accomplished via a TTL interface that includes serial transmit, receive, DTR, and DTR lines, and supports date transfer speeds up to 115.2 Kbps.
Visit www.sena.com for more information.
---

Greystone Introduces the new ULP
The ULP Ultra Low Pressure Transducer is used to measure differential pressure in the ranges of 0.125" W.C. to 1" W.C. (30 to 250Pa). It combines precision high sensitivity silicon sensing capabilities and the latest ASIC technology with Dynamic Self Compensation to substantially reduce offset errors due to changes in temperature, stability to warmup, long term instability and position sensitivity.
For more information visit www.greystoneenergy.com
---

CONLAB Pty Ltd Announces ZigBee RTU
CONLAB Pty Ltd has announced the availability of iWireless RTU that uses the latest ZigBee wireless protocol. The iWireless family combines traditional remote analogue and digital functions of Modbus RTU with built-in wireless connectivity at an attractive price. The ZigBee wireless RTU can serve as a standard Modbus slave RTU in a radio based SCADA system or as a Peer-to-Peer I/O transceiver. The iWireless family is configurable via easy to use GUI software utility. The wireless RTU can have either internal or external antenna. Digital inputs can also be used as frequency counters. Analogue inputs and outputs have 12bits resolution.
For more information visit http://www.conlab.com.au/
---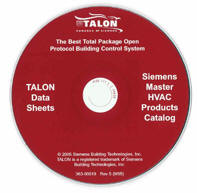 New Staefa TALON Product CD Includes Siemens Master HVAC Products Catalog
A new Staefa TALON® product catalog CD is available from Siemens Buildings Technologies, Inc. The CD contains product data on the network and application level controllers, software, sensors, repeaters and migration solutions that comprise the TALON open protocol building management system.
For more information visit www.staefa.com
---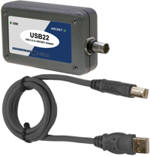 Contemporary Controls Now Offers the Only ARCNET® Interface in the Industry
The USB22 Series Provides a Low-Cost Solution for Transferring ARCNET Data Over High-Speed USB
The USB22 Series of Network Interface Modules (NIMs) allows easy connectivity between either desktop or laptop computers to peripherals because it provides a very high-speed interface (up to 480 Mbps) and does not require inserting a separate NIM into the computer. This NIM is designed with the COM20022 controller employing the latest ARCNET technology supporting data rates up to 10 Mbps.
For more information visit www.ccontrols.com
---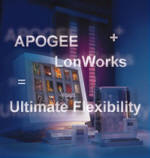 Siemens - The LonWorks Network Solution for the APOGEE Building Automation System
The addition of LonWorks® interoperability with the APOGEE® platform expands the power and options available for facility operations.
Enable your system's interaction with LonWorks standard devices
Benefit from APOGEE -- the industry-leading platform for facility automation
Expand your possibilities for systems and data integration
Provide pathways to greater platform openness and vendor independence
For more information visit http://www.us.sbt.siemens.com/bau/products/APGsyscntrl/APOGEE_LonWorks_Desc.asp
---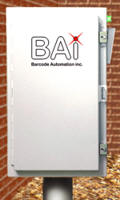 BAI Announces Snout Redesign
Barcode Automation, Inc. (BAI), of Winter Springs, Florida, has released the redesigned BA-200 Barcode Reader with a smaller snout on the aluminum housing. This downsized snout allows vehicles to pass closer to the reader while decreasing the possibility of damage from colliding during operation. The reader installation also takes up less overall volume, allowing easier mounting on lane curbs or islands. BAI is the leading manufacturer of barcode systems for automatic vehicle identification and access control offering products through a network of nationwide dealers and integrators.
For more information visit www.barcode-automation.com
---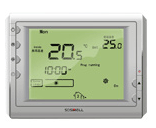 SASWELL, Shenzhen P.R. China - HVAC manufacturer of thermostats and valves
Saswell Group (HK) Ltd is a growing company engaged in products including manufacture of thermostats, 2 way or 3 way motorized valves, and modulating valves for HVAC applications. We are selling our product both under our own brand name and on OEM bases. We have developed strong relationships with many international companies in the HVAC industry. Our goal is to help our customers and partners to improve their business performance and market penetration.
For more information visit http://www.saswell.com/Saswell%20En.asp
---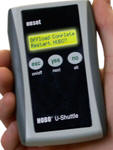 Onset Computer Corporation Introduces Data Transport Device for Hobo Data Loggers
Onset Computer Corporation, a leading supplier of battery-powered data loggers, introduced the HOBO® U-Shuttle, a new data transport device for use with HOBO® data loggers. The new Shuttle allows users to conveniently offload HOBO U-Series and FlexSmart data loggers at multiple locations in a facility and safely transport the data back to a PC or Mac computer for analysis. For more information visit http://www.onsetcomp.com/hobo
---

MobileRobots Inc Unveils First Indoor-Outdoor Robotic Rover Seekur™
Seekur will be the first robotic platform designed to patrol in, out, and around storage facilities and outbuildings, climbing ramps and small steps. Its unique omni-directional wheels turn sideways in place, allowing Seekur to maneuver with ease within tight spaces, such as parking garages. The robot is built to weather extremes of snow, sand, cold, and heat. Unlike other outdoor robots, Seekur will be totally unmanned, though it can be teleoperated, if desired. Other outdoor robots are converted vehicles, with added electronics to run unmanned. For more information visit www.activrobots.com/ROBOTS/Seekur.html
---
A group of enthusiasts offer a second life to Neuron Chip
New life can be granted to any low-end lonworks node module with a technology and the set of tools, provided by a firm from Russia.
The software technology provides an optimized runtime core for running a specially processed (compiled) functional block diagram (FBD) on a Neuron Chip. The diagram itself is drawn and compiled by a handy FBD environment tool, and downloaded via lonworks network with an LNS plugin.
Such parameters as the speed of block execution and allowed maximum size of a diagam beat any building automation tasks requirements.
Additional information and software demo is accessible at www.petkish.narod.ru.
---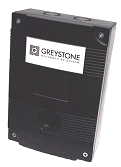 Greystone Energy Systems Inc - CMD Series: Carbon Monoxide Detectors

Greystone's CMD Series Carbon Monoxide (CO) Detectors provide the flexibility to adapt to almost any application.
Field Replaceable, Electrochemical sensing elements which is not affected by other gases.
Available in two (2) accuracies 3% and 5%
Available opitions: LCD, audible alarm, and Modbus communication)
Optional on board relays with field adjustable trip point
For more information visit http://www.greystoneenergy.com/
---

Adept is now shipping the GRouter3 WiFi — the first ever LON over IP router with integrated WiFi.
When space and size constraints are important, the new, compact GR3 WiFi is the answer. The GR3 WiFi supports both ad hoc and infrastructure WiFi modes. The GR3 WiFi is ideally suited for multi-building applications where it is not practical to run wiring between the buildings. For more information visit http://www.adeptsystemsinc.com/
---
---


[Click Banner To Learn More]
[Home Page] [The Automator] [About] [Subscribe ] [Contact Us]