---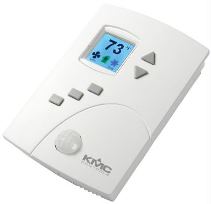 KMC AppStat Simplifies Control
For those who need to easily and efficiently control fan coil units, rooftop units, or heat pump units, there's an AppStat for that. "AppStat" refers to a new series of BACnet communicating thermostats from KMC Controls. Each model in the series combines a BACnet applications specific controller and sensor options into an attractive, space-mounted device. The visual appeal of AppStat is accented by the overall design, a color LCD screen, and soft-touch buttons. Through the screen and buttons, installers and users can completely configure the devices and access various menu options.
KMC has launched a product-specific microsite (www.GetAppStat.com) for those needing further information. The site is optimized for both desktop and mobile users.

---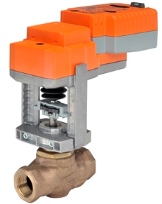 Belimo Americas New Generation Globe Valve Actuator and Retrofit Linkage Solution

Belimo Americas is pleased to announce the release of their New Generation Globe Valve Actuator and Retrofit Linkage solution. The new generation actuator gives globe valves the "extra muscle" they need for applications where higher close-off pressures are required. The actuator offers greater force (up to 1011 lbf) with a reinforced rugged design, a selectable fail-safe position switch and a quick connect coupler, making installation quick and easy. Engineered to suit a broad range of HVAC applications, the new actuators and retrofit linkages are highly adaptable making selection, installation and service hassle-free.
For more information, visit the website at www.belimo.com or www.piccv.com
---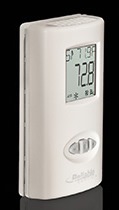 Reliable Controls SMART-Sensor™ LCD with CO2 Sensor

The SMART-Sensor™ LCD, performing with excellence since its initial release in 2004, has just been significantly improved. An integrated CO2 sensor option has now been added to further compliment the feature-rich design of this flexible and economical product. The new CO2 sensor has a convenient auto-calibration feature that establishes a baseline CO2 level for any space. So it calibrates on its own! The new CO2 model adds yet another desirable option to the SMART-Sensor's all-in-one packaging, eliminating the need to install multiple sensing devices in a given space.

For more information on the SMART-Sensor™ LCD with CO2 visit www.reliablecontrols.com/news/newprods/#SSLCO2

---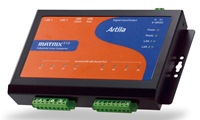 Artila Releases ARM9 Linux Computer with 8-Port Isolated RS-485

Artila Electronics, the leading designer and manufacturer of Linux-ready ARM9 industrial PC, is proud to release Matrix-516, the new generation of its ARM-based box computer. Artila's Matrix-516 industrial box computer is a small form-factor, low power consumption, and Linux-ready computing platform. With a 400MHz Atmel AT91SAM9G20 CPU, 64MB SDRAM and 128MB NAND Flash inside, Matrix-516 ensures system high performance. Matrix-516 is equipped with multiple I/O interfaces, including 2 LANs, 8 x isolated RS-485 serial ports, 2 x USB hosts, 1x micro-SD and 21 x GPIOs. It is easy to develop pure C/C++programs or Web-based applications such as SQLite+ and PHP to run on top of the Matrix-516.
Visit www.artila.com for more product information.
---
Smart Jacket from Thermaxx Jackets & EET Adds Digital Insight to Industry
Most industrial insulation is a single-function device. It keeps steam components hot or refrigeration units cold and provides little insight about the process. Smart Jackets change that by reporting insightful data. The new digital insulation cover monitors temperatures, evaluates health status and notifies upon deviation from the norm. The automated insulation product is the result of collaboration between sensor specialist Embedded Energy Technology and insulation fabricator Thermaxx Jackets. Smart Jackets record internal and ambient room temperatures with a wireless sensor. Every data point is reported to an online dashboard, allowing plant technicians to monitor efficiency from anywhere. Custom email and text message alerts can be set to notify maintenance staff in the event of fluctuation or critical levels. Smart Jackets catch potential failures before they become costly problems, increasing responsiveness and decreasing energy consumption.

For more information visit www.thermaxxjackets.com/products/smart-insulation-jackets
---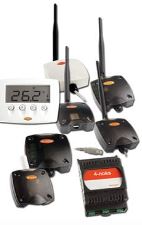 Greenologic Wireless "Plug & Play" System

Greenologic introduces a wireless "plug & play" system based on the ZigBee mesh network using the ModBus Protocol. This means a huge reduction in installation costs for refurbishments projects or extending an existing system to incorporate "intelligent" wireless controls and "data harvesting" from meter level for example. Commissioning is also fast, simple and no specific skills are required. ZB Connection provides high-quality solutions for transforming and replacing devices used in automation systems to transmit information wirelessly. Whether it is a new installation or an expansion of an old one, wireless ZigBee technology delivers reliable information transmission without the need of expensive cabling.

For more information visit www.greenologic.co.uk


---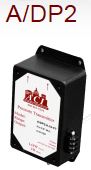 ACI's New Low Pressure Sensors

The A/LP2 Series
• Large LCD
• Field Selectable Pressure Ranges and Analog Outputs
• Depluggable terminal block for ease of wiring

The A/DP2 Series
• +/- 0.1" and 0 to 0.1" of w.c. ranges
• Accuracies as low as +/-0.3%
• Field Selectable Pressure Ranges and Analog Outputs
• Factory installed Pitot Tube option

For more information visit www.workaci.com
---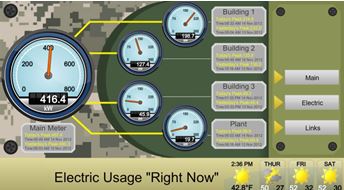 InsideIQ Building Automation Alliance Introduces Scalable, Customizable Energy Dashboard

The InsideIQTM Energy Dashboard is a customizable tool for monitoring and reporting on energy and water use at any facility. Created by the InsideIQ™ Building Automation Alliance, an international alliance of independent building automation contractors, the Energy Dashboard is scalable to support any size building, but it is especially useful for small to midsize property managers who would normally not be able to afford this type of tool to collect information about their facility. The Energy Dashboard is available from any of the 48 InsideIQ member firms, located in North America, The Netherlands and Australia.

More information is available online at www.insideiq.org
---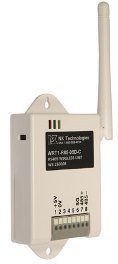 Reliably Monitor Process Conditions Wirelessly with New WRT Transmitter/Receiver from NK Technologies

NK Technologies introduces the WRT Series Wireless Data Transmitter/Receiver. This wired-to-wireless solution provides a self-managed mesh network that works with any RS485 network protocol to promote highly reliable system operation in new or retrofit applications. The system allows for wired and wireless equipment mixes to avoid radio signal obstacles. It is also simple to configure for existing network packet parameters, provides LED indication of network status and is completely transparent to present equipment. WRT users will benefit from wireless data transmission of up to 100 meters between receivers, and data transmissions up to 800 meter transmissions are possible with multiple hops.
For more information visit http://www.nktechnologies.com/

---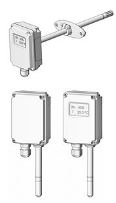 Vaisala New Duct Mount Humidity - Temperature Transmitter

The Vaisala INTERCAP® Humidity and Temperature Series HMD/W80 is a versatile product family designed for standard HVAC applications. These cost-effective and reliable transmitters are easy to install and maintain. HMD/W80 family products includes the following products:
Wall-mount temperature-only transmitters TMW82/83
Standard wall-mount humidity and temperature transmitters HMW82/83
IP65-classified wall-mount humidity and temperature transmitters HMW88/89(D) with and without display, for humid areas
Duct-mount humidity and temperature transmitters HMD82/83(D) with and without display
Dew point temperature, wet bulb temperature and enthalpy output option available in selected models

For more information visit www.vaisala.com

---
Wulian ZigBee Smart Home Products

We are an authorized ZIGBEE ALLIANCE member, also the Chinese leading supplier for ZigBee smart home products consisting of:

---Security Protection
---Appliance Control
---Lighting Control
---Health Monitor
---Environment Conditioning
---Energy Saving
---Emergency Service
For more information visit http://www.wulian.cc/english/


---
---

[Click Banner To Learn More]
[Home Page] [The Automator] [About] [Subscribe ] [Contact Us]