---
Updated December 1st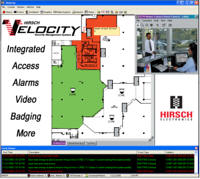 Hirsch Electronics Announces Velocity Version 3.0
The award-winning Velocity Security Management System integrates access control, video, alarm monitoring and badging, and supports smart card readers, biometrics, and more. Role-Based Access Control (RBAC), database partitioning, sophisticated alarm routing, identity management and FIPS 201 capabilities are provided end-to-end. Velocity's interoperability features enable integration with logical security and backend systems. The Hirsch system is IT-centric, highly secure, and scaleable to even the largest organizations. Visit www.WeSecureBuildings.com for more information.
---

Contemporary Controls New Skorpion Switches Bring Greater Distances and the Security of Fiber Optics
Downers Grove, Illinois - Contemporary Controls adds new 5- and 8-port fiber switches to its Skorpion family to boost link distance and provide galvanic isolation increasing immunity to electrical noise and lightning strikes. The rugged fiber series can extend distances up to 2 km multimode and 15 km single-mode. The EISK5 and EISK8 models provide reliable connectivity for industrial and building automation systems in a cost-effective manner backed by a 5-year warranty. Fiber ports are used when distances exceed the 100 meter limit of copper, when immunity to EMI/RFI is important or for additional communication security. ST or SC connectors are available for use with 1300 nm multimode fiber cable or SC connectors with single-mode 1300 nm fiber cable. All fiber ports operate at 100 Mbps full-duplex. For more information visit www.ccontrols.com
---

Trackstick Pro
The Trackstick Pro is a tiny GPS recorder intended as a low cost alternative to real time tracking devices. Tracksticks are GPS data loggers capable of continuously recording their own location histories for extended periods of time. The Trackstick Pro can be hard wired, covertly installed or run off of the included cigarette lighter plug. It is the perfect solution for companies and individuals looking for a way to track, record and validate the location of anything that moves. As with all of Telespial Systems products, the Trackstick Pro integrates seamlessly into Google Earth for unrivaled mapping and use worldwide.
For more information visit http://www.trackstickpro.com/whatistrackstick.htm
---
MOXA EDS-510A Gigabit Ethernet Switch Gives Boundless Network Communication with Three Gigabit Ports
Taipei, Taiwan, Nov. 17, 2006—MOXA Networking is pleased to launch a new gigabit Ethernet switch for bandwidth critical applications. The EDS-510A Series comes equipped with 3 gigabit Ethernet ports, making it ideal for building a redundant Gigabit Turbo Ring backbone, while leaving a spare gigabit port for uplink or ring coupling. The EDS-510A Series is designed especially for communication demanding applications such as process control, shipbuilding, ITS, and DCS systems, which can benefit from a scalable backbone construction.
For more information visit www.moxa.com

---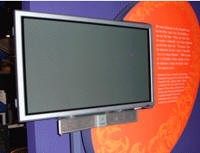 Brown Innovations Inc - Plasma/LCD Screens
Multimedia digital displays have become a driving force in today's marketplace and have an incredible impact when done properly. But audio in particular is often overlooked or omitted because of the difficulty in controlling it. We offer solutions to ensure your audio is heard clearly without being disturbing to others. Our Maestro's sleek design is the perfect complement to a flat screen. The sound quality and intelligibility is unsurpassed. And best of all the sound will always be playing at the appropriate levels even at the busiest and quietest times of the day. Use our Sound Domes anywhere you need a very tight focus in front of the display or have multiple screens in close proximity.
Visit www.BrownInnovations.com for more information.
---
Saelig Company Inc Introduces microIceblue & PearlBlue

Pittsford, NY: microIceBlue is a 2" x 1" DIL- packaged embeddable control module based on Microchip's PIC16F877 which implements Bluetooth communication capabilities directly from the UART pins of the PIC microcontroller without any need to know Bluetooth protocol. microIceBlue provides PIC16F877's pin-out on a double row pin connector to enable almost any application intended previously for a wireless PIC16F877 application, with the advantage now of having Bluetooth serial communications included. No additional "glue-code" or electronics is required. The result is a transparent, hardware and OS independent solution to embed Wireless Bluetooth communications in any equipment or electronic device with minimum effort and investment.
Pittsford, NY: PearlBlue is a Class 1 (up to 100m range) intelligent Bluetooth module that implements a transparent UART-to-Bluetooth interface bridge in master or slave mode, offering a fast wireless solution for embedded applications. PearlBlue implements a proprietary command-based firmware over the Bluetooth serial Port Profile to allow worry free point-to-point wireless communication for devices incorporating this profile over Bluetooth. PearlBlue connects the radio serial port to a physical UART that can be easily interfaced to any embedded microcontroller, PDA, or computer. Additionally, PearlBlue offers 6 general purpose I/O lines.
Visit http://www.saelig.com for more information.
---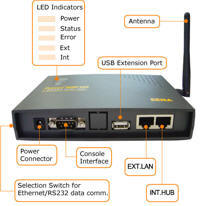 SENA Technologies Industrial Bluetooth Access Point with virtual serial port support
The Parani-MSP100 from SENA is a Bluetooth to IP gateway that connects Bluetooth devices to 10/100 Base-T Ethernet network. Supporting point to multi-point connectivity to 7 points, it transmits data from each Bluetooth terminal to management station via TCP/IP at a rate of 723Kbit/s. Connections can be extended up to 14 using an optional USB extension dongle. The Parani-MSP100 supports profiles including Serial port, LAN access, PAN and Dial-up networking to keep Bluetooth devices interoperating smoothly and easily. Serial Port Profile enables Bluetooth support for serial data connections. LAN access profile provides network access and Dial-up networking profile provides modem services. Security is handled through RADIUS authentication protocol.
For more information visit http://www.sena.com
---

Global Digital Imaging Limited - Door Camcorder with Color Monitor and Motion Sensor
The Intellicorder is a door security camera that records video and stores it to a removable SD card for playback or storage on a computer. It utilizes a video screen for viewing and recording from inside that replaces the standard peephole. On the outside is a lens that mounts to a door. Users can view video that was recorded and can manage the information stored on the SD card. IntelliCorder is the world's only digital camera with motion detection and DVR storage that is installed into the door peephole for surveillance and home security. We are proud that IntelliCorder obtained the 2006 CES Innovation Award in the USA.
For more information visit http://www.globaldigital.com.hk/
---

Watt Stopper/Legrand's new vacancy/occupancy sensors bring affordable, green lighting control to every home
SANTA CLARA, CA November 2006 – Watt Stopper/Legrand has created the first family of vacancy and occupancy sensors designed for the home. The new Watt Stopper sensors give homeowners a simple way to save energy by automatically turning lights off in empty rooms, thus making ordinary home lighting more green and eco-friendly.
The sensors replace wall switches in bathrooms, bedrooms, hallways and other rooms. With vacancy sensors, users press the button to turn lights on; with occupancy sensors lights turn on automatically when someone enters the room. Then, after the room is vacant, lights automatically turn off, ending the typical pattern of hours of wasted energy. Homeowners will no longer need to run around the house turning lights off. Visit www.wattstopper.com for more information.
---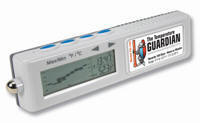 TIP Temperature Products - Recording Thermometer with 100 Day Display
The TG-100 allows you to monitor and log sensitive temperatures almost anywhere. Use for storage, transit, refrigerator/freezer, mount on the wall to monitor workplace area, Greenhouse, pet habitats, apartment, HVAC, property management, school, food service and much more. Keep yourself informed with a 100 day, 100 hour or 100 minute graphic recording thermometer. The unique built-in sensor allows the TG-100 to log temperatures over a wide range. Record 100 data points and STOP or the LOOP Feature allows for "First In - First Out" ( The first data to be added to the queue will be the first data to be removed. ) For rmore information visit www.tiptemp.com
---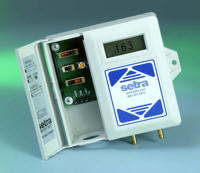 Setra Systems to Introduce Model 260 "One Size Fits All" Low Differential Pressure Transducer
Model 260 Is Ideal for HVAC Control, Static Room Pressure, Oven Pressurization, Furnace Draft Controls, HVAC Service and Retrofit and Environmental Pollution Control

Setra Systems, Inc., a leading designer and manufacturer of pressure measurement devices, introduces its new Model 260, "One Size Fits All" low differential pressure transducer. The Model 260 offers user selectable pressure ranges and analog outputs, a standard LCD, and AC/DC excitation on voltage output operation. At a standard accuracy of 1% FS, the Model 260 is the only multi-range transducer to provide fixed range performance for all selectable ranges. The Model 260 Is Ideal for HVAC Control, Static Room Pressure, Oven Pressurization, Furnace Draft Controls, HVAC Service and Retrofit and Environmental Pollution Control. Ideal for customers who are unsure of their exact requirements, this product gives the installer the ability "to configure on the fly." The Model 260 offers various pressure ranges from 0.1 in. W.C. full-scale up through 10" W.C. full-scale (comparable Pascal ranges available as well). All units may be field-configured as unidirectional or bi-directional ranges, which helps reduce inventory and gives users the flexibility of covering a wide range of typical HVAC applications with a single unit. For more information visit http://www.setra.com
---

Contemporary Controls Upgrades its True Ethernet Media Converter Family

Reliable EIMC Media Converters at a Reduced Cost to Customers
Downers Grove, Illinois (October 4, 2006) - Contemporary Controls offers true Ethernet media converters that have been upgraded at a reduced cost to their customers. "The EIMC family takes advantage of new components allowing the company to achieve better cost factors, an enhanced manufacturing technique to minimize production time, and automated testing to provide reliable products at less cost to our customers," explains Joe Stasiek, Sales Manager.
Stasiek says the EIMC is a true media converter, converting signals between copper and fiber without any Ethernet frame store-and-forward; therefore the data experiences minimal latency. "This product can operate in a transparent mode allowing the fiber optic connection to be transparent to the copper ports they are interconnecting," he says. "In this manner, the link status of the copper ports truly reflects the status of each end copper port. True media converters are very important in RSTP networks. If a store-and-forward media converter (or switched media converter) is used, this can create long recovery times or cause broadcast storms to occur." For more information visit www.ccontrols.com
---
Loadstar Sensors, Inc. launches wired and wireless displays to complement innovative capacitive load sensors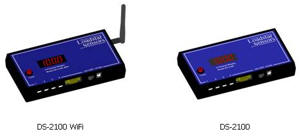 The DS Series Load Indicators when used with our CS Series of load sensors offer easy-to-use, affordable load measurement solutions.
These products provide several key features that make it easy for users to build a load measurement system:
- Accepts input from up to four CS Series load sensors
- Digitizes analog signals using 21 bit ADCs
- Automatically sums loads from all connected sensors
- Lets users "tare" values from a set pre-load
- Linearizes calibration curves for ease of use
- Displays calibrated loads in pounds in increments of 0.1 lb up to 999.9 lbs.
- Displays loads on bright red LED display
- Allows operation using 9V DC power supply or a 9V battery
- Allows connectivity to PC using wired (RS-232) and wireless (802.11b) interfaces
- Easy to use ASCII command set and data output
- Outputs raw data in decimal format
For more information visit www.loadstarsensors.com
---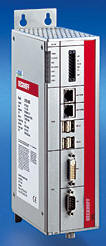 The New Beckhoff C69xx Series: Big M Class Power from Pint-sized Industrial PC
Compact Industrial PCs deliver dynamic, GHz-level processing power, but leave ample cabinet room for other devices
MINNEAPOLIS, October 11, 2006 – Continuing the push for Industrial PCs that are smaller, better and faster, Beckhoff Automation has introduced the C6920 and C6925 Industrial PCs. These PCs feature 3 1/2 inch motherboards, which make it possible to utilize Intel® Celeron® M or Pentium® M processors up to 1.8 GHz. Despite the processing power, C69xx PCs are incredibly small, measuring 2.6" x 9.1" x 4.6" (W x H x D) in the "largest" housing configuration. Assembled with thick plating, the PC housings are still built to last like all Beckhoff Industrial PCs.
For more information visit www.beckhoffautomation.com
---
---


[Click Banner To Learn More]
[Home Page] [The Automator] [About] [Subscribe ] [Contact Us]