Echelon Unveils the Future of the Internet with the i.LON™ IP Server
Breakthrough Product Connects Everyday Devices to the Web
(Amsterdam, The Netherlands - October 13, 1999)
- Echelon Corporation (NASDAQ: ELON) launched the next great Internet wave today by unveiling the i.LON™ 1000 IP Server. Developed and certified under the Cisco NetWorks™ program, the i.LON 1000 is a breakthrough new product that can bring billions of everyday devices into the Internet - or any Internet Protocol (IP) based intranet, LAN, or WAN. Already the i.LON 1000 IP Server enables millions of everyday devices networked worldwide with Echelon's LONWORKS® technology in homes, buildings, factories, and transportation systems to become part of the Web, delivering cost, revenue, quality, and productivity improvements today and paving the way for a wide range of new markets and applications for industry and consumers alike.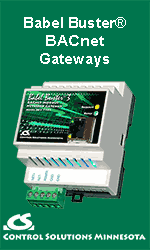 "We created the Cisco NetWorks program to take the Internet beyond its current role of connecting computers-to-computers and computers-to-people," said Robba Benjamin, vice president and general manager of Cisco's Consumer Line of Business. "Echelon's i.LON 1000 helps us deliver on our personal networking vision of broadband, always-on devices connecting everyone to everything to reduce expenses, increase revenues and make life easier. The i.LON 1000 is bringing the power of the Internet to ordinary devices and helping to create the next wave of growth for our industry."
"This is an absolutely thrilling time for Echelon; one where we are literally changing the world through Internet control," notes Ken Oshman, president and CEO of Echelon Corporation. "The i.LON 1000 and Echelon's LONWORKS control networks are spearheading the next great Internet wave. Soon, every machine and device will be connected to the Web: petroleum companies will be able to remotely measure gas station tank levels to optimize delivery schedules; property companies will remotely manage and maintain their buildings; manufacturers will be able to integrate productions planning systems and the actual production equipment itself, and home appliance manufacturers will monitor, detect, and solve problems before the homeowner even knows that something is amiss. Echelon is proud to be one of the key players driving this extraordinary change in our everyday world."
The i.LON 1000 works by making the everyday devices in LONWORKS control networks - devices such as light switches, washing machines, assembly line robots, thermostats, gas pumps, motion sensors, air conditioners, vending machines, and valves - effectively part of the IP network. Any authorized application, device, or user can collect and exchange control and status information with any other connected device. In addition, the i.LON 1000 includes an integrated Web Server that can be used to create password-protected pages representing the attached building, factory, home or other system. The i.LON 1000's Web Server enables any authorized user to browse and change data on their connected devices - in real-time - using any standard Web browser.
The i.LON 1000 will be available to early adopters at the end of 1999, and is scheduled to ship in the first quarter of 2000. For more details, please contact Echelon at +1-800-258-4566 or e-mail lonworks@echelon.com.
About Echelon Corporation
Echelon Corporation (NASDAQ: ELON) is the developer of LONWORKS networks, recognized internationally as a standard for open, interoperable control networks. With thousands of application developers and millions of devices installed worldwide, LONWORKS is a leading open, networked control solution for building and home automation, industrial, transportation, and public utility applications. Echelon offers a full range of off-the-shelf hardware and software products to support the development, installation and management of intelligent, open and interoperable control networks.
Echelon is based in Palo Alto, California with international offices in China, France, Germany, Japan, Korea, The Netherlands, and the United Kingdom. News and information are available at www.echelon.com.
Echelon's LonWorld99™ Conference and Exhibition is the world's largest conference and exhibition focused on the networking of everyday devices, October 13-15 in Amsterdam, The Netherlands. Online news for LonWorld99 is available at http://www.lonworld99.com.
---


[Click Banner To Learn More]
[Stay Informed - Subscribe to our Update Mailing List]
[Home Page] [Contact Us] [The Automator - Current Issue]
[News] [Systems] [Products] [Resources] [About]

Visit Home Toys to Learn about Home Automation
Web Design by HomeToys
©Enviromation 1999