New Products
The MultiNet MACH-air controller is designed to provide convenient and flexible control for VAV applications.
The controller is a programmable, 6 input, 5 output, direct digital controller and shaft-mount damper actuator, combined together into one device to meet the needs of variable air volume (VAV) control. This appication specific MACH controller features onboard velocity measurement, a 35 in-lb Belimo actuator, and two universal input/outputs.
Reliable Controls (Reliable Computer Systems Ltd.) is a 100% Canadian-owned manufacturer of innovative, embedded microcontroller hardware and software for the building automation industry. For more information on this product
http://www.reliable.bc.ca/products/vav/machair.html
New 7500 ION Energy & Power Quality Meter Announced
September 30, 1999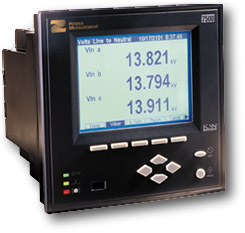 Power Measurement today announced the introduction of the 7500 ION ® three-phase digital power meter. Featuring a user-friendly interface, an easy-to-read display, and a full range of built-in communications options, the 7500 ION offers a unique combination of power-quality features and high accuracy (exceeding ANSI 12.20 specifications) in a compact panel-mount design. Suitable for industrial, commercial and institutional applications, the 7500 ION is ideal for load profiling, load aggregation, cost allocation, and power quality monitoring of critical circuits.
Ethernet Port Now Available for the 7330 ION
August 26, 1999
The 7330 ION power meter can now be ordered with an Ethernet port. With this new feature, the 7330 ION plugs right into your Ethernet LAN or WAN for a fast, dependable connection. And the 7330 ION with Ethernet doesn't require any third-party gateway hardware to connect to your network; in fact, a single 7330 ION with Ethernet can provide network access for to up to 31 additional meters. If telephone line communications are required, you can combine the Ethernet option with the new 7330 ION "internal modem" option for even more flexibility.
NEW VE-4000 SERIES 2-or 3-way System Control Valves and Actuator Linkage Kits
The unique design of the new VE-4000 SERIES Universal 2- and 3-Way System Control Valve line is the cost-effective one-piece heavy bronze C84400 valve body and its ability to be used as a two-way or three-way valve simply by closing off the unused ports 'A' or 'B' (never 'AB'). No 'suction-cup' effects will be noticed and because of the unique plug characterization, good control will be had in both two- and three-way formats.
Spartan all-metal linkage kits are also available, specifically designed to adapt robust, reliable and proven Belimo actuators.
Check out the full spec in the SYSTEM VALVES section.
A New Unique Compact Valve Actuator - ME-4337 - using time-based input 0-5 seconds is now available!
For more information, download the "Power Cube Actuators" sheet in the ACTUATORS section.
Simplex Announces Release of Celestra™ 2000 Digital Display Clocks
Quality, Reliability and Readability are Hallmarks of New Digital Clock Family
CONTACT: Chris Woodcock
Manager, Public Relations
(978) 630-7052
woodcockc@simplexnet.com
GARDNER, Massachusetts (October 18, 1999) – Is it time to enhance operations at your school, business or transportation facility with a top quality digital display clock that's extremely easy to read and highly reliable? Then Simplex can provide a perfect solution with its newly released line of Celestra 2000 Digital Display Clocks.
Veris Industries Inc. the leader in energy automation sensors.
Enercept® Networked (Modbus RTU) Power Meters

The world's most cost-effective meter
Monitor energy parameters (kW, kWH, kVAR, PF, Amps, Volts) at up to 63 locations on a single RS 485 network
---


[Click Banner To Learn More]
[Stay Informed - Subscribe to our Update Mailing List]
[Home Page] [Contact Us] [The Automator - Current Issue]
[News] [Systems] [Products] [Resources] [About]

Visit Home Toys to Learn about Home Automation
Web Design by HomeToys
©Enviromation 1999