Staefa provides Indoor Air Quality solutions
Staefa's integrated IAQ sensor system offers energy savings and free technical resource discusses Indoor Air Quality
The IAQ (Indoor Air Quality) sensor by Staefa Control System solves the frustration of foregoing energy efficiency for adequate indoor air ventilation. For facility owners, building operators and consulting/specifying engineers, Staefa has also developed a free technical White Paper that reviews proper IAQ and offers recommendations for effective ventilation systems.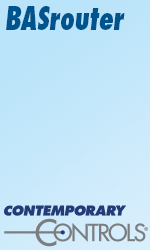 Staefa's IAQ sensor automatically measures Indoor Air Quality, controls the outside air intake and adjusts the HVAC (Heating, Ventilating and Air Conditioning) system accordingly. Minimizing the frequency of adjustments to stabilize the air quality reduces energy waste. Using an integrated Staefa IAQ sensor system, facilities will maintain a constant flow of healthy indoor air that is beneficial for occupants' health and productivity. The Staefa IAQ sensor system includes the IAQ sensor, Staefa's Smart II building room controller and Staefa's magnetic valves.
How to maintain proper Indoor Air Quality technical resource was created as a result of the growing concern about IAQ and the effort to clean up the environment. Maintaining proper IAQ helps reduce the "Sick Building Syndrome" and increase overall work performance. The White Paper includes a checklist to help identify indoor air pollution.
Staefa's IAQ sensor is a cost-effective solution for sensing a variety of volatile chemicals. Functioning with a sensing element and a signal conditioning circuit, the sensor responds to the aggregate effect of pollutants in the air and by their ability to be absorbed into the body.
Extensive testing proves that the Staefa IAQ sensor responds to chemical and occupancy changes. Once a chemical variation has been detected, the sensor automatically signals the HVAC control system to readjust the levels of a room or zone to pre-set specifications.
For areas where the number of occupants often varies greatly -- such as conference rooms, cafeterias and lounges -- a zone-mounted IAQ sensor resets the HVAC secondary ventilation volume to achieve the desired zone air quality at all times.
Featuring a single board design, Staefa's Smart II building room controller supplies digital intelligence for the IAQ sensor system. Staefa's patented magnetic valves offer extremely precise energy control. With an exceptional turndown ratio of 1,000:1, the positioning accuracy, speed, reliability and durability make this the industry's hardest working and longest operating valve of its type. The high turndown ratio provides precision control, including extremely small flow rates, offering substantial energy savings.
Since 1962, Staefa Control System has been an international leader in the manufacturing, installation and service of building control and management systems. As part of the Siemens Building Technologies family, Staefa Control System utilizes the vast technical resources of this industrial leader. Authorized Staefa dealers throughout the U.S. and Canada provide the best in comfort control advancements, customer service and support.
Request the White Paper or obtain more information on IAQ solutions by contacting Staefa at 1000 Deerfield Parkway, Buffalo Grove, IL 60089, (847) 215-1000 or visit Staefa's Web site, http://www.staefa.com.
---


[Click Banner To Learn More]
[Stay Informed - Subscribe to our Update Mailing List]
[Home Page] [Contact Us] [The Automator - Current Issue]
[News] [Systems] [Products] [Resources] [About]

Visit Home Toys to Learn about Home Automation
Web Design by HomeToys
©Enviromation 1999