Tridium's Niagara Framework Release 2.1 Extends the Benefits of Internet-based Control to New Markets
Richmond, VA., PRNewswire/ -- Tridium, Inc, the leading provider of internet-based automation infrastructure solutions, today announced major enhancements to its pioneering Niagara FrameworkÔ software and control products with Release 2.1. The highlight of the release is the new JACE 5, a low cost embedded Java Application Controller. Additional enhancements to the WebSupervisor and WorkPlace Pro products included in this release enable more complete support for LonWorks and BACnet devices, expanded engineering tools, and streamlined commissioning techniques.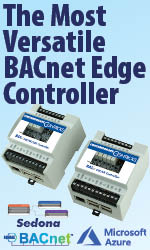 "The Niagara FrameworkÔ has been extremely well received by our customers. It is the leading enabling technology that allows customers to bridge the gap between their existing building control systems and open, internet-based control technologies." said Dennis Tuft, Vice President of Marketing at Tridium. "It is really a very exciting time for this industry - these new products and technologies are beginning to open the door to advanced energy and control applications as well as more widespread availability of key information. Our new JACE 5 will extend the power of the internet to many customers for an investment far less than most proprietary systems."
"We have seen a growing demand for interoperable systems that utilize the Internet and open, interoperable systems. Tridium's product suite is the best that we have seen in the market. Our customers have been impressed with the functionality, openness, and user-friendliness of the framework" stated Mark Balent, President of LONG Building Technologies, Inc. a leading edge system integrator specializing in building control and energy services, headquartered in Englewood, Colorado. "Further, we are extremely excited about the new JACE 5 - the industry's only application controller with imbedded "out-of-the box" Internet capabilities coupled with support for the leading open fieldbuses, such as BACnet and LonWorkstm. The JACE-5 will extend our offering to many more facilities in our relevant markets."
About Tridium, Inc. Headquartered in Richmond, VA, Tridium, Inc. provides software, equipment and services that allow companies to access, automate and control smart devices over the Internet using standard web browsers. Tridium offers a revolutionary suite of JavaÔ-based software products powered by their patent-pending Niagara FrameworkÔ technology. The Niagara FrameworkÔ integrates legacy and open protocols such as BACnetÔ, LonWorksâ and Modbus with Internet and enterprise connectivity standards into a common automation and engineering infrastructure. Additional information on Tridium and its Niagara FrameworkÔ technology is available at http://www.tridium.com.
---

[Click Banner To Learn More]
[Stay Informed - Subscribe to our Update Mailing List]
[Home Page] [Contact Us] [The Automator - Current Issue]
[News] [Resources] [Products] [Systems] [About]

Visit Home Toys to Learn about Home Automation
Web Design by Enviromation