---
Echoflex announces system pre-commissioning service

Echoflex offers a new service for factory pre-linking and pre-configuration of our self-powered, wireless lighting- and temperature-control products. Sensors, switches and I/O modules are pre-linked to their corresponding controllers, color coded and labeled by zone and/or room number and packaged together. Controllers are pre-configured to the exact requirements of each space, based on information supplied by the customer. This service will significantly reduce the amount of time required on site for job commissioning. All products now come with their radio IDs labeled on the box as well as on the product. Included in the product box are two tearaway labels for placement on drawings and schedules.

For more information, visit http://www.echoflexsolutions.com.
---
Contemporary Controls New Products Being Showcased

The BASintegratorFIN - Integration Platform to an AX Supervisor

The BASintegratorFIN uses a subset of J2innovations's FIN stack to create a powerful, yet flexible intelligent gateway that integrates Modbus and BACnet points up to Project Haystack clients. The BASintegratorFIN will also buffer trend data for the supervisor to help in case of network or supervisor issues.
Built on Contemporary Controls' open automation Linux platform, the BASintegratorFIN can discover points and apply Haystack tags to serve up to building supervisors such as Niagara's AX Supervisor. Using an open and free Haystack driver in the AX Supervisor, the AX Supervisor only needs to know the IP address of the BASintegratorFINs in the network for a seamless interface to all points on a job regardless of the type of point. The result is an inexpensive, yet modern approach to building automation where access to structured data is critical.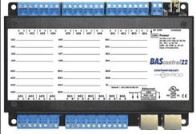 BAScontrol22 Unitary Controller
The BAScontrol22 Unitary Controller is a good example of an open controller in that it embodies the attributes of an open controller as defined by Contemporary Controls. It is BACnet/IP compliant and incorporates a Sedona Virtual Machine. It can be programmed using Niagara Workbench or with a Sedona Tool. It is available to any systems integrator without restriction.
By having an Ethernet connection, the BASC22 can easily connect to Niagara Workbench or a Sedona Tool for programming or to a web browser for configuration. A built-in 10/100 Mbps Ethernet switch allows for a daisy-chain connection to the next-in-line controller or to a building supervisor. Besides having 66 Sedona components from Tridium, it has 100 custom components from Contemporary Controls. These include 48 web components that can be viewed and manipulated by a web browser, and 24 virtual points that can be read or written by a BACnet client.
For more information visit http://www.ccontrols.com
---
DGLux5 For Niagara 4 is Here!

Niagara 4 has officially been released and our innovative technology is alongside Tridium's latest and greatest. Yes, DGLux5 for Niagara 4 is available for download! IoT Application Platform, DGLux5 is the finest compliment to Niagara 4, providing an enhanced user experience for all your data visualization needs. DGLux5 is an award-winning, fully HTML5 drag and drop development platform that allows users to rapidly create stunning, data-driven applications.

Exciting Features Include:
Drag and Drop Workflow
Modern Visual Programming Technology
Stunning HVAC Graphics
Mobile Responsive
For more information visit http://www.dglogik.com
---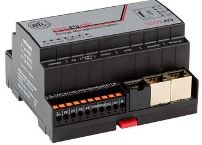 DEOS OPEN 810 BACnet Controller
The DEOS OPEN 810 EMS is a highly flexible native BACnet controller. With an embedded web server and internet connectivity, the OPEN 810 EMS combines control and network management functions as well as alarming, scheduling, data logging and supervision over a real time web-based graphical user interface. When local controls is required, it can be extended with up to 32 OPEN I/O modules and supports up to 512 physical data point and 1000 BACnet objects. The I/O modules are available with Hand/Off/Auto switches, allowing users to override the control outputs for commissioning and maintenance purposes. The OPEN 810 EMS comes with 1 CAN bus, 1 RS232, 1 RS485 and 2 fast Ethernet interfaces, which enable BACnet MS/TP, Modbus, M bus, KNX and DALI.

For more information visit http://www.deos-controls.com

---
strati-fi22TM Wireless Energy Management for Small Business

Quickly and easily connect building systems to the cloud over your existing 802.11b/g/n Wi-Fi network. Monitor and control HVAC units, lighting, and energy meters from anywhere. strati-fi controllers and bundled solutions (kits) are designed to help you meet California's rigorous Title 24 requirements. Monitor economizer performance, take control of indoor or outdoor lighting
projects, perfect for LED on/off and dimming applications. strati-fi is simple to configure using your Web Browser, Smartphone, or Tablet. Personalize your view of the system by importing photos or graphical images. Historical data retrieval, rules based alarms, text or email messaging, and two year advanced scheduling are standard features when paired with our Opendiem energy management software.
For more information visit http://www.strati-fi.com/

---
Brivo Launches Brivo Mobile Pass to Open Doors Using Smartphones

Brivo Inc, the worldwide leader in cloud-based physical access control systems, announced the release of Brivo Mobile Pass, a digital credential solution that lets users unlock doors with their smartphones. As an enhancement to the existing Brivo OnAirŽ access control system, customers can immediately distribute mobile credentials to their entire user population without any on-premise equipment changes. Available now on both iOS and Android, Brivo's Mobile Pass Application revolutionizes physical security by immediately delivering access control via smartphones without having to install new door readers. Brivo Mobile Pass serves as a mobile complement to physical key cards and readers, and is fully interoperable with existing door reader technologies.

For more information on Brivo's physical security offerings, please visit http://www.brivo.com

---
EPSITRONŽ CLASSIC Power Supplies Maximize Price to Performance Ratio

WAGO's EPSITRONŽ CLASSIC Power Supplies offer an ultra-slim power supply package solution featuring economically-priced 1-, 2- and 3-phase power supplies. An identical housing profile, and wide input and voltage range makes the CLASSIC Series the ideal integrated solution for all types of applications. With uniform slim style housing and specialty features such as integrated TopBoost for enhanced output protection of standard circuit breakers, the CLASSIC power supply family is the economical one-stop solution for providing reliable power to your network or application.

For additional information, visit http://www.wago.us.

---

L-com Introduces DAS Antennas for Indoor and Outdoor Applications

L-com Global Connectivity, a preferred manufacturer of wired and wireless connectivity products, has introduced a series of antennas that have been specifically designed for Distributed Antenna System (DAS) applications. L-com's HyperLink brand HG727 series antennas can provide coverage from 700 MHz to 2700 MHz in a single antenna package, which enables them to support networks that include cellular 4G/LTE, personal communication services (PCS) and 802.11 Wi-Fi connectivity. Combining all of these frequencies into a single antenna eliminates the need to purchase separate antennas to cover different wireless frequencies. Using DAS antennas simplifies installation and reduces deployment costs.

For more information visit http://www.l-com.com/
---
Last Month's New Products
---


[Click Banner To Learn More]
[Home Page] [The Automator] [About] [Subscribe ] [Contact Us]