NETsilicon and Adept Systems Form Partnership to Produce "SuperNode" for LonTalk® Networks
NET+ARM™ processor coupled with 709.1 interface will deliver low-cost, high-performance node for distributed control networks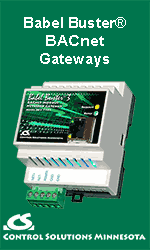 Waltham, Massachusetts and Boca Raton, Florida - NETsilicon, Inc. (Nasdaq: NSIL), the leading provider of network-enabled, microprocessing solutions for embedded systems, today announced a partnership with Adept Systems, Inc., a pioneer in porting the LonTalk protocol to non-Neuron® platforms. The companies will collaborate on the development of a SuperNode solution for LonTalk Networks.
Adept will use NETsilicon's NET+Works architecture to produce a 32-bit "SuperNode" which will consist of an ANSI/EIA 709.X (LonTalk) software and hardware interface, including media access control (MAC) and drivers for NETsilicon's system-on-chip. Adept's GadgetStackä, a mature software implementation of the 709.1 protocol, will run on the NETsilicon processor. This "SuperNode" integrated control module will offer more memory and greater processor speed and bandwidth than can be provided by current 709.1 solutions.
Applications for the "SuperNode" include faster and "smarter" gateways and routers for LonTalk®, supervisory control nodes, process control, and enterprise automation. Adept Systems will also port Network Fragment Healing technology for survivable reconfigureable networks to NET+ARM processor as core for next generation Sentinel-Router nodes. Future versions of the NET+ARM chip will likely integrate the complete 709.1 interface onboard.
For additional information, please contact Adept Systems, send email to info@adeptsystemsinc.com or visit http://www.adeptsystemsinc.com
For additional company, product or financial information, please visit the NETsilicon Web site, www.netsilicon.com or send email to info@netsilicon.com
---


[Click Banner To Learn More]
[Stay Informed - Subscribe to our Update Mailing List]
[Home Page] [Contact Us] [The Automator - Current Issue]
[News] [Resources] [Products] [Systems] [About]

Visit Home Toys to Learn about Home Automation
Web Design by Enviromation