Coactive News
Coactive Networks and Diverse Networks Team to Deliver End-to-End Infrastructure for Enabling the Digital Home

Coactive Connector(R) Residential Gateway Links with Diverse Operations Center

SAUSALITO, CA & HOUSTON, TX -- AUGUST 28, 2000 -- Coactive Networks, the leading provider of gateways for connecting the Internet to all devices in homes and businesses, today announced a strategic alliance withDiverse Networks (DNI), a leading network services firm specializing in the design and operation of all types of wireless and wireline data communications networks. The companies will offer an end-to-end infrastructure solution for providing remote Internet access to all the control systems and devices in homes and businesses, including wired and wireless access to climate controls, security systems, and appliances.
Under terms of the agreement, Coactive and DNI will work cooperatively to offer service providers end-to-end network solutions that include network deployment and operational services, such as physical infrastructure, network operation center hosting, and wireless data centers.
---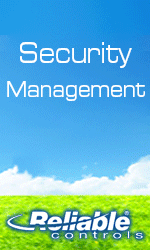 Eight Leading Controls Companies Join Coactive Partner Program
System Providers and Integrators Strengthen Offerings by Leveraging Coactive's Internet Connectivity Technology
SAUSALITO, Calif. -- Coactive Networks today announced eight new companies have joined its System Provider Partner (SPP) Program. New partners include Adept Systems, Inc., CSI Control Systems International Inc., Elpas Electro-Optic Systems Ltd., Lighthouse Communications Ltd., Maxon Corporation, MiLAB, Red Jacket Electronics, and Regin Technology AB. The SPP Program allows leaders in the controls industry to resell Coactive products as an integrated and pre-configured part of their system offerings, enabling their customers to reduce costs and gain new functionality through Internet and enterprise network connectivity.
"These agreements reflect the growing trend within the building automation and industrial control industries to utilize the Internet as well as local-and wide-area networks for control systems access," said Coactive president David Gaw. "Our SPP program allows Coactive partners to offer their customers a network connectivity option as well as the assurance of support for the complete system offering."
Other Coactive SPP program member companies are: Alya International, Circon Systems Corporation, Electronic Systems USA, Siebe Environmental Controls, Silicon Energy Corporation, TAC AB, and US Filter Control Systems
---
Coactive Networks Names Richard Bilas and John Seely Brown to its Advisory Board
Residential Gateway Pioneer Poised for Continued Leadership and Growth
SAUSALITO, CA, -- Coactive Networks, the leading provider of gateways for connecting the Internet to all devices in homes and businesses, today announced the appointment of Richard A. Bilas and John Seely Brown to its advisory board. Bilas and Brown bring tremendous insight and experience to Coactive Networks, leveraging a wealth of expertise in the utilities industry and computer science field, among other key areas.
The Coactive Networks' advisory board consists of leading experts and senior executives who provide the company with key advice on business and technology strategies. Bilas and Brown will add to the diversity of technical and business perspectives on the board, helping Coactive to continue in pioneering the deployment of cutting-edge Internet technologies to the mass-market, delivering a new class of e-services to millions of commercial and residential customers around the world.
More information on Coactive can be found at http://www.coactive.com
---

[Click Banner To Learn More]
[Stay Informed - Subscribe to our Update Mailing List]
[Home Page] [Contact Us] [The Automator - Current Issue]
[News] [Resources] [Products] [Systems] [About]

Visit Home Toys to Learn about Home Automation
Web Design by Enviromation