---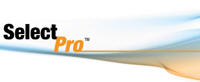 Belimo's SelectPro Software Accurately sizes and selects your control valves in minutes.

SelectPro provides a fast, user-friendly and flexible means for accurately sizing and selecting control valves for hydronic and steam applications in HVAC systems. Software capabilities include: Calculating control valve cost for any size project; Generating valve/actuator submittal data for project; Printing project data, valve data and pricing; Exporting project data and selected products to Excel data format; Saving projects in .xls or .bel file format for future editing or ordering; Automatically uploading data through web interface for easy ordering. When sizing a valve, the SelectPro™ process begins by entering pertinent data, such as pipe diameter, flow rate, valve pattern, and other required conditions. Inputs can be changed at any time, allowing users to quickly edit project details and immediately see the results. SelectPro is Free of Charge!
For more information visit the Belimo website.
---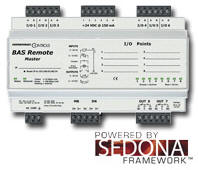 Contemporary Controls Announces Sedona Framework Support added to the BAS Remote
We call the BAS Remote a versatile building automation appliance since it can function as a BACnet/IP compliant device with universal I/O points; a Modbus serial to Modbus TCP router, and it can serve up web pages. However, the versatility of the BAS Remote has just improved since it now supports Tridium's Sedona Framework. With the addition of a Sedona virtual machine (SVM) in the BAS Remote, the BAS Remote can now execute standalone control schemes while benefiting from the ease of drag-and-drop programming. The BAS Remote retains its web server configuration capability and its ability to communicate over a BACnet/IP network while functioning as a true application specific controller (ASC).
For more information visit Contemporary Controls website.

---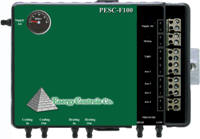 Energy Controls Co. Introduces The PESC-F100
The PESC-F100 utilizes the same established energy savings attributes of existing DDC Energy Management Systems. The difference is that the PESC-F100 costs 1/4 of the price. The PESC-F100 is an alternative to costly DDC retrofits of pneumatic systems which can cost $2000 or more per thermostatic zone. Existing pneumatic control systems control great, but they are like the straw man in the Wizard of Oz....they have no brains! The PESC-F100 provides the existing pneumatic system with a simple on-off-auto switching valve and the brains to provide all the energy-saving attributes of the proven DDC control systems that are popular today.
For more information visit Energy Controls Co website.
---
Efficient Building Automation Corp Introduces Circon's AX Wizards Software Programs
AX Wizards are software programs that allow integrators to configure and program Circon controllers from within Tridium's NiagaraAX WorkBench. AX Wizards ensure error-free configuration of a controller's I/O points and application configuration properties, using a familiar point-and-click interface. AX Wizards include device support files that improve the usability of Circon controllers when implementing graphics, logging and scheduling with the NiagaraAX WorkBench environment.

For more information visit http://www.circon.com/products/ax-wizards.asp
---
Exemys - RS232 to Ethernet TCP/IP Converter
Get remotely connected from the LAN to any serial device with RS232/485/422 port. Up to 4 serial ports (RS232/485/422) - Ethernet I/O - Multidrop over Ethernet - SMNP Alarm traps - Embedded WEB server for configuration.
For more information visit Exemys website.
---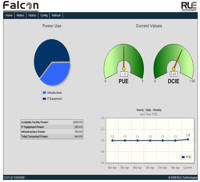 MetricWise by RLE Technologies
MetricWise by RLE Technologies is a cost effective, easily deployed, Web based appliance that collects metered information to calculate Power Utilization Effectiveness (PUE) and Data Center Infrastructure Efficiency (DCiE). In the past, obtaining these two metrics was a complicated process that required deploying expensive, intricate systems. With MetricWise, gathering these important benchmarks is simple—attach up to 10 meters at key power locations in the datacenter and MetricWise does the rest. The Web interface is simple, but powerful. The system dashboard displays dynamic gauges, charts, and graphs to help baseline, measure, and improve outcomes of various greening efforts, such as conserving energy. MetricWise can store up to two years of historical data, which can be viewed and exported to provide trends of PUE and DCiE over time. MetricWise supports SNMP, BACnet TCP/IP and Modbus TCP/IP so readings can be easily integrated with other management systems.
For further information, visit www.rletech.com.
---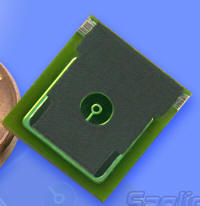 Saelig Introduces New Series of Fully Integrated Capacitive Temperature and Humidity Sensing Products
Saelig Company, Inc. (Saelig) has announced the recent addition of a new line of fully integrated capacitive temperature and humidity sensors and sensing modules for ambient environmental measurements. The sensors offer 0.25-second rise times and consistent, reliable operation that is completely unaffected by condensation or water immersion. They are ideal for use in a myriad of applications, such as air conditioning (HVAC), meteorology/weather measurement, home appliance, aeronautics, museum or gallery archival conservation and military and qualification laboratories, among others. Sensors incorporate patented, four-layer technology, exclusive to the manufacturer, which allows the products to offer consistent, exceptional thermal stability under environmental conditions of 0 to 100% relative humidity, in temperatures ranging from -90 to +85°C. Their miniature (9 x 8 mm) passive sensing elements vary capacitance with humidity and resistance with temperature, and are all fully interchangeable, without need for recalibration.
For more information visit www.saelig.com
---
BACnet Newsletter
What's New
Over the past few months we have released several new versions of our software applications and an entirely new BACnet Device Simulator. If it has been a while since you downloaded any versions of our software, you may want to check our website for the latest versions.

BACnet Device Simulator
The all new BACnet Device simulator can simulate 1 or more BACnet device. It has an advanced object property editor to allow any property, such as the weekly schedule, to be configured. Project configurations can be saved and reloaded or exported to a text file for editing. We have a beta version of the simulator available which includes all of the new objects in the BACnet 2008 specification. For anyone wishing to test their products with the new objects like eventLog and TrendlogMultiple, please send an email to support@scadaengine.com

BACnet Server API
The latest version of the BACnet Server API is release 2.0.22. If you don't already have this version then we suggest you download and install it. There some bug fixes, as well as better support for Importing/Exporting EDE files, support for 64 bit operating systems and new sample applications. The next release of the API due in October will have all of the addendums in the BACnet 2008 which include objects for EventLog, TrendlogMultiple and others.

BACnet OPC Server
This product has been redesigned from the ground up with input from Johnson Controls to suit large Building Automation projects in North America. The resultant server for BACnet is a powerful application featuring Data Access (DA), Alarms and Events (AE) and Historical Data Access (HDA). There is no need to purchase 3 separate OPC Servers for DA, AE and HDA when the SCADA Engine BACnet OPC Server combines all of them into one. This BACnet OPC Server has all of the features required for complete control over a BACnet system.
For more information visit www.scadaengine.com
---
---

[Click Banner To Learn More]
[Home Page] [The Automator] [About] [Subscribe ] [Contact Us]