---
Contemporary Controls Introduces BAS Remote Versatile Building Automation Appliance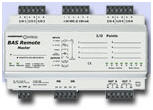 The BAS Remote Master provides the ultimate in flexibility. It can be used for expansion I/O at remote locations where an Ethernet connection exists. Its built-in router and gateway capabilities address unique integration needs where more than one communications protocol is involved. It can operate as a function block programmable controller with its resident Sedona Framework Virtual Machine. Powered by a Linux engine, the BAS Remote Master can operate as BACnet/IP and Modbus TCP remote I/O, Sedona Framework controller, Modbus Serial to Modbus TCP router, Modbus Serial to BACnet gateway, and Modbus master to attached Modbus slaves all at the same time. A 10/100 Mbps Ethernet port allows connection to IP networks and popular building automation protocols such as Modbus TCP, BACnet/IP, and Sedona SOX. Six universal I/O points and two relay outputs can be confi gured through resident web pages using a standard web browser and without the need of a special programming tool. A 2-wire Modbus serial port can greatly expand the I/O count with built-in routing to Modbus TCP clients. If BACnet mapping is preferred, the unit incorporates a Modbus serial to BACnet/IP gateway. The BAS Remote Master also allows you to install custom web pages so you can view the status of your system in a convenient manner. And using its onboard Web Services, your IT department can easily interact with the BAS Remote Master. Additional universal I/O can be achieved with the simple addition of BAS Remote Expansion modules. The BAS Remote PoE has the same capabilities as the BAS Remote Master except it is powered over the Ethernet connection thereby providing a "One Cable Solution".
For more information visit http://www.ccontrols.com/basautomation/basremote.htm
---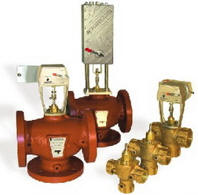 Spartan System Valves
Spartan Peripheral Devices markets the V411 and V431 V411 / V431 valve bodies with the unique feature of being universal 2 way and 3 way. This universality was specifically designed as a benefit to reduce inventory at a wholesaler's level and gives the installer an opportunity to make any last minute modifications from a 2 way to a 3 way installation if constant flow or bypass relief is required. Full spectrum of different control signals are available for each size; Modulating, On-Off, Spring return, Fail Last Position, NO,NC.
For more information visit www.spartan-pd.com
---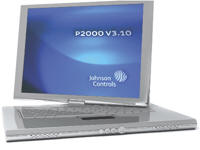 Johnson Controls will announce the P2000 v3.10 Security Management System at ASIS 2010
The latest upgrade builds upon the existing system and provides new third party, IP reader, control and digital video integration offerings. The P2000 v3.10 system now integrates with two new third-party Internet Protocol (IP) reader controls as well as the Johnson Controls S321-IP controller. The system also integrates with more third-party Digital Video Recording (DVR) systems. A cost effective eight-door reader interface module enables the user to control eight fully configured doors in a four-door footprint at the same price level. Additional new features of the P2000 v3.10 system will be officially announced at ASIS.
For more information visit www.jci.com
---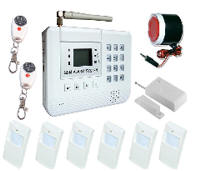 New GSM SMS Alarm S100
A new Concept of alarm system in 2010!

* Easily to program and operations;
* SMS Alert to Mobile Phones;
* Arm or Disarm by SMS from Mobile Phones;
* Switch ON/OFF light by SMS from Mobile Phones;
* Two way Voice communication like a Mobile Phone;
* Watchdog zone for elders or child or disabled;

For more information visit www.GSMalarmsystem.com

---
Honeywell Web Controller Provides Automaton Control For Large-Scale Facilities

Support for Building Automation and Energy Management on the Same Platform
Honeywell recently announced the availability of the WEB-700 controller. The WEB-700 controller supports multiple applications, including building automation and energy management, on the same platform. The controller, which is built on the NiagaraAX Framework®, provides complete, reliable building automation control with fewer components when compared to bulkier, more complex controllers. The WEB-700 controller integrates easily into an existing building management system, serving data and graphical information to a Web browser through Ethernet LAN remotely over the Internet or using a dial-up modem. Real-time data, alarms and other control information are integrated through these powerful controllers. The WEB-700 controller is ideal for use in large facilities, multi-building facilities and large-scale control system integrations.
For more information visit www.beyondinnovation.honeywell.com.
---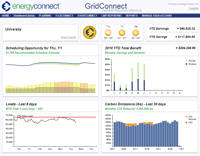 EnergyConnect Transforms Demand Response with New GridConnect Integrated Platform
EnergyConnect Group Inc. (OTCBB: ECNG - News), a leading provider of smart grid demand response technologies, launched GridConnect™, an integrated software platform that enables participation in the next generation of demand response programs. GridConnect provides commercial, institutional and industrial consumers with real-time energy information and empowers them to meet their energy needs through an optimal mix of demand response strategies. GridConnect, a secure web-based integrated platform, provides 24/7 access to EnergyConnect's proven products, including the award-winning FlexConnect™ price-responsive demand technology. The unique and intuitive user interface enables consumers to go beyond traditional dispatchable capacity programs, providing access to price-response and ancillary service market opportunities throughout the year.
For more information visit http://www.energyconnectinc.com.


---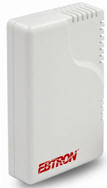 EBTRON, Inc. receives Listing with BACnet International Testing Labs (BTL) for the first in new line of environmental sensors
The IAQSens wall mount product line includes three innovative models with single, dual and triple sensor suites, replacing and expanding on the original Tri-Stat product that was introduced last year. The renamed IAQ-300-N provides CO2, R/H and temperature sensing. A new IAQ-200-N model provides R/H and temperature sensing; while another model IAQ-100-N provides CO2 sensing only. The IAQ-300-N and IAQ-100-N feature an advanced CO2 sensing module and patented self-calibration system from GE Sensing & Inspection Technologies to ensure extremely accurate, stable and reliable readings over the life of the sensor. Equally impressive relative humidity (RH) and temperature sensing elements on the IAQ-300-N and IAQ-200-N make the IAQSens series economically efficient in applications where measurement of one two or all three IAQ variables is required.
For more information visit www.EBTRON.com
---

Web-Based Software Now Available from NetworkThermostat
Net/X™ Web-Based Management System
·Securely Monitor Your System from Any Computer with Web Access
·Fully Integrated Project Management Application
·Sophisticated Graphing and Reporting
·Create E-Mail and SMS Text Alerts and Notifications
·Monthly Summary Reports

For more information visit our website www.networkthermostat.com
---
New Wireless Sensors for Humidity, Temperature and CO2

EE240 wireless sensors from E+E Elektronik are the ideal solution for high quality, wireless measurement of humidity, temperature or CO2. With the introduction of state-of-the-art wireless data transmission, E+E Elektronik, the sensor specialist, is expanding its expertise into wireless sensor systems. Up to three intelligent probes can be connected to each transmitter. Each probe operates independently and can be hot swapped. Remote probes allow the sensing head to be placed at a distance of up to 10m away from the transmitter. These features make the E+E wireless sensors especially suited for industrial applications that require sensors to be routinely recalibrated without affecting network operation. The measured values can be read directly off the display on the transmitter or read remotely using your web browser from any PC in the company network. The base station features a digital Ethernet interface for effective connection to the network and data analysis. The integrated web server allows you to easily and individually configure the wireless sensor network from any PC without installing any software. The base station comes with four analog outputs for connection to your system controller.

For more information visit www.epluse.com
---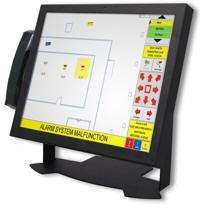 Comark Corporation Announces Critical Touch™ UL864 9th Edition Recognized, All-In-One Fanless Computers
Comark Corporation, a leader in the design and manufacture of life-safety rated computer and display solutions for the building automation market, announced the availability of Critical Touch, a UL864 9th Edition Recognized line of 19" All-In-One Fanless Computers. The UL864 9th Edition specification is an NFPA requirement for equipment installed in life-safety applications, such as fire alarm systems, smoke control, and mass notification systems. Underwriters Laboratories in Northbrook, IL carried out the testing. The Critical Touch features a 19" LCD display, optional Surface Acoustic Wave touchscreen, Core 2 Duo processing, up to 4GB RAM, PCI expansion and multiple mounting options, using the integrated VESA mounting pattern. Additional options include Wireless connectivity, Flash or HD storage, an integrated VOIP handset and custom colors or private branding.
For more information visit www.comarkcorp.com
---
New Products from IQinVision
Introducing IQeye HD1080p H.264 Sentinel Series and IQsentry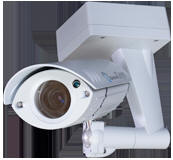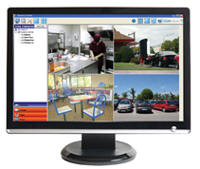 IQeye HD1080p Sentinel Series
The unique all–weather, vandal–resistant IQeye Sentinel Series now includes HD1080p H.264 standard and day/night models producing spectacular high–definition video, requiring less bandwidth and storage, while delivering full resolution at max frame rate.

IQsentry – Single and 4–Channel NVR
This easy–to–install, user–friendly software works with all IQeye cameras to record, manage, and export video and snapshots. This full–featured software includes camera auto–find, simple set–up and configuration, full–time or on–motion recording, and easy search and playback functionality.
For more information visit www.IQeye.com


---
---


[Click Banner To Learn More]
[Home Page] [The Automator] [About] [Subscribe ] [Contact Us]