---

EMAIL INTERVIEW – Jim Sinopoli and Ken Sinclair
Jim Sinopoli PE, RCDD, LEED AP, Managing Principal,
Smart Buildings LLC

Contributing Editor
---
Advanced Technology for Smart Buildings
This book provides a summary with details regarding the roles of different participants in the smart building technology implementation process, various control systems, practices such as enterprise data management or energy management as well as emergent technology like indoor positioning systems, eye tracking systems, and software analytic applications.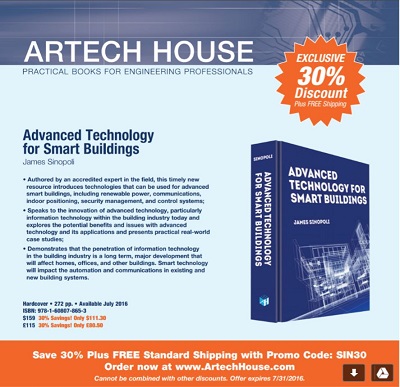 Sinclair: So you're writing another book, this one published by Artech. But why another book?
Sinopoli: Ken thanks for the interview and a good question. I put out a book in 2006 titled "Smart Buildings". I published a book again in 2009 which was titled "Smart Buildings Systems for Architects, Owners and Builders" which was later translated into Korean.

There have been a lot of major movements and changes in the building industry since 2009; the penetration of information technology in buildings, the use of analytic software, data management, new systems such as BI-PV, indoor positioning, cybersecurity etc., thus an updated book; the new book covers a lot of ground.

Sinclair: You have written monthly industry articles for years; why write?

Sinopoli: Some would said it's my therapy, but when writing I do a lot of research on the subject and topics, educating myself, as well as I hope educating readers and enlightening readers. Moreover, writing allows me to comment on or critique the industry, it's an opportunity to propose possible solutions to industry issues and potentially influence the industry. Some of the more successful articles I've written have been about FDD being the Killer App, the idea that traditional BMS systems are legacy systems and the industry needs to move to integrated BMS, and the importance of a facility data manager.

Sinclair: How did you choose the topic of the book?

Sinopoli: I couldn't pick one topic for the book; one topic seemed too narrow given the number of issues the industry is currently managing; security, energy, IT, new building systems, etc. Operating or managing a sizable building is complex and it demands multiple skill sets by the staff and management. Instead the general focus of the book is advanced technology for smart buildings and within the overall topic there are 20 specific items; everything from Building Integrated-PV, eye tracking, indoor position systems, microgrids, and POE to wind power.

Sinclair: What inspired you to write your first book?

Sinopoli: It was the work we did for Ave Maria University. We did things on that project no one else had done at that time; for example, an operations center with both facility and IT staff, significant systems integration, and an incredible campus technology infrastructure. Bryan Mehaffey, was the owner's information technology director, a very bright guy who allowed us to be innovative, which we did. Ave Maria was cutting edge back then, and the project won multiple awards and is known beyond the USA: best automation awards, digital awards, etc. It spawned the name "smart buildings" and inspired my first book.

Sinclair: What are your current projects?

Sinopoli: It's more writing and designing; that is developing construction specifications for manufacturers or a design team. It sounds pretty dry, but you have to step into "the shoes of the contractor, and the building owner', and at the same time create a legal contract for the parties. It's an opportunity to stand out and play a critical role.

For more information read this review of the book.

---


[Click Banner To Learn More]
[Home Page] [The Automator] [About] [Subscribe ] [Contact Us]