---
Bringing Energy and Building Management to Main Street

The largest growing segment of the BMS market is the small and medium business, or Main Street.



Mike Ippolito,
Chief Product Officer
Universal Devices Inc.
When referring to building management systems, one typically associates a large corporate, warehouse, or multi-building installation. However the largest growing segment of the BMS market is the small and medium business, or Main Street. According to BCC research, in 2016 the market for building management solutions will reach $88.2 Billion. This growth is being fueled by the middle market, Main Street business' looking to not only save energy but "keep an eye on the store."
The middle market is easing into building management from several different entry points. The need for energy management through a thoughtful cost saving approach or mandate is the primary entry point. Secondarily, the natural progression both up from home automation and down from large BMS systems fills the niche markets. Assisting deployments are energy management mandates such as California Title 24 and the move to feedback based demand response programs across the world. While early standards for demand response required expensive, proprietary equipment, the new breed of energy management devices are increasingly more open and support off-the-shelf devices for building management.
While we at Universal Devices planned for this pivot in our product roadmap; we saw it mushroom when PG&E launched their CATUP (Commercial Advanced Thermostat Upgrade Program.) As a selected vendor partner, we assembled an OpenADR 2.0b kit for contractors to install for this program, "Energy Management in a Box." The kit included our ISY994 ZigBee gateway and specially paired ZigBee thermostats. While the utilities were focused on replacing thermostats and enabling demand response to meet Title 24, simply replacing thermostats was not enough of a value proposition to business owners. The customer demanded even more value from the system and the contractors were able to easily meet this demand with the convergence of building and energy management solutions offered by the ISY994 Series controllers. By adding door sensors, motion detectors, lighting controls and logic - the contractor expanded a simple energy management system into a full blown building management solution. Suddenly, HVAC contractors were not only installing thermostats, they were assisting in the install of full building automation systems with off-the-shelf devices. The market for the CATUP was not your typical BMS customer, it was Main Street: small retailers, offices, and restaurants.

The solution sale for a small and medium business (SMB) customer is typically focused on a single pain point, but needs to expand to a full-fledged BMS. Every building automation installer and dealer has their favorite system, protocol, or vendor and the recommendations may include one or more families of devices to create a proven system. The difference in the SMB sale is the ability to consult and direct the customer not towards these industrial controls, but towards consumer controls. The true value proposition to an SMB is when the end customer can go to their favorite retailer (Home Depot, Best Buy, or Amazon) and pick up a low-cost add-on device and simply add it to their system on their own. While some system integrators may see this as the "death of the business" – it's time to see the shift that (some of) these consumer devices meet 99% of the needs of an SMB customer.

Because the ubiquity of these off-the-shelf devices, even Value Added Resellers (VAR's) are entering the building management field. The VAR's are augmenting sales of computer equipment with gateways for energy and building management, selling wireless locks, sensors, and lighting controls along with servers and peripherals. Adding on a gateway, wireless lock, door sensor, thermo probe, and humidity sensor to that server room setup is a natural conversation to have with clients.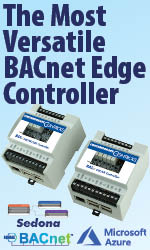 At a recent meeting at a well-known investment banking firm in NYC, More Direct (www.moredirect.com), a PC Connection Company, assisted the firm with equipping a "Smart Floor" for office hoteling of its workforce. The firm had used many proprietary industrial systems, some still in use, and certainly had the budget to continue expanding these systems. The project management team looked at available offerings outside of their typical vendor base and found an unlikely solution with their computer VAR, the ISY994 gateway with Z-Wave and INSTEON along with IP integration of existing systems. The economies of adding $30 devices rather than proprietary devices costing up to 10x while interfacing with existing systems using IP/REST allowed them to leverage and expand. The 175 device network, controllers, and installation was less than $10,000. More impressive was the fact that the hardware was less than half of the cost. The VAR was able to capture this sale only because they sold the value of off-the-shelf technologies.

Building automation firms should embrace the flood of low cost devices using ZigBee, Z-Wave, INSTEON, and IP (IoT.) Increasing visibility into what is possible only expands the customer base further down into the SMB market, Main Street.

Editors Note: See this month's New Products for links to several Universal Devices.

---

[Click Banner To Learn More]
[Home Page] [The Automator] [About] [Subscribe ] [Contact Us]