---
Dinosaur Dump Evolves to Ask Auto

then to "Creating your Collaboration"


Education is not an affair of "telling" and being told, but an active constructive process to bridge the skills gap.



I have been puzzling with the process of how industry knowledge gets past on. The best information we have so far is Paul and Rick's articles listed below.

Addressing The Skills Gap It's time we as industry begin to focus our efforts on investing in the people necessary to properly apply all the great technology we have in order to deliver quality solutions that provide real value to end users. - Paul Oswald, President,Environmental Systems, Inc (ESI)
Followed by:
Talent Development In The IoT World Clients Demanding Building Automation Systems be Leveraged as Enterprise Decision Support Systems for Their Energy Optimization and Operational Effectiveness Objectives - Richard K. Warner, PE, President/CEO, OME

But how do we pass the years of exprience locked in the minds of those about to leave the industry?
In a recent Lunch and Learn I attempted to provide a Deep Dinosaur Dump into my watery life experiences in the ever exciting field of Fluid Hydraulics for large buildings. Who knew a presenter could make this watery topic dry........smile.

I carefully presented the answers to several questions not asked by anyone, dumping information not requested.
I am mulling in my mind what went wrong, but I think I learned lots: Do not try to answer questions not asked; That education is not an affair of "telling" and being told, but an active constructive process; I am a poor presenter but a good connector of concepts and resources for the active constructive process.
As a connector of concept and resource I need to be requested by the process of those seeking knowledge to be of use. My value is not the knowledge that I can share, but knowledge I can connect folks to so they then can self-teach themselves their way. I am but a catalysis in the process of learning. Catalyst reactions occur faster and with less energy.
Contributing editor Therese shares hers wisdom here, Learning via "Sage of the Stage" - a popular style that dates at least from Plato/Aristotle - may be over. What's a knowledge base, but a glorified FAQ. Collaboration platform is a synonym. Somewhere where someone who wants to learn can go when the moment is right to find just the information they're seeking. Useful information falling on my desk form the simplest of Collaboration Platforms email.

As I see it I was up there telling them some stuff they know and maybe some stuff they do not, but they likely have real problems that I may be able to help with. So how best to turn this into an educational process not simply a dump of information not requested?

Let us explore the ASK Auto Approach, if I take apart one of the response emails to the Lunch and Learn experience and pull questions out of it.
ASK Auto

We've done as much as we can on the control side but the next step is to convert the chilled water loop to a primary constant volume loop and a secondary variable volume loop. The client is struggling to get the chilled water to AHU at the end of the line (which is critical as this AHU serves a Hospital OR). Not only will this lead to energy savings, it will also solve a number of operational challenges.

Any Ideas? Chris Goodchild, B.A.Sc., E.I.T. SES Consulting, Inc.
Chris

Chilled water systems can be complex and never quite operate the way the way designed. Here is some of my experience in a dinosaur dump that you may find some solutions in.
Create the schematic no one else has to the show the complete chilled water interaction and where flows are going.
Turn this into a dynamic graphic on your automation system with all the points you have. Include trends, valve positions, pump speeds and even key results like air temp and critical room temp like OR.
Add the points you need like chilled water temperature leaving the coil on each coil. This is necessary to insure each coils performance and when coupled with air temp will allow you to evaluate water side fouling, air side fouling, piping problems, coil sizing etc dynamically.
The difference between these coil leaving temperatures and return water to chiller show how much water is bypassing and of course this needs to be corrected.
Identify the coils that are the tails that are wagging the dog. If we raise the chilled water temperature or reduce flow which coils cannot meet their loads?
Until problems can be corrected control flow and or reset from the wagging dog. Place control inside of limits of flows that is safe for all equipment especially chillers. Using a time average works well to stabilize the controlling tail. Example; inside a do-every 1m add new value to 14 old values provides a good 15 minute smoothing signal to control from.
This dynamic picture of the problem allows all on site and off site to pass opinions on the real problem while educating all concerned.
My original introduction to variable flow chilled water was on the operational side of U of A Edmonton campus central chilled water system on the North Saskatchewan river. Thousands of tons of cooling connected to a few miles of chilled water piping. The new 1975 DDC proved the water even flowed backwards. Solving problems over several years allowed two very large buildings to be added to the chilled water system without any increase in capacity. The extra energy came from the reduced pumping energy.

Next chilled water project was the Robson Square project with a million gallon storage tank; maintaining the differential is how this system works.

Then I Met Tom Hartman and his dynamic control concepts, we agreed on many principles. Some of the best documentation we have on variable chilled water flow has been captured on AutomatedBuildings.com in Tom's articles.

They are all here for you
http://www.automatedbuildings.com/editors/thartman.htm
Likely best to read from bottom up.
Hartman discussed this in 2006 and Called it Relational Control in a three part article
http://www.automatedbuildings.com/news/mar06/articles/hartman/060227054447hartman.htm

Another view
http://www.automatedbuildings.com/news/aug12/articles/climatec/120724035404climatec.html

---
Hi Ken,

This is awesome info, thanks!!!

I spoke to the client about this approach and they are really excited about it. I'm hoping to turn this into a real project early next year.

I especially like the idea of creating a dynamic DDC graphic (points 1&2) to show where the chilled water is going and how that is impacting the critical space temperatures.

I'm going to use a similar graphic for another Heat Recovery Project. This will really help client understand the new system and will help us to easily diagnose any problems.

Regards, Chris

---
Chris
This article may also be of use as Matt works with a consulting company in California providing simular services to new buildings.

Analytics-Driven New Construction Commissioning Inefficiencies in the sequences of operation of a building automation system are a common problem for new buildings, particularly projects with complex equipment that rely heavily on automation systems. - Matt Schwartz, Associate, & Jeff Berge, Director of Marketing & Operations, Altura Associates
Auto

---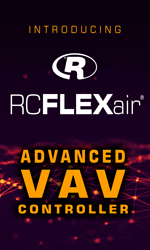 An advantage to this approach is that the discussion shares real information from real experiences that are important to both Chris and I.
The added advantage is that we both can share our interactions with others in a searchable format, post on discussion groups where questions can be expanded and clarified in further interaction. The online question and response allows it to be file classified, tweeted, texted, or emailed to someone wishing similar information. The dinosaur dump that no one asked for has become an online FAQ process to bridge the skills gap.
I am arriving at the conclusion that everyone in our industry needs to develop their own Ask questions get them documented online for their purpose and decide which to share with world with their own collaboration platform.

These are early days of trying to figure this Ask Auto out so please share your thoughts with us.

askauto@automatedbuildings.com
We have set up a LinkedIn Group
When we originally created Ask Auto LinkedIn group I thought I would be answering the questions but it has now become clear that Auto is the community of AutomatedBuildings.com not just me.

This makes this group much more powerful and with the correct educational focus and nurturing this group can become a living resource in our industry.

Very pleased to see where it might go. Feel free to join and post your questions or answers.

It will be exciting to see the Auto interactions.

Very pleased to get your feedback and ideas online.


---

[Click Banner To Learn More]
[Home Page] [The Automator] [About] [Subscribe ] [Contact Us]