---
The Edge of Change


– The need to stay connected with other corporate communities


Leo SaLemi
Professor and Program Coordinator
Building Automation,
George Brown College
Toronto

The 'Edge of Change' is a term coined by our friend Ken Sinclair at automatedbuildings.com. The term may have a different meaning depending on what angle you are viewing it from, but metaphorically speaking we will never reach the edge as we move towards it, but one thing is certain if we don't learn how to deal with the 'changes' during that journey … we are certain to fall off.

Keeping up with the rate of change within one's own corporate community is a challenge in itself but keeping up to speed with what your corporate peers are doing in their community is often overlooked because there is no perceived benefit in doing so and it cuts into the bottom line. Collaborating with other technical communities requires an investment in time and resources and the smart business leaders know that this is the secret to survival if you don't want to fall off the 'edge' especially when the next wave of the Digital Transformation hits us.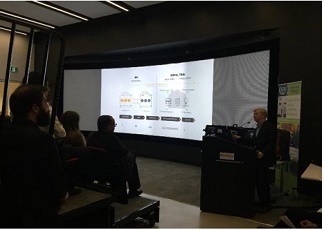 As a testimony to how important I think they need to stay connected with other corporate communities during the 'Edge of Change' journey, I would like to share this story with you. On November 15, George Brown College (where I teach) hosted a networking and information session for a diverse group of companies from the Architectural, Construction, Property Management, Building Automation, and Manufacturing sectors with two objectives in mind. The first was to show our corporate guests the capstone projects the students from the Building Information Modelling (BIM) and Building Automation Systems (BAS) programs were working on and entice them to participate; and the second objective was to create a networking and information session so interested companies could showcase some of the emerging technologies happening in their community. The companies invited to this event included WZMH Architects, M & T Architects, Govan Brown, Tridel, Ledcor, Mircom, Leviton and Oxford Properties each having a very diverse range of interests and technologies but all related to the Intelligent Building Industry one way or another.

This initiative was inspired by David Giddings, Director National Programs at Oxford Properties who opened the session by explaining how important it was to take BIM beyond the architectural design and construction stages of a building so it can be used by the Facility Management group to optimize their building operations.

David identified the lack of BIM utilization once the building was finished and handed over to Facilities citing many examples of how companies like his could leverage BIM technologies to run the building more efficiently and provide the best tenant experience out there. He also stated how important it was that the Architects, Designers, Consultants, Builders, Contractors and Facility Operations collaborate with each other over the full life cycle of the building and not just the portion that belongs to them.

One of the Capstone Projects that George Brown's BIM-BAS team will be working on will involve developing the Digital Twin for buildings so Oxford Properties can use it to train their Facility Management team as well as using real-time building data for fault detection and preventative maintenance. A great tool for a Service Tech going to a new building for the first time allowing him/her to spend more time troubleshooting the problem instead of trying to locate where the equipment is located.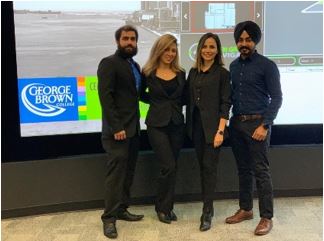 The session continued with a great presentation by the students from the BIM Management Program who demonstrated the work they are doing to develop BIM applications for several of the building locations throughout the campus and how this platform can be used to develop the 3D renderings and the Digital Twin of a building.

This was followed by another great presentation by Govan Brown's VDC-BIM Coordinator Peter Salemi who demonstrated how his company utilized 3D Camera Imaging Technologies to create an Augmented Reality tour of the office space located in Govan Brown's building. Peter showed the group how this could be the ideal platform to train FM operators and maintenance personnel with the capability of creating clickable 'points of interest' that contain detailed information and location of selected items such as VAV boxes, actuators, thermostats, room temperature, lighting levels and much more.

The morning session was wrapped up with a real-time demo by Brian Leung, Senior Engineering Manager from the Mircom. Brian showed how Mircom's OpenGN "Unified Building eXperience" could be used to display real-time building data as well as being able to emulate the Digital Twin of various devices such as fire, card access, and security panels and display it using their TX3 InSuite wall mounted tablet; a great platform that can be used in a commercial or multi-dwelling buildings.

The group recessed for lunch and took advantage of the opportunity to network with each other and explore the synergies that exist between the companies, and as it turned out, there were many. After a great meal sponsored by our Division Dean, Dr. Adel Esayed, the group met in Leo's Building Automation Lab where his 3rd year students demonstrated some of the capstone projects they were working on like the Low Voltage LED lighting system and motorized window shades using Alexa voice control; Smart Network Connected Furnace with dirty air filter notification; an Integrated Home Automation System using the new ecobee voice activated wall switch; Mircom's OpenGN platform for Fire, Security and Card Access monitoring and more. This was a great opportunity for the BAS students to connect with companies they would have otherwise never met and as a result one of their IoT prototypes attracted the attention of a couple of the companies who are now interested in turning this into a fully funded research project and commercialize the idea.

As the session wrapped up it was inspiring to see the connections being forged by the Architectural Community with the Facility Management Community - the Construction Community with the Manufacturing and Automation Community - the BIM-BAS Community from George Brown with all of the communities in attendance. Overall the event exceeded expectations, and the message was clear; we need to build connections between the 'community silos' we have built rather than remain isolated or tear them down, and what is even more important is that educational communities like George Brown College and 'Others' need to step up and host more events like this to promote awareness between the corporate communities so everyone can stay connected while we ride on the Edge of Change.

Change is the only Universal Constant that is Subject to Change – Leo SaLemi 2018
---


[Click Banner To Learn More]
[Home Page] [The Automator] [About] [Subscribe ] [Contact Us]