---
| | |
| --- | --- |
| Preview of XML Symposium 2005, Orlando | Ken Sinclair, Editor |

Did you miss the XML Symposium at last year's ASHRAE meeting in Anaheim? It was the first meeting of our industry XML community and I and many others were truly amazed at the penetration and momentum the XML movement had gained in all areas of our industry. These were the introductory words to that first ever event.
Widely used by the IT community and considered by many as the most important enabling technology for the future of integrated and intelligent buildings, XML brings to fruition the convergence of building systems and the IT infrastructure. These IT-based technologies are drastically changing the buildings industry as they enable cooperation between disparate approaches to open systems, a vital issue within the industry.












"As possibly the ultimate integration mechanism for buildings, XML will revolutionize the buildings industry," Ron Zimmer, CABA President and CEO, said. "This symposium will provide the HVAC professional with ample XML and Web Services education and a practical expectation of their adoption rate within the industry."
Consider last year's first ever Symposium as an introduction only and come to hear what has happened in the exciting world of XML since then. This year's introductory words follow;
The core objectives of the XML Symposium are to deliver a cohesive vision of how XML and Web Services will drastically propel the HVAC industry forward and set expectations on the deployment of these advanced technologies in buildings. The Symposium is brought to the industry by two leading organizations working towards tomorrow's intelligent buildings: CABA, the association bringing together stakeholders in the smart home and intelligent building automation industries, and Clasma, Inc., an event organizer, marketing and public relations company focused on emerging technologies for building systems.
I am moderator of the XML-Related HVAC Industry Initiatives Session 10:45 - 12:00 Wednesday, February 9th
This session will deal with how many groups are investigating XML's relevance. While their paths might seem different these groups are all focussed on one goal; getting to market easy-to-install, easy-to-configure and easy-to-upgrade products that will take users well into the 21st century.
I am extremely pleased to be the moderator of such a well known panel of extraordinary gentlemen. I know that any one of them could completely fill our allowed time slot and my challenge will be as in the past, of controlling the presenters to our total allotted time of 75 minutes. It will be hard to have all of their information presented in this time slot but we would like to field a few questions as well.
My panel
Moderator:

Panelist:

Panelist:

Panelist:

Panelist:

Panelist:
For more information on this and other sessions go to http://www.xml-symposium.com/agenda.html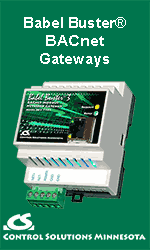 Come out and hear what these industry leaders have to say.
XML Symposium 2005
Wednesday, February 9th, Orange County Convention Center - AHR Expo
The XML Symposium will:
Deliver a cohesive vision of how XML and Web Services will drastically propel the HVAC industry forward
Set realistic expectations on the deployment of these technologies within the buildings industry
Present the status of various XML and Web Services initiatives going on within organizations including oBIX, BACnet and LonWorks
Don't Miss Keynote Presentations by
Jay Althof, VP of Trane - a major HVAC adopter of XML technology
and Patrick Gannon, President & CEO of OASIS - the standards body for XML and Web services
Visit http://www.xml-symposium.com/ for more information.
---


[Click Banner To Learn More]
[Home Page] [The Automator] [About] [Subscribe ] [Contact Us]