---

Maybe it's better stated that XML could become the enabler and driver for 2005 being the year of Open Systems in buildings.

Anto Budiardjo
President & CEO, Clasma, Inc.
The subject of XML has been one of the hottest topics of the building systems arena in the past couple of years. While I and others have written much about this in the trade media, many are still asking and wondering of its impact to the field of buildings: "Is it being used today?"; "Are products available today?"; "Will it be used widely?", and perhaps the most interesting, "Where is it? I can't see it!"












This situation reminds me of "The year of Networks" through the late eighties and early nineties during the fierce battle between Microsoft's NETBEUI and Novel's IPX/SPX (networking protocols not too dissimilar to TCP/IP). What is interesting about the comparison is that when the year of the Network actually happened, it was not accompanied by big fanfare, no earth shattering big event. It just happened. Little by little, we just started to use networks. There was a trigger, though. It was the arrival and enthusiastic adoption of the "truly open" protocol TCP/IP that drove the wide spread use of networks to what it is now: a ubiquitous part of our everyday lives – The Internet.
The Internet, and the billion/trillion dollar industry it created, could not have happened based on either NETBEUI or IPS/XPS – they were simply not designed for that job.
So, what are the telltale signs signifying 2005 as an important year for network adoption in buildings?
As TCP/IP changed the rules over a decade ago, it is without doubt that XML will be the game changer in building systems (as it is in many other industries). The similarities are frightening; the existence of BACnet and LonWorks is not too dissimilar to NETBEUI and IPX/SPX back then. These technologies have significant industry support in their respective areas, represent years of evolution and work by many, and have provided tangible benefits in their respective uses. Both Microsoft and Novel leveraged their position and adopted TCP/IP for the network to truly happen. (Note that Novel fought TCP/IP the longest and is now a shadow of its former self – a lesson there somewhere).
It is thus encouraging to see both the LonWorks and BACnet camps adopting and leveraging XML and Web Services seriously. If history is to repeat itself, XML-based interoperability will be a significant driver for the adoption of open systems. It will propel the use of both BACnet and LonWorks in addition to the gateways that are necessary to connect proprietary protocols for TCP/IP level integration.
They say, success breeds success. I anticipate that 2005 will see the application of XML and Web Services in products and projects on a fairly widespread basis. The XML Symposium and BuilConn will be two critical events for this, and as organizers of these events, we are making sure that we seek out and communicate the successes of the adoption of this important technology.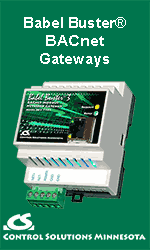 The XML Symposium at the AHR Expo / ASHRAE Winter meeting in Orlando on February 9 will focus on communicating how this technology will impact the HVAC industry. The breadth of applications covered will extend beyond real-time connectivity of control systems and into the use of XML in the design and maintenance of HVAC systems. Don't expect to see too much depth at the one-day Symposium, but expect to see how the HVAC industry will need to change to leverage XML. The XML Symposium is very focused on the HVAC industry, and if you consider yourself part of the HVAC industry, you should plan to be there – www.xml-symposium.com.
BuilConn in Dallas, March 21-24, on the other hand, focuses on device and networked connectivity in all aspects of building systems and its convergence with IT. Over the four days in up to five multiple tracks, attendees will get an in-depth perspective on vendor's progress with using XML technologies in their products; I expect several vendors to be launching or announcing XML-based products. Experts will also discuss and educate on the use of this technology. There will also be several live demonstrations and workshops on the use of XML and Web Services, including full day-long tracks on BACnet, LonWorks, oBIX, and Niagara where I suspect XML will be a significant topic. BuilConn is very appropriate to owners, building operators, managers, consulting engineers as well as vendors and integrators in the industry that delivers solutions based on this technology – www.builconn.com.
So, will 2005 be the year of XML?
Maybe it's better stated that XML could become the enabler and driver for 2005 being the year of Open Systems in buildings. It's about time, isn't it?
---

[Click Banner To Learn More]
[Home Page] [The Automator] [About] [Subscribe ] [Contact Us]