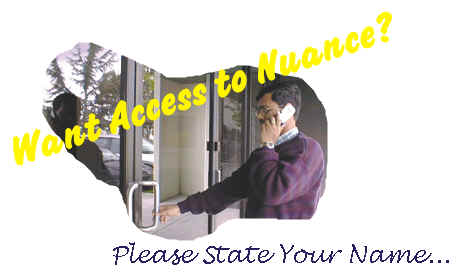 Priscilla B. Janson, CBC
Marketing Communications Manager
AndoverControls
If the voice score is low, the Nuance system says, "I can't verify your voice print," and loops back to give the employee another chance to say his/her name.
---
Andover Controls and Nuanceä, a leader in Voice Web software, recently joined forces to produce a unique voice-driven user interface for access control.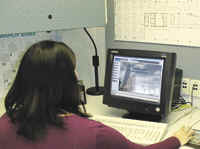 Nuance, based in Menlo Park, California, specializes in speech recognition, voice authentication, text-to-speech, and voice-browsing products that make network information and services accessible from any telephone. The company is using Andover's Continuum VT-1 Interactive Voice Response (IVR) module in conjunction with their Nuance speech recognition and voice authentication software to control access at the perimeter doors in their headquarters buildings.
"Nuance was looking for an access control system that was extremely flexible," says Rebecca Jew of Security by Design, the Martinez, California-based consultants responsible for the engineering of the Andover/Nuance system. "Among other criteria, they wanted a system that would allow for 'exception processing' (You forget your card, but you can still get into the building using another method). The VT-1 voice interface application is a great marriage of Andover's and Nuance's capabilities."












This voice interface application is just part of a facility-wide Continuum Security Management system recently installed by Andover Representative, WBE Security Control Systems of Novato, California. WBE replaced Nuance's existing "inherited" security system with Continuum to provide access control on 9 doors, alarm monitoring, and employee badging.
"The Continuum security management system has been a pleasure to work with," says Carla Mendez, Director of Facilities at Nuance. "The CyberStation front-end is menu-driven, intuitive, and extremely user-friendly."
Your Voice --- the Key that Unlocks
When an employee wishes to enter the Nuance facility, they can use one of two ways to gain access. They can use the standard method; i.e., present their assigned access card to the card reader adjacent to the door to unlock it; or, the voice recognition method if they have forgotten their card.
Here's how the voice recognition method works:
The employee picks up the phone adjacent to the door and dials in to an automated Nuance security line. A recorded voice states: "Nuance Security. Who is this?" The employee then states his/her name and the NuanceÒ 8.0 Speech Recognition software checks for the name in the employee database. Then Nuance's Verifierä 3.0 software finds this employee's voice print in the verification database, compares the utterance they just made to their stored voice print (a voice print for every employee is on file), and generates a "score." A score above a certain threshold is considered a valid employee, and the Nuance system passes the door number and the employee's card number via standard telephone touch-tones to the Continuum VT-1. The VT-1 then commands a Continuum AC-1 access control module to unlock the door. The details of each access event are logged in the Continuum NetController. If the score falls in a mid-range, the Nuance system will ask a few more questions, such as office phone number and birth date, before verifying the employee and contacting the Andover system to open the door. If the voice score is low, the Nuance system says, "I can't verify your voice print," and loops back to give the employee another chance to say his/her name.
"If an employees opts to use his cell phone rather than the phone mounted next to the door," adds Torsten Zeppenfeld, Manager of Nuance's Demo Systems Group, "the automated voice will also ask 'Which door would you like me to open?'" The employee can state the name of the door or request that a list of doors be read before choosing the one he wants opened. The system can also be accessed remotely. For example, an employee can call from his office phone to unlock a perimeter door for an immediate vendor delivery.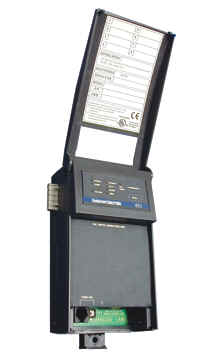 September 11th Sparks Need for Tighter Access Verification
Laura Marino, Senior Product Manager at Nuance, says the company continues to showcase the Nuance voice recognition/Andover access control combination at their headquarters facility. "After Sept 11," says Marino, "corporations, and especially government agencies, will find the VT-1 voice interface application a valuable alternative to card-based access control into their high security areas; or they may want to use both methods for two-factor verification. Voice authentication is a biometric. Unlike cards and pin numbers, a voiceprint cannot be stolen or transferred."
"Please Close the Door!"
John Morrison, WBE's Project Manager, adds that voice annunciation of a different sort was used in another unique way at Nuance headquarters. "'Door ajar' alarms are tied into Continuum DO-4 output modules," says Morrison. "After 20 seconds, a door left open will send an alarm to the CyberStation front-end, which in turns activates a Visonic speech processor installed near the door to annunciate: 'Please close the door!' If the door is not closed after an additional 20 seconds, an alarm is automatically sent to an outside alarm company, which investigates the event as a possible intrusion attempt."
View the VT-1/Nuance Interface in Action!
You can watch an actual video clip of this unique voice-driven access control application by clicking on the link www.andovercontrols.com/projects/facilities_access.wmv on the Andover Controls Home Page: www.andovercontrols.com.
For more information on Nuance's speech recognition and voice verification products, visit their web site at www.nuance.com.
For additional information on the Continuum VT-1 IVR module, visit our web site at www.andovercontrols.com and click on "Products", "Continuum", "I/O modules".
---

[Click Banner To Learn More]
[Home Page] [The Automator] [About] [Subscribe ] [Contact Us]