New Products - August 2002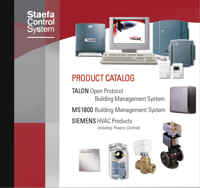 New Staefa Product Catalog CD
Buffalo Grove, Ill., 31/07/02 - The all new Staefa Control System product catalog CD has just been released by Siemens Buildings Technologies, Inc. The catalog includes the TALON open protocol building management system, MS1800 Building management system and Siemens HVAC control products, including valves, actuators and sensors. The user-friendly CD also contains keyword and part number search functions and a free TALON screen saver.
For more information www.staefa.com
---
ProAtion to Distribute Samsung STS 100 Energy Controller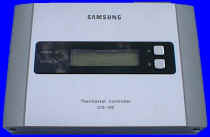 ProAtion has licensed, on a non-exclusive basis, its intellectual property to Samsung to enable Samsung to manufacture the energy controller on an exclusive basis for ProAtion. The special purpose energy controller provides:
Hardwired communication with Thermostats and Electrical devices

Network communication with user interface
- Displays current status
- Accepts parameter changes from users
- Fill in the form user interface
- TCP/IP network communications
- Uses special "ports" and message protocol
- Uses authentication and message validation
For more information visit www.proation.com
---
New Products - July 2002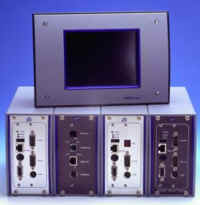 Amann - BACnet Touchscreen












Munich, Germany - Amann, who specializes in BACnet, has developed a touchscreen which acts as a native BACnet client. This touchscreen is capable of controlling and visualizing up to 500 datapoints in different BACnet substations. Dialogs and other graphic elements are made with an easy to use GUI configuration tool shipped with the touchscreen. If necessary the touchscreen can communicate to systems other than BACnet through different Gateways such as EIB, Modbus or M-Bus. These gateways are also offered by Amann.
For more information on the BACnet touchscreen visit http://www.amann-net.de/produkte/ewms-view_e.htm
---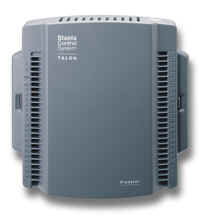 New Predator HVAC Controller
Buffalo Grove, Ill., -- The Predator® family of HVAC Application Specific Controllers are powerful, pre-programmed LonMark® certified devices. They are an integral part of the open protocol Staefa TALON® HVAC control system from Siemens Buildings Technologies, Inc.
Predators are certified to LonMark interoperability profiles for VAV/CV, Fan Coil, Unit Ventilator, and Heat Pump applications and they easily share data with LonMark certified products from other vendors. They feature a two-piece design to protect electronics during installation and wiring and snap-in terminal connections. Reliable flash memory returns a Predator to service from power interruptions without reprogramming. Predator models come with up to 5 universal inputs and up to 8 digital and 3 analog outputs. Spare input/output points can be used for additional control of occupancy sensors, lighting or other devices.
To find out more visit the Staefa website www.staefa.com
---
Power Measurement Simplifies Web-based Energy Management with ION Enterprise 4.0
VICTORIA, BC - Power Measurement, a leading provider of enterprise energy management systems, announced the release of its most web-friendly software to date: the ION Enterprise(tm) 4.0 energy management software featuring WebReach(tm). The new WebReach feature further extends the capabilities of the ION Enterprise software by making vital power system information available to authorized users anywhere around the globe through a simple web browser. WebReach enables ION Enterprise users to access meter events, waveforms, data logs, and real-time system information from any computer with Internet access; it displays information through a standard web browser, such as Microsoft(r) Internet Explorer, and requires no additional software or special configuration. With WebReach, users can check on their energy management system from anywhere in the world, plus they can copy and paste data logs from ION Enterprise to other enterprise applications, such as Microsoft(r) Excel, for custom reporting and analysis.
ION Enterprise 4.0 is available now from Power Measurement. To view a detailed product photo, visit http://www.pwrm.com/Press/images/ION_Enterprise_image.htm.
---
---


[Click Banner To Learn More]
[Home Page] [The Automator] [About] [Subscribe ] [Contact Us]