---

EMAIL INTERVIEW – Nicholas Gayeski and Ken Sinclair
Nicholas Gayeski, PhD, Partner, Co-Founder, CEO
KGS Buildings, LLC

Nick Gayeski is the CEO and Co-Founder of KGS Buildings, a Building Performance Analytics Company that creates information to help manage facilities better. KGS is a Microsoft Partner, a Schneider Electric Ecostruxure Technology Partner, and a leading provider of automated fault detection and diagnostics software. At KGS, Nick works with organizations across many industries to incorporate fault detection and diagnostics into their operations to achieve energy savings, improve comfort, prioritize the use of resources, and extend equipment lifetime. He holds a Masters and PhD in Building Technology from the Massachusetts Institute of Technology.

---
Building Performance Analytics

A turnkey approach to data integration, storage and analytics, with a focus on accurate information that cuts through the noise to help our customers and partners manage facilities better.

Sinclair: You just got back from IBcon 2015. There are so many vendors in the market now, where does KGS fit?

Nick: It was a great, informative event with a lot of vendors from across our industry demonstrating great products and services. The buzz about analytics and how it can be applied to buildings is getting louder every year. There is great work being done by consultants to help their customers navigate this new world, and there are many companies with products and services to help deliver pieces of the analytics puzzle. There are products to help integrate, normalize, and aggregate data and service companies to do that for you. There are products that allow you to program rules to apply a type of analytics to your data, and separate companies who will program them for you. There are companies that will deliver mechanical or control services based on those analytics to affect your facility operations. Where we feel strongest at KGS is in providing a turnkey approach to data integration, storage and analytics, with a focus on accurate information that cuts through the noise to help our customers and partners manage facilities better.

Sinclair: If you feel you provide analytics from end to end, how do you work with other companies in the industry?

Nick: Working with partners is an important part of how we do business and support our customers. Much of the information we produce points our customers and service partners toward needs for mechanical services, control services, or engineering projects. Customers can handle some of this work in-house, with their own teams, but often they need their mechanical, controls and engineering service providers to help. Those are the partners we work with, the ones who can deliver services based on the information we produce to help them achieve their customers goals.

Sinclair: How do you fulfill that role? What do you mean by end to end analytics to deliver information?

Nick: We see a few different layers in delivering useful information to our customers.

There is an integration layer, where data needs to be aggregated, normalized, and stored. There are customers who just want this first, with the intention to sort out how to create value from that data later.
There is also an analytics layer, where analytics are created, configured, maintained, and delivered to customers. Within this layer there are companies offering products that allow users to configure their own analytics and some that provide analytics with that product. We see ourselves as the strongest solution in this layer for customers and service providers who want customization without the cost.

What sets us apart here is that we are highly configurable to the unique engineering and sequences of each site, without having to reprogram rules or apply them uniquely to each site. We follow a mass-customized analytics approach wherein the same code libraries are delivered to all customers, but through parameterization and metadata those analytics run differently for each site on each equipment. We don't reprogram individualized rule sets for each site like other vendors. This also means that a reseller or a customer doesn't have to separately manage and maintain the analytics for every site they connect. This is a huge scalability and maintainability challenge that we have tackled through mass-customized analytics.

Lastly, there is an interface layer, where information is communicated to users who take action. We have a strong interface in Clockworks, especially for facility management teams and mechanical and control service providers whose responsibility it is to act on the information and deliver service to the site. However, some customers are seeking "single-pane-of-glass" dashboards which integrate information and functionality from a variety of platforms, like CMMS, controls, or analytics, into one place. We envision collaborating more with other vendors at the interface layer to serve the needs of complex customers and enterprises looking for custom or unified solutions. This is one area where we see new types of technology partnerships emerging.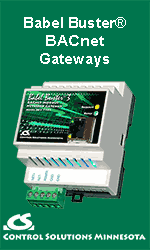 Sinclair: Given the role you play, who are your best partners and customers and what do you do for them?

Nick: The service partners and customers who fit us best are the ones who want information to manage their complex facilities better, not lots of data for nothing and not a rule writing platform. They are the ones for whom analytics has a specific job to perform, which is to help inform how to manage their facilities or their customers' facilities better. They want to save money, save energy, manage personnel effectively, prioritize resource expenditures, find new opportunities to improve, and extend the lifetime of equipment. We don't expect our customer or partners to have to manage IT hardware to enable a solution, or write rules for every type of equipment in order to start generating information. Rather, they expect from us that we will produce actionable information from their data rapidly and scalably to drive prioritized and proactive maintenance.

---


[Click Banner To Learn More]
[Home Page] [The Automator] [About] [Subscribe ] [Contact Us]