---
HVAC Controls Productivity Challenges and Opportunities



If you try an internet search for "HVAC controls engineering software" or "HVAC controls estimating software" you will find more and more companies offering online tools that can help your controls business grow, improve profits, do more with less resources and improve customer service.



Maury Costantini Jr.
KlowdBuilder

The HVAC controls industry continues to develop technologies that will advance connectivity, technical application and data management. Hardware and software packages have more flexibility and reporting features that can improve energy efficiency and maintenance for commercial buildings. The biggest single challenge, however, is how we actually get these ever more sophisticated technologies installed in commercial buildings.

While we have introduced new technology, the way we execute these projects has not changed at all. We still make our labor force respond to greater technological complexity in ways that are not optimized for keeping project costs down. Labor is the greatest cost and risk of any project. Therefore, it represents the single biggest opportunity for savings. As the industry keeps moving toward technologies that add project complexity and labor costs, we will need to utilize more and more cloud services and software productivity tools to maximize labor on projects.

There are many Software as a Service (SaaS) innovations that have impacted our lives with regard to how we communicate, how we network socially and how we absorb media. Despite the use of these services in many aspects of our personal lives, we have not incorporated them into something as common to all of us as the buildings in which we live, work and play.

Indeed, the construction industry has not yet leveraged software-as-a-service as a method for deploying increasingly complex technology although there are several opportunities to do so. In fact, our industry has created and actually deployed few software tools beyond those for programming and rendering drawings. So, as HVAC controls, lighting and installed networks continue along the path of technological advance, there exists the opportunity to develop and deploy modern online software tools to enhance the skillsets that we already have. The idea is to keep our labor force focused on doing what they do best: creating applications, programming, deploying networks. They should not be spending valuable time on producing and assembling documents and then managing those documents inefficiently.

Specifically with regard to the HVAC Controls market, online software tools can be a way to grow businesses and the overall market without compromising programming customization requirements or diminishing customer value. If you try an internet search for "HVAC controls engineering software" or "HVAC controls estimating software" you will find more and more companies offering online tools that can help your controls business grow, improve profits, do more with less resources and improve customer service.

Because of limited productivity tools for estimating, engineering and project management, there are not a lot of options to mitigate the labor cost. The US Energy Information Administration tells us that less than 5% of US commercial buildings have HVAC direct digital controls. What if we can use productivity tools to reduce the labor cost by 20-30%? How many more buildings can have HVAC controls? How much larger would the $17 billion building automation industry be?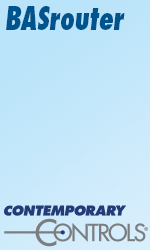 Another challenge in the controls industry is limited resources. Controls employees are difficult to find and expensive to recruit and retain. There are few higher education and vocational schools that offer HVAC controls training or degrees. Most employees are training while on the job through in-house training and through OEM week-long training courses. HVAC controls contractors spend years developing and educating employees. Given these factors, it is important to find ways to make our technical resources more productive.

The solution to driving down labor costs begins with the engineering process. Software tools that automatically engineer HVAC controls projects can save 8-10% on project labor costs. Engineering can facilitate more efficient installations through rigid standards that ensure predictability and repeatable quality. Engineered documents should always look the same within a given company, the input and output locations should be consistent for quicker installations, and communication signals should be standard for sensors. While no two buildings are exactly alike from an HVAC controls standpoint, we can certainly ensure that our customers get consistency in how we deliver controls projects to them.

The opportunity for the controls industry is to utilize software productivity tools much like other industries do in order to revolutionize how we install increasing complex control systems. This will reduce our labor costs and allow us to expand the size of our addressable market by bringing more integrated control systems to more buildings.


---


[Click Banner To Learn More]
[Home Page] [The Automator] [About] [Subscribe ] [Contact Us]