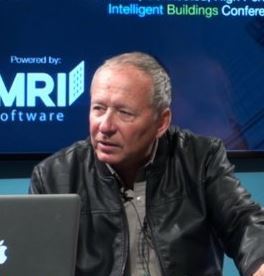 New Measured Variables; Health, Wellbeing, & Productivity
Creating value in the $300 part of the "3-30-300" rule
Our industry has always been about controlling measured variables, but in the past these have been the likes of temperature, pressure, flow, and other physical things.
The Internet of Things or IoT is now connecting us to new measured variables in our buildings "the occupants," via cell phone apps and social media feedback, while displaying all our interactions and visualizations in the very accessible cloud.
There is a "3-30-300" rule of thumb that organizations typically spend approximately $3 per square foot per year for utilities, $30 for rent and $300 for payroll. While these figures are just archetypes, they are useful in providing an order of magnitude between the three areas of expenditure. According to the 3-30-300 model, the greatest financial savings from greening a workplace is not energy but in productivity.
Last month I talked about the focus of CABA and LightFair on creating savings in the $300 part of the rule rather than the $3 part. This seems to lead us logically to this month's featured event which I am attending The Smart, Connected, High Performance Intelligent Buildings Conference "IBcon" part of RealComm.

I hope this IBcon event will help us all to better understand how to play and interact with our newest measured variables.
Jim Young's comments: There is no doubt that Artificial Intelligence will someday make its way into our industry. There is no doubt that AI will radically change how we design, build, lease, operate, transact and use real estate. The only questions are when, and who, will be the first to take the lead.

We are going to address this topic head-on in our Realcomm| IBcon 2016 General Session with a keynote by Cade Metz, a senior reporter for WIRED, who will focus on Silicon Valley and all the emerging technologies including AI. Cade will lend his insight on these transformational new innovations and how they might someday change the way we think about how we design, build, lease, operate, transact and use buildings.
In this issue we use the term "Machine Learning" to describe the new class of algorithms that have become staples of modern programming. These algorithms use large amounts of real world data to "train" generalized computer programs to perform tasks more analogous to human problem solving.

We are amazed by the quantity and quality of the Articles/Interviews speaking to our topic this month plus the valuable resources linked within each. I have gathered some industry comments on this in my review Documenting Productivity and Well Being but our June editors have up staged me and made me aware of several resources I had never heard of.
Articles like The Trillion Dollar Opportunity & Edge Control Will Shift BAS-Industry Focus Toward People and Productivity plus Why care about workplace productivity? are all full of links to resources to allow you create and document value in the People Productivity Part of the $300 per square foot equation.

Extracted from the presentations from the CABA event in San Diego the session titled "We Can Prove It!" Intelligent Buildings Track: High Performance Buildings Improves Employee Productivity I have provided a quick photo essay overview of what I saw and heard from these great sessions.
As always this new issue is an incredible resource of great articles, columns, reviews, new products, interviews and of course the steady stream of news depicting our rapid evolution and journey to interaction with our Newest Measured Variables; Health, Wellbeing, & Productivity.
I would like to thank the over 120 folks who took time on LinkedIn to wish us the best on our 17th year anniversary of AutomatedBuildings.com our retirement project that goes on and on.. but seriously we are still having fun bringing you the news and being our industry resource. My editorial in 2000 talked of our first year of rapid change and provides insight to the why of AutomatedBuildings.com and the over 170 issues that followed.

After been in the large building automation industry for five decades, "Change", has become the norm and reporting and adapting to it has become a way of life. We need not to be paralyzed by what we do not know but empowered by our deep understanding of the subject of buildings, their systems, and their occupants and use this knowledge to guide the rapid change upon us. The new practitioners will guide us and lead us to new ways but we all need to be involved to successfully make this transition to this exciting world that is evolving in the cloud, on the edge and in the fog between.

Welcome our newest sponsor: klowdBUILDERTM Using klowdBUILDERTM HVAC submittal software will improve sales proposals, save engineering time, reduce costs, and drastically improve how you manage project history and revisions. This cloud-based software is a valuable workflow tool that supports any HVAC controls product. You simply set up your unique user profile and then your sales, engineering and operations staff can engineer and update projects in minutes. The subscription provides your projects in a searchable database for both installation and service, offers standard templates for various equipment and includes klowdBUILDERTM HVAC software updates. You can start a free 30-day trial at klowdbuilder.com. Contact sales@klowdbuilder.com for more information.

Tell all our sponsors you saw their ads on the AutomatedBuildings.com web site and thank them for supporting your free access to evolving Automated Building Industry information. Click on their ads and view their valuable products and services. Please review all Our Sponsors.

The news just keeps flowing thru our web site and RSS feeds daily, and of course the only way to truly find what you are looking for in the vast quantity of information on our site is with our site search engine http://www.automatedbuildings.com/search/sitesearch.htm

As always lots of new products, plus be sure to check our event calendar to see the number of events we have in our future.



---

[Click Banner To Learn More]
[Home Page] [The Automator] [About] [Subscribe ] [Contact Us]