---
Integration is not the future

Talk of integration as something new is the mark of someone way behind the times.


James Palmer
Sales and Business Development
North Building Technologies Ltd

In fact, integrating at machine to machine level is expected and an everyday part of almost every project we now work on. Yet not all BMS manufacturers see it that way.

We have all seen the rise of the Japanese air conditioning system. They are ubiquitous, and interfacing to them is a standard part of almost all major projects. Air Handling units, chillers and boilers all now tend to come with packaged controls. Yet few building management systems on the market have integration at their core.

The old fashioned BMS relies on physical inputs and outputs to connect to the real world. For most, integrated communications are an afterthought, often provided by a third party gateway; almost as if this sort of thing is non-standard.

Reluctance to engage by many of the main players causes needless complexity and expense on projects. Yet large parts of the market accept this. Should they? I think we first need to understand why this is the case.
Pointless Control
I've been in the industry 23 years now, and for as long as I can remember the cost of a BMS project could be quite easily guesstimated by the number of "points" (sensors, relays, contactors, valves etc.) that require monitoring and control. Add up all the inputs and outputs, times them by about x and you have something approaching your project value.

This model relies on all points being physical inputs and outputs. When half the points you are controlling are attained by a few data connections (as they often are now) the model starts to fall apart. One data connection could gather a thousand values from a system, yet no one would dare charge the standard multiplier for a single interface, no matter how many "points" are collected.
Self-preservation society
The result of all of these packaged controls entering the market has been a slow whittling away of the physical point count on projects, which is reflected in decreased BMS contract values. In a somewhat short-sighted move, rather than adapting technology and looking for a new model, the major manufacturers chose protectionism. And for a while it worked. By ignoring integration, the whole discipline was given an air of complexity and specialism it didn't quite deserve. The negatives of integration were expounded while the positives were swept under the carpet, dissuading many re-sellers from ever attempting true integration. Simply by making integration appear more complicated it became more expensive and therefore less attractive.

However, as open standards proliferated, manufacturers had to respond. The demand in the market was huge. Many simply paid lip-service with proprietary versions of open standards which ticked enough boxes to meet a spec but left a lot to be desired in terms of true openness.
Proprietary protocols are still the norm on many systems (Mitsubishi, Daikin, Panasonic air conditioning for example), and the wide range of standards (KNX, LON, BACnet, Modbus, Dali, MBus) means controllers need to support more than one protocol at a time to be truly open. And even though the market demands it, very few controllers available today could be classed as truly "open".
Disruptive Technologies
This situation left a gap for smaller companies to produce gateway products that sat in between the old fashioned BMS controllers and modern packaged systems.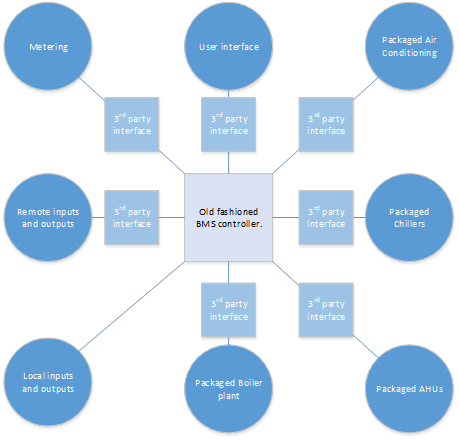 The old fashioned method is to buy a controller and put it in a panel, then pull hundreds of cables back to that panel. You then buy another box from a third party and use it to establish comms with your packaged plant, then spend hours transferring values into your BMS controller and then repeat for all other systems.

Independent firms grew large libraries of drivers and developed hardware technologies to deploy them. As the market demanded more and more integration, so the main players dug their heels in harder and harder. The levee finally broke when the smaller integration companies stepped up and started putting the ability to control as well as integrate into their devices.

Here at North we developed our Object Verse cause and effect language for our Commander controller and introduced our own range of physical, distributed IO modules (Zip). This gave the market what it had been asking for all along, a single controller that could communicate with many disparate systems, while monitoring and controlling what physical IO was left on the job.

Meet the new boss, better than the old boss
The main players have been slow to respond. Smaller manufacturers may have taken a while to get the message out, limited marketing budget can do that, but the message is now out there and we are winning market share.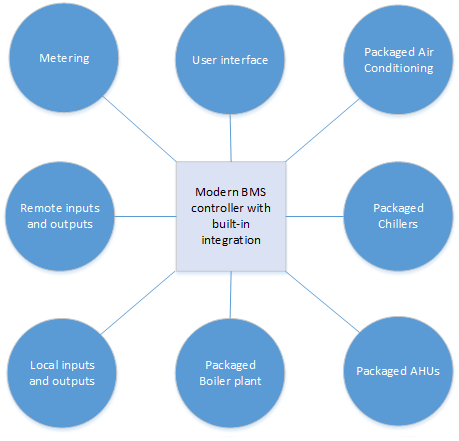 North's system allows engineers to create control strategies that treat package controls and I/O in the same way. We provide a low cost distributed I/O modules, which can reduce installation costs and our controller (Commander) plugs directly into package AHUs, package chillers, meters and Air conditioning systems. The engineer sees no difference between a value from the AHU or from our I/O modules. All values are available to all parts of the system all of the time.

The argument for a modern integrated control system is easy to make. The market has now decided that this is what it wants. It's an exciting time at North, we are integrating systems now and have been for many years. The future? Well, that is in development as I type...

To become a North partner contact me here, or email sales@northbt.com


---
About the Author
James Palmer joined North straight out of University and has now been with the firm for 23 years. Starting in technical support, James is now in charge of sales and business development at the Brighton (UK) based company.

North Building Technologies Ltd make control products for buildings. Our controllers link systems together to optimise building performance, and our user interfaces simplify building management. Our products are configured for domestic, commercial and industrial buildings by trusted resellers, installers and OEMs.
North are an independent company based in Brighton, UK since 1995.


---


[Click Banner To Learn More]
[Home Page] [The Automator] [About] [Subscribe ] [Contact Us]