---
Cut Through your BACnet Complexity

Visualizing your Building Automation Network to quickly troubleshoot, benchmark and anticipate


Daniel Ronald,
VP Product Management,
Optigo Networks

You already know the power of smart buildings. You're well versed in BACnet protocols and networking solutions. But what happens when something goes wrong? How do you know if something was misconfigured? Do you spend hours looking through Wireshark frames to pinpoint the problem? More complex networks mean more complex problems.

Visual BACnet™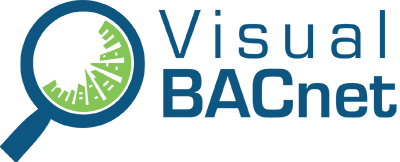 We know that finding the cause of problems often takes days of technical expertise, which can become expensive and frustrating. Based on extensive industry feedback, we have developed Visual BACnet™ to cut through the complexity of building automation systems. Visual BACnet™ is a cloud-based platform that analyzes Wireshark pcap files to identify common problems and anomalous behaviour in BACnet infrastructures. Visual BACnet™ is currently in Beta as we gain feedback to shape this innovative new product and prepare It for launched mid-June. We are working hard to incorporate industry feedback, and looking for more users to refine this a tool with three main uses - benchmarking, troubleshooting and anticipating problems.

Troubleshooting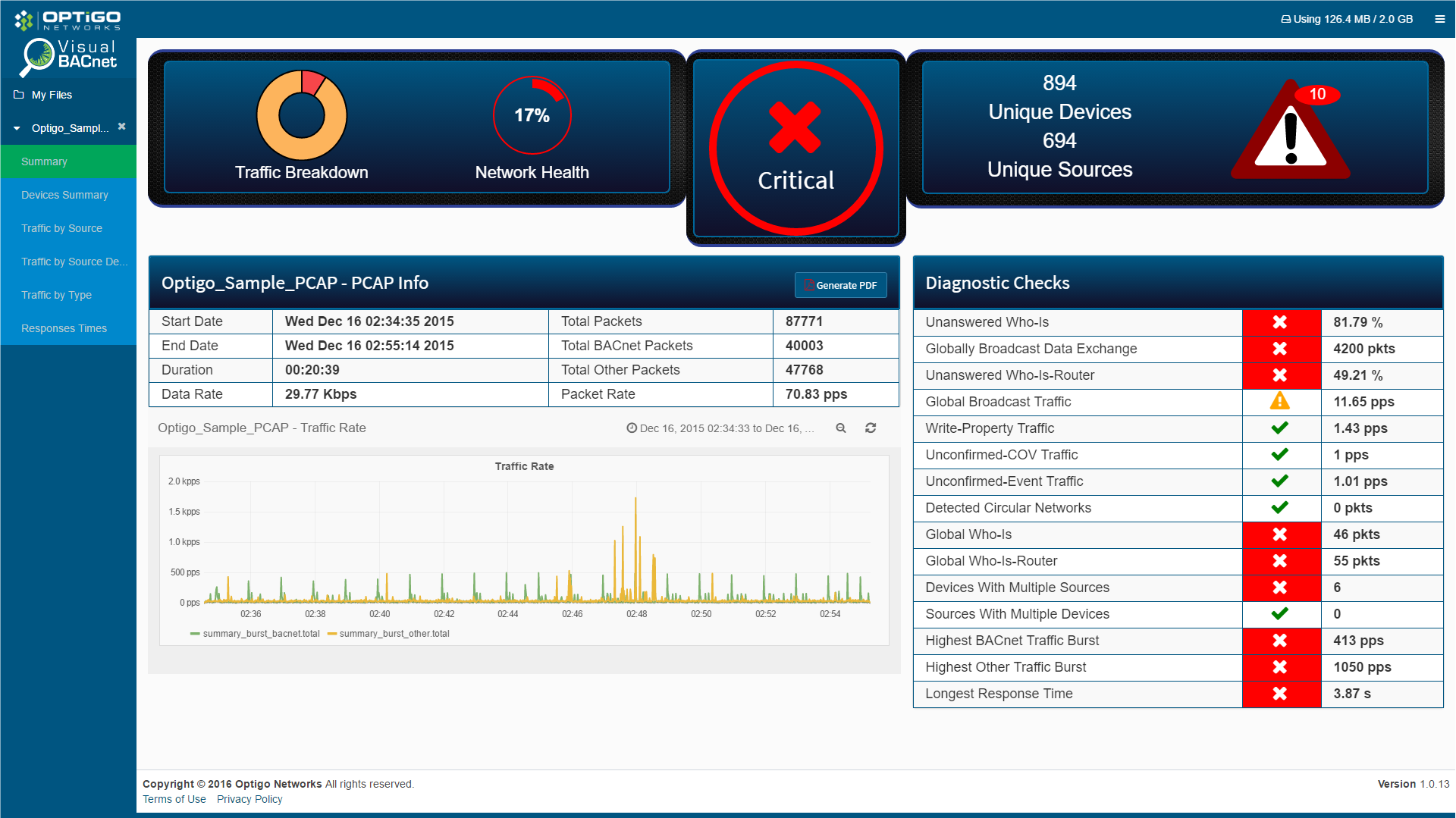 When something goes wrong in a complex building automation system, troubleshooting can be an educated guessing game. Many people use Wireshark to painstakingly analyze BACnet communication to identify erroneously chatty devices, missing acknowledgements, unanswered Who-Is, duplicate Device-IDs, and other obscure problems in the network. This can take days of sorting through thousands of packets, while the problem persists.

Visual BACnet™ allows problems to be identified in minutes. It can analyze millions of packets and find problems based on BACnet and general industry best practices. Users simply upload a Wireshark packet capture, let Visual BACnet™ apply a series of diagnostic checks, and see the outcomes of these in chart or graph form. Users of all skill levels can drill down further into the user friendly dashboards to find the BACnet frame and access specific device parameters, or seek the appropriate help.

Benchmarking

Determining the health of a Building Network is difficult if not impossible, yet extremely valuable. In an age of convergence, building systems often have a number of contractors working on them, adding devices and optimizing the system. But what happens when a vendor adds a service to the BAS that floods the network, and causes performance degradation in your system? Suddenly the project manager or a secondary vendor is left trying to figure out what happened and who is responsible. Vendors find themselves guilty until proven innocent, and have no way of root causing the problem.

Visual BACnet™ is built to not just find the problem, but also to track changes made by the increasing number of vendors collaborating on BACnet systems. Following a successful installation, technicians or project managers can quickly generate a benchmarking report in Visual BACnet™ and show that the system is healthy. The report will remain in Visual BACnet™ so project managers can periodically benchmark to see that everything is still working fine and discover problems as they arise.

Anticipating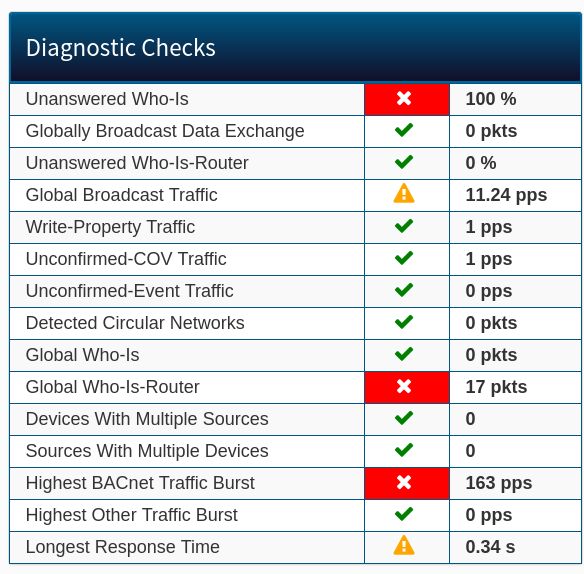 Failures can go unnoticed for a long time and cause catastrophic problems at inconvenient times. Currently technicians don't know something is wrong until a customer complains. Fixing could take days, leaving customers very unhappy.

Visual BACnet's quick and easy visualization presents the information in a way that is easy to understand. Delays, duplicate devices and anomalies that may not have become a problem yet can be identified and fixed before the misconfigurations cause real problems. Staying one step ahead of your customer allows for fewer emergency fixes and more time for proper fixes.

Visual BACnet

We are so excited to be unveiling Visual BACnet™ this month at RealComm 2016. We are currently recruiting an exclusive group of 10 beta users to give us feedback and shape the future of Visual BACnetTM,If you are interested in this unique opportunity, please email visualbacnet@optigo.net for more information.


---

About the Author

Dan Ronald is responsible for product management and engineering at Optigo Networks. Before co-founding Optigo, Dan was a senior product development engineer at PMC-Sierra where he designed and led sub-system teams building chipsets for core network technologies.


---


[Click Banner To Learn More]
[Home Page] [The Automator] [About] [Subscribe ] [Contact Us]