---

EMAIL INTERVIEW – Andy McMillan and Ken Sinclair
Andy McMillan is President and Managing Director of BACnet International, where he works with users and suppliers to expand and enhance the BACnet community. Previously he served as President of a building automation and energy management business unit of Philips Lighting. Andy has been an invited speaker on BACnet and open systems at conferences around the world. He has been awarded a dozen patents, has co-authored a book on data communications and his background includes BSEE and MBA degrees.
---
The BACnet Institute

A new learning environment providing a 360-degree BACnet experience

Sinclair: What is The BACnet Institute?
McMillan: The BACnet Institute, or TBI, is an online learning environment that serves as a central location for educational course offerings, active community interaction and a curated library of multimedia resources. The intent is to serve as a comprehensive online source of information and education related to BACnet system implementation, as well as promote the successful, global use of the BACnet protocol. It operates under the administration of BACnet International in collaboration with the BACnet Interest Group – Europe (BIG-EU) and other BACnet industry groups.

Sinclair: How did it come about?
McMillan: TBI was designed around BACnet community needs that were revealed in an extensive 2014 survey of 10,000 BACnet International members. We wanted to take a look at how we were approaching BACnet education and what were the greatest needs of our audience. Out of that survey came resounding feedback that there was not enough access to education on BACnet, especially for those non-technical or new to the industry. We designed The BACnet Institute to answer many of the currently unanswered questions, especially where to send somebody if they want to learn more about BACnet.

Sinclair: Who is the audience for TBI?
McMillan: We hope to create a globally relevant resource for facility managers, owner/operators, consulting engineers, integrators, and manufacturers. Really, anyone who is involved with BACnet systems, or would like to learn more about the protocol, would find the site valuable.

The platform and content are currently in English, but we expect to extend it to other languages as the needs are better understood.

Sinclair: What can be found on the site?

McMillan: The BACnet Institute offers three distinct learning sections – Courses, Resources, and Community.

The Courses section houses on-demand, self-paced courses with the goal of providing interactive learning experiences to individuals at all levels. Currently, this section offers a BACnet Basics course that contains six lessons and is geared toward individuals unfamiliar with BACnet, or those who need a refresher. At the end of the course, users can test their knowledge by taking the mastery test, and those who pass will receive a certificate of completion. We plan to add several more courses in 2017.

The second section is a Resource Library, which is a repository of articles, white papers, presentations and recorded webinars. This collection centralizes a wealth of expert knowledge and is categorized by application, focus and user level for easy accessibility.
The BACnet Institute will curate existing information and resources, as well as commission the development of new resources such as video presentations, white papers, and webinars.

The Community section contains two components: the User Community and the Technical Community. The main purpose of these is to encourage knowledge sharing across differing expertise and perspectives.

The User Community, or "Ask the Expert," is targeted at end-users, facility managers, owner/operators and building engineers. It provides an opportunity for users to submit BACnet-related questions to be answered by a panel of experts in the BACnet industry. When the answer is ready it is posted with the question which can then be searched by all registered users.

The Technical Communityi s an interactive, real-time forum that provides an opportunity for BACnet product and system developers, as well as others, to discuss BACnet-related topics. Participants can submit new discussions, reply to discussions, and receive updates of peer posts through email subscriptions. Past discussions submitted through the Cornell University BACnet-L email list server are also included in this forum.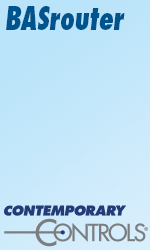 Sinclair: Why the panel of experts for the User Community questions?

McMillan: On most websites, when users submit a question they can receive multiple answers, sometimes with varying responses. In that case, it's hard to tell what's correct. We have a panel of experts review the question, and come to a consensus answer so that there is one response. This way we can ensure users get accurate, relevant, and unbiased information.

Sinclair: Are there other BACnet information sources out there?

McMillan: Yes, there are a variety of other sources that are maintained by suppliers, educators, and others. However, these are in many different places and information is not always collated or easily searchable like on The BACnet Institute. Through TBI, we hope to enhance and extend the supply of high-quality, vendor-independent content in the BACnet community.

Sinclair: How is it going so far?

McMillan: We've had a great start! In the first few months of operation, we've had nearly 500 registrations and over 200 users have taken the BACnet Basics course. Our feedback has shown that we're really filling a need in the industry.

Sinclair: What's next?

McMillan: We are working on getting the Community forums moving forward. We're also working on the next two eLearning courses.

Sinclair: How can people sign up for TBI?

McMillan: While registration to TBI is required, it is free. New users can register by selecting 'Sign up now' on http://www.thebacnetinstitute.org.


---


[Click Banner To Learn More]
[Home Page] [The Automator] [About] [Subscribe ] [Contact Us]