---
Across My Desk

snippets, blog bits, and url links that are about to fall off my desktop

Founder, Owner, Publisher AutomatedBuildings.com
Every month there is a blizzard of information contained in the emails and newsletters that cross my desk on their way to AutomatedBuildings.com. Some of this information is not in the form of any type of content we can publish but I feel I should share with you these snippets, blog bits, and URL links that are about to fall off my desktop.
JOIN THE BCIA The BCIA is focused on providing practical benefits for its members, who span the range of companies operating in the building controls and BEMS sector. The BCIA aims to promote the use of controls as key to the operational efficiency of buildings – and has built strong relationships with the trade press, other associations and government.
"ephemeralization"—the tendency of evolving technology to become less and less material.Where Will Value Be Created in the Age of Invisible Business?
One and a half years ago we started on a mission: to cover the entire world with an open and decentralized Internet of Things data network. Thanks to you, The Things Network is now active in more than 400 cities across 84 countries. Why? Because there is no permission required. The network is open and everyone is free to contribute, use it, and build on top of it.
The opportunity of LED With an estimated number of 59.2 billion light points available by 2030, the opportunity of an intelligent lighting system as a pathway to connect industries to the digital ecosystem is phenomenal. Connected LED is a 'future-proof' platform. In the United States, 4G LTE wireless telecommunications technology is already being merged with energy-saving LED street lighting in Los Angeles to provide an architecture that can help residents improve cell service – with the scalability for further integration with new technology in future.. Connected lighting has the potential to transform each of the estimated 300 million street lights worldwide[1] from being an output point for light to becoming an input point for information. These light poles can then start to provide input on traffic flow, air quality, crowds and security risks, energy consumption, waste, transport and other critical functions.
The worlds first stand alone occupancy sensor with the ability to change the color temperature of an LED fixture to match a person's circadian rhythm. Known as PureColor, this all in one unit combines both astronomical time keeping and motion detection giving it the ability to both adjust the color temperature of the fixture and maximize energy savings. PureColor also includes an adjustable photocell for advanced daylight harvesting and the ability to manually adjust the light level with a momentary wall station. All of the settings of the PureColor are able to be adjusted through a wireless connection using either an Android or iOS app. PureColor works with the open DALI protocol allowing any fixture manufacture to create HCL fixtures.
https://twitter.com/ledsmagazine
Ebook: IoT leads to building efficiencies: what this means for consulting engineers and mechanical contractors six articles specifically selected regarding IoT, building efficiencies and what this means for mechanical contractors and consulting engineers.
Interview with Stefan Story: Sensible Building Science The Bridge finds energy savings from optimized automation of HVAC control, by communicating occupancy changes to the Building Automation System (BAS) For occupant comfort, a sense of agency and connectivity is very important We want to help buildings learn from how people move and interact with their physical environments
Our 2016 U.S. Workplace Survey helps us to understand what differentiates innovators and high-performers from the rest.
4 Smart Ways to Make Your Workplace More Productive Posted by The Comfy Team on April 25, 2017
https://www.realcomm.com/realcomm-2017/program/at-a-glance/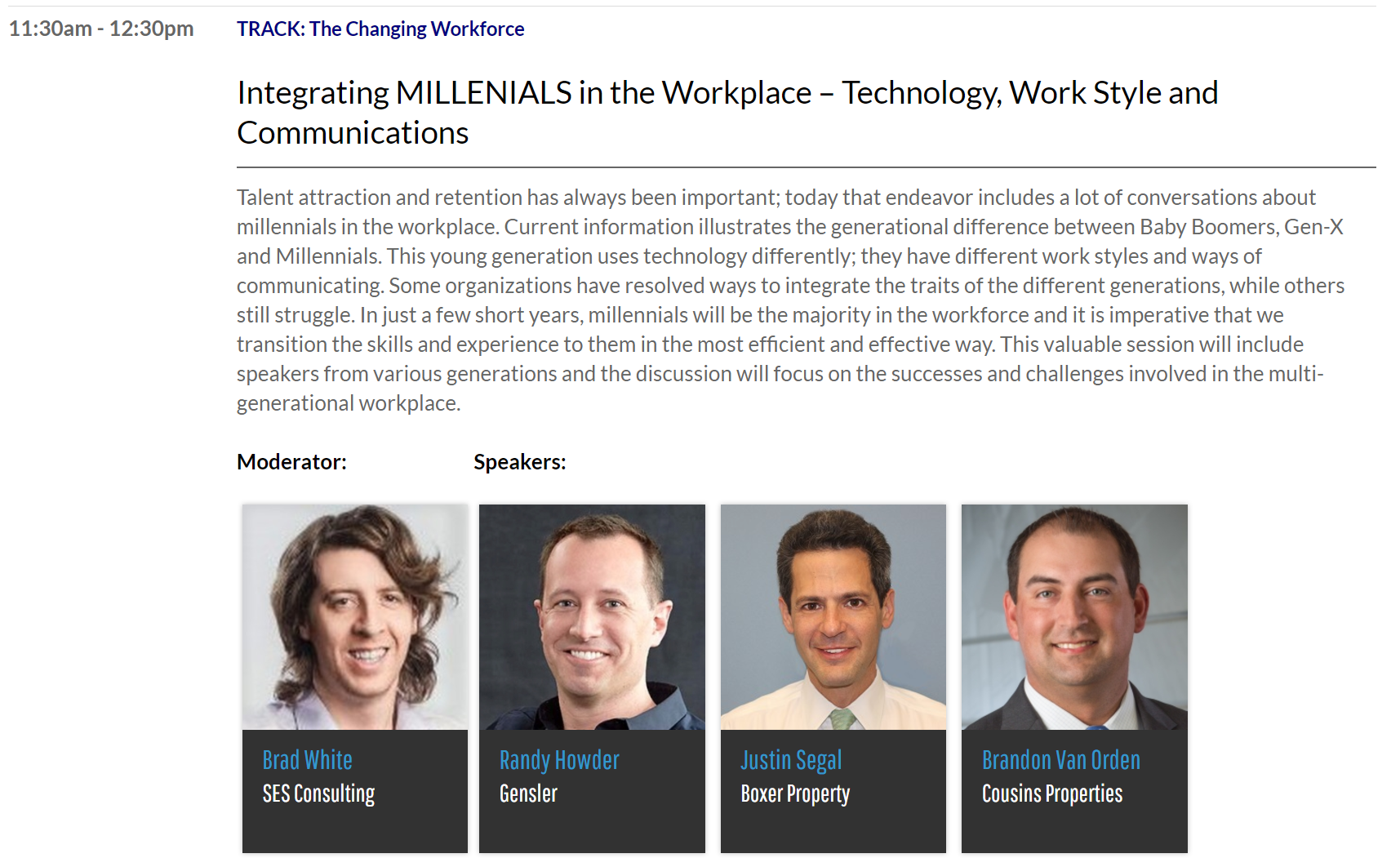 The idea is to interest large numbers of students and place them on the right career track through a series of assessments. Once in the program, they are supported by an "employer ecosystem" that provides work experience and other opportunities to groom them for early productivity in the workforce.More information on the model is in this (rather long) PowerPoint deck:
Zero Net Energy Means Career Opportunities Zero Net Energy is opening up career opportunities in California - see how California's Community Colleges are preparing students and incumbent workers for emerging jobs in renewables and energy efficiency.
The Green Button data standard was developed in the United States, it is now recognized globally as the energy industry's data-usage standard for securely accessing and sharing home and building energy-consumption information. The Green Button standard enables utilities to provide customers with three types of usage data: electricity, natural gas, and water. By making customers' data available via simple and secure methods, utilities and service providers better serve their customers; meet the rapidly growing market demand for data; assure customer privacy; meet regulatory requirements; and provide data for energy-efficiency and public-purpose programs.

SCHNEIDER ELECTRIC has also extended its remit beyond energy management into asset and facilities management. Recently the company has focused on gaining building operations and maintenance business in smaller facilities, such as those in the light commercial sector.For example, they announced a partnership with Vancouver based BuiltSpace Technologies Corp in December 2016 to build an integrated platform, offering visibility and transparency into real-time operational conditions, service interventions and maintenance costs across multi-site building portfolios.
Our book "The Technical Foundations of IoT" has gone into print at Artech House. The rationale for the book was the following: IoT is intrinsically a very interdisciplinary topic, often bringing together teams with a background in electrical engineering, product design, programming, data analytics, UX/UI and domain-specific specialists, let alone marketing and sales. Communicating in such teams can be challenging. Just think of the term latency, and the different time scales that embedded systems programmers and UX/UI folk may have in mind when referring to it.
New Alliance To Standardize Lighting For The Internet Of Things Lighting fixtures are an ideal carrier for Internet of Things (IoT) technology in smart buildings, providing ubiquitous location for granular data collection throughout the building while delivering electric power to the sensors. Yet today, only a small percentage of LED fixtures have smart sensors.
Google is bringing new e-commerce features to its voice-based digital Assistant, including support for ordering, payments, delivery and other functions, the internet giant announced at its developer conference in Mountain View
https://twitter.com/hashtag/volttron2017?src=hash&lang=en
Open Internet of Things Definition Statement of the Open Internet of Things Assembly at London, United Kingdomon the 17th June, 2012 Invitation to participate (http://bit.ly/openiot) We, the undersigned, believe that the class of technologies currently described as the "Internet of Things" has genuine potential to deliver value, meaning, insight, and fun as well as a totalitarian control society. Its definition, however, is not self-explanatory, nor do we believe these benefits are by any means guaranteed. There are areas that need to be explored, understood and considered carefully in order to secure the potential we see
http://9foundations.forhealth.org/
http://9foundations.forhealth.org/9_Foundations_of_a_Healthy_Building.February_2017.pdf
A pdf that describes the results of a Building Re-tuning meta-analysis. UC Davis campus was part of it--All the data is aggregate.
Is the "augmented customer" the future of tech? "Augmented Customer" — an interconnectedness between customers, retailers, and technology. "With the number of connected smart devices expected to double thanks to advancements in smart home, virtual reality (VR), augmented reality (AR) and wearable technology, customer behavior is going to change and organizations need to be prepared," says Rob Gallagher, research director of the consumer services group for Ovum. "It starts with evaluating their business models and meeting changing customer expectations. Service providers, in particular, should be investing in content, convenience, and comfort – in the form of data and privacy protection – for their customers."
Adoption of smart speakers with personal assistants, including Amazon Echo, Dot, or Tap, or Google Home, is 10-11% of U.S. broadband households. The IoT research firm also estimates that in 2020, annual sales in this product category will exceed 50 million units. Parks Associates will examine voice control as part of the smart home and consumer-based IoT at CONNECTIONS™: The Premier Connected Home Conference on May 23-25 in San Francisco.
Modern Metabolic Science Yields Better Way to Calculate Indoor CO2 A new method for calculating concentrations of carbon dioxide, seen here as soda bubbles, will significantly improve the measurements used to evaluate indoor air quality.Credit: M.E. Newman/NIST
May e-newsletter: LonMark International http://bit.ly/2r5ud5T

Affiliate marketing and Performance Partnerships™ are powerful tools for growing any business because it creates and nurtures win-win partnership. The fastest growing businesses in the world, such as Uber and Airbnb, using tools like disintermediation and price transparency, create a marketing model that brings buyers and sellers together in an efficient, regulated and innovative manner. This is the core, underlying premise of affiliate marketing, and the industry is only getting better at fulfilling that promise.
https://www.realcomm.com/realcomm-2017/program/at-a-glance/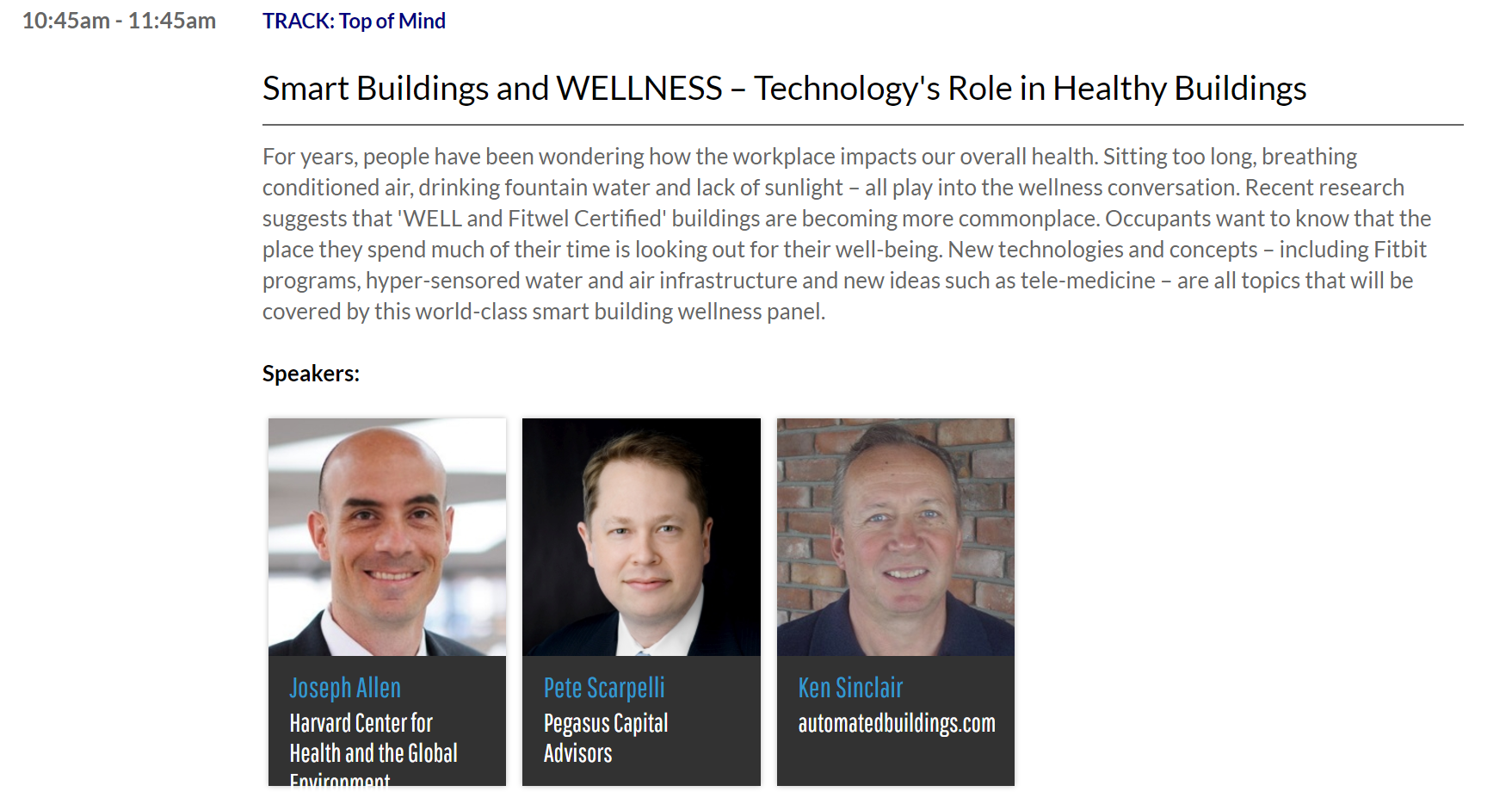 ---

[Click Banner To Learn More]
[Home Page] [The Automator] [About] [Subscribe ] [Contact Us]