---
AB @ RealComm/IBcon


In addition to Brad and I speaking, AB is a media sponsor of event.


Founder, Owner, Publisher AutomatedBuildings.com
We are extremely pleased to be a media sponsor of the RealComm event which will be anything but real calm as it provides a dynamic summation in a few days of the changes we are all sensing and seeing.

These URLs give you a quick overview of event and all its sessions.

https://www.realcomm.com/realcomm-2017/
https://www.realcomm.com/ibcon-2017/
JUNE 14 - 15, 2017 | SAN DIEGO, CA
Pre-Con Events: June 13 | Innovation Tech Tours: June 16
https://www.realcomm.com/ibcon-2017/pre-con/
https://www.realcomm.com/ibcon-2017/pre-con/smart-building-integrator-summit/
Brad and I are part of this pre-con session.

The Skills Gap – How Do We Find, Train and Retain Our Future Smart Building Professionals

We have all heard the stories: math and science skills are declining, millennials need work incentives, the next generation is not interested in buildings and the schools are not training for our industry. The bottom line is that there is a skilled workforce shortage and it is only getting worse. Some speculate that there are 1,000,000 IT jobs and 500,000 facility jobs currently vacant due to a skills gap. There is an even greater shortage when you combine the need for both traditional building automation and IT skill sets. There have been creative attempts to find, train and retain industry professionals, but these are not scalable or sustainable. This instructive segment will focus on the growing talent problem in the smart building industry and what it will take to fill the skills gap.

This will be a 30-minute discussion moderated by Leroy Walden.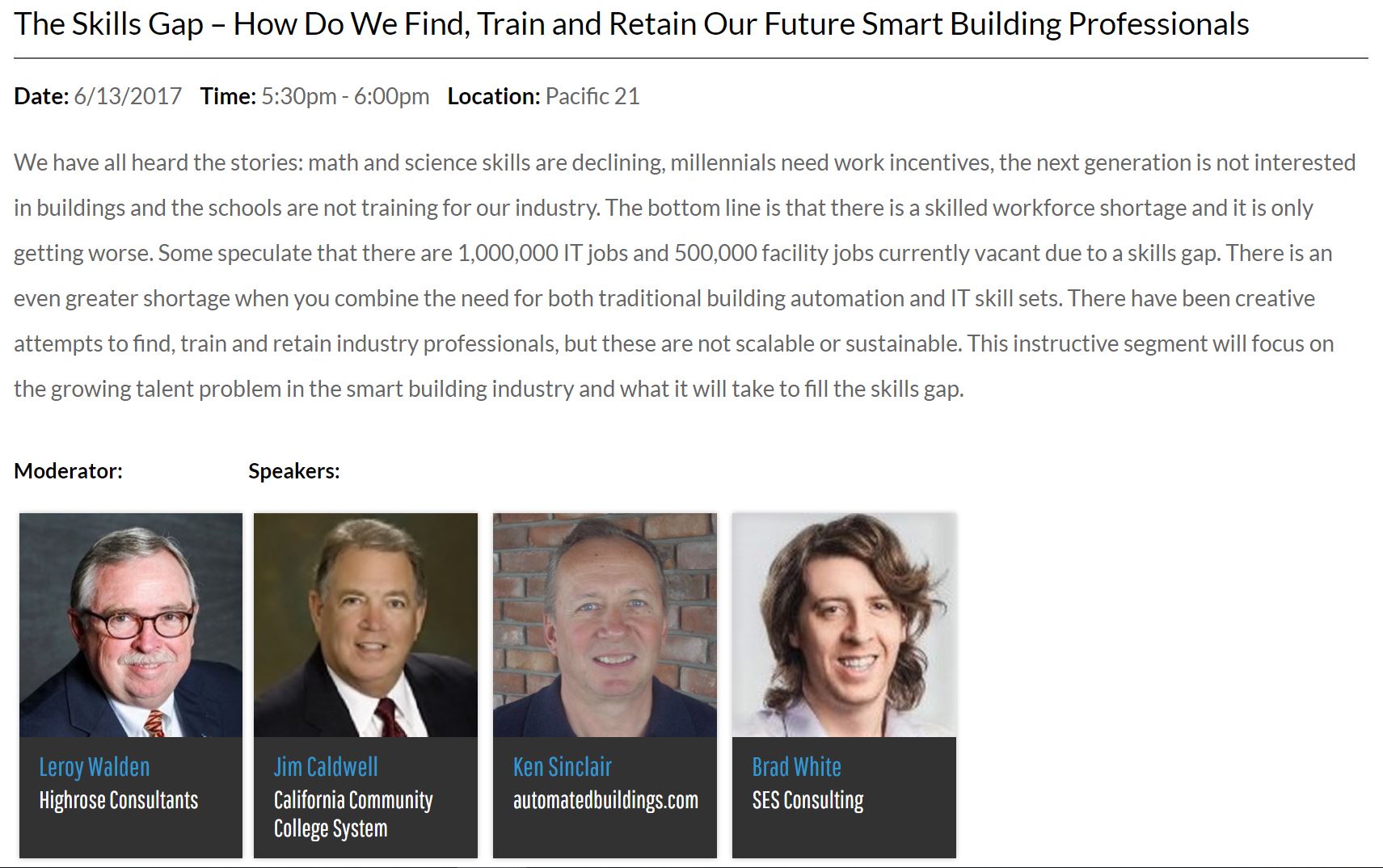 Here is some pre-thought for our session:
Just got this article published in BACnet journal and will pull some thoughts from it for the session. Be the Mentor to Grow BACnet Younger Only you can grow BACnet younger. It is your turn to reach out and become the mentor. I am pleased to have this article in the journal, but it points to the fact that us old mentors need to be retreaded as we are losing our grip. :) Check out page 4. It is our turn to reach out and become the mentor. You can find it on the site here: http://www.bacnetinternational.org/page/journal
One of the main issues is attracting good people into the Intelligent Buildings space. Based on research by UC Davis, we've started a marketing campaign to attract strong candidates. Here's a link to a video that's part of the campaign: https://www.youtube.com/watch?v=oBIucwqLsrM. It's designed to attract students and motivate parental support. The idea is to interest large numbers of students and place them on the right career track through a series of assessments. Once in the program, they are supported by an "employer ecosystem" that provides work experience and other opportunities to groom them for early productivity in the workforce.
More information on the model is in this (rather long) PowerPoint deck:
https://www.realcomm.com/realcomm-2017/program/at-a-glance/

Our contrubuting editor Brad is moderator for this event

https://www.realcomm.com/ibcon-2017/program/at-a-glance/

I am providing comment on this great session on Wellness looking forward to learning lots, BTW if you are wondering who that young man is, it is me just shows how long we been supporting IBcon :)

Here are some links to provide insight to the session
http://9foundations.forhealth.org/
http://9foundations.forhealth.org/9_Foundations_of_a_Healthy_Building.February_2017.pdf
Health performance indicators http://sensors.forhealth.org/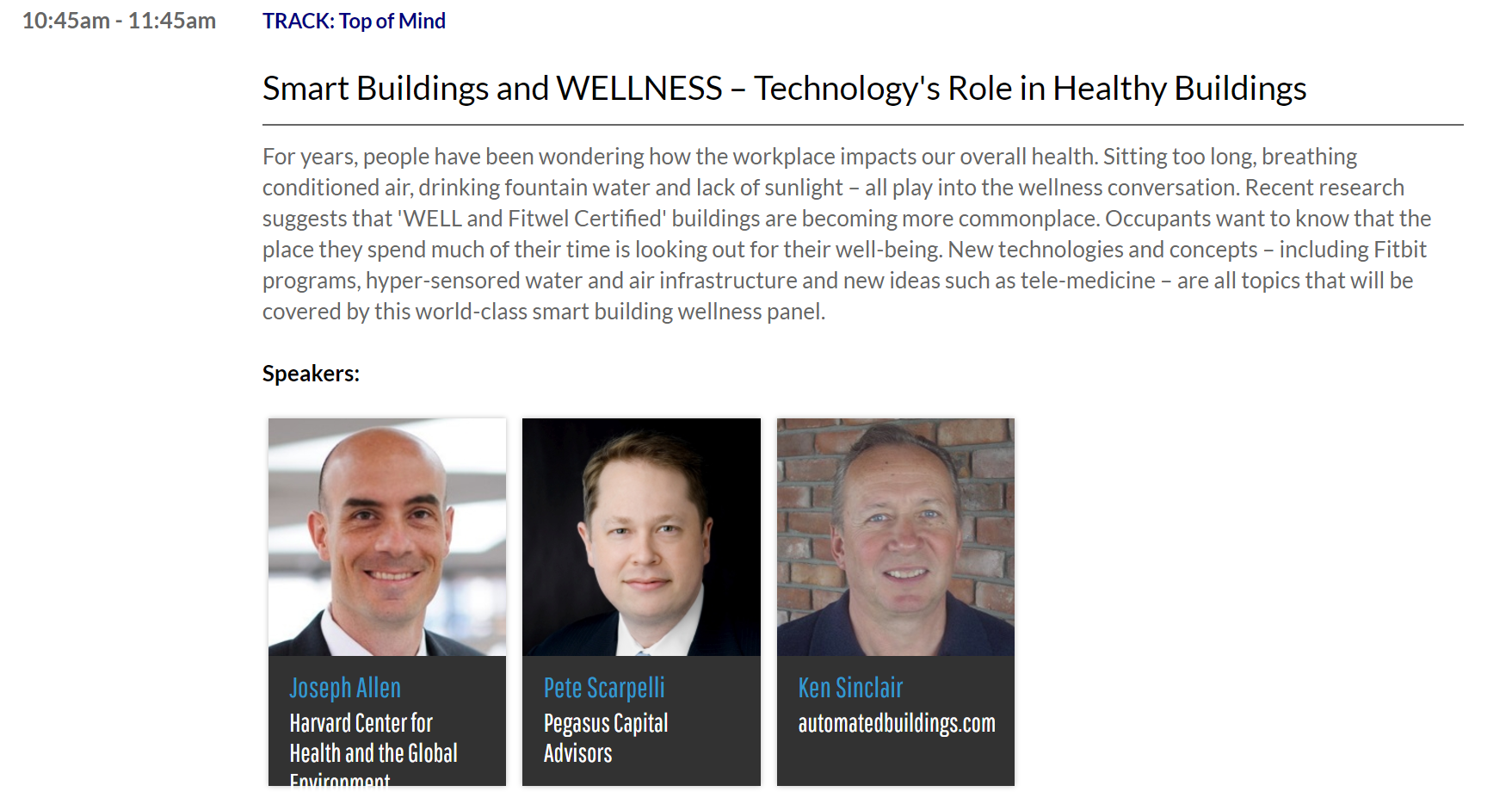 ---


[Click Banner To Learn More]
[Home Page] [The Automator] [About] [Subscribe ] [Contact Us]